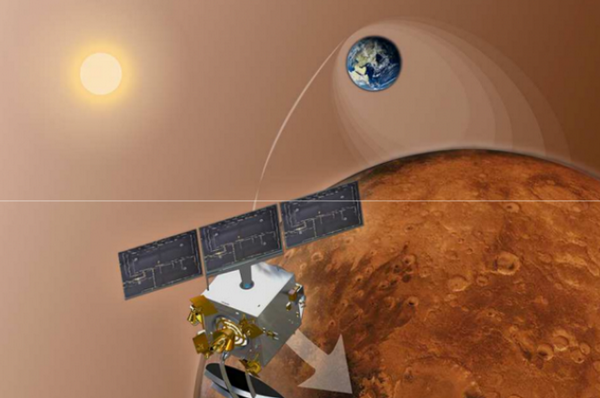 Techies of the Central Tool Room and Training Centre, which has played an important role in the country's Mars Mission, have lived up to American poet Emily Dickinson's famous lines — "If you take care of the small things, the big things will take care of themselves."
The atmosphere at this centre here was ecstatic as it was instrumental in providing high-precision components for the Mangalyaan Orbiter that made the world sit up and take notice this morning. The moment was made all the more special with Prime Minister Narendra Modi making special mention of Bhubaneswar in his congratulatory speech.
Central Tool Room and Training Centre is associated with Indian Space Research Organisation (Isro) for the last 20 years. Aerospace components for the polar satellite launch vehicle (PSLV) that carried the Mars orbiter spacecraft worth about Rs 2 crores were manufactured at the centre and supplied to the Isro for the inter-planetary expedition. The order was received in 2012 and it took nearly a year to manufacture and supply the products, an official said.
Among the crucial parts made in Bhubaneswar include dynamically-tuned gyroscopes (used to provide direction to the satellite), solar array drive assembly (helps keep the solar panel perpendicular to sunrays for energy) and advanced inertial navigation system (navigation aid to calculate position and velocity of the spacecraft).
This apart, components to monitor the level of fuel, control and regulate its flow to various parts of the shuttle had been supplied by the centre. The centre has been supplying products for missiles of DRDO, including Agni and Akash, besides the Tejas and Sukhoi aircraft.
The state government has provided four acres of land at Saileshree Vihar to set up the centre's training of trainers' institute. Idco will execute the Rs 50crore project
• Money earned through sale of components and training is reinvested to open extension centres to train more individuals.
• The centre has set up a training facility at Rayagada in 2007, while another one has started operations at Kalinganagar from July last. Rs 3 crore was spent to set up each of these facilities. Yet another training centre is being planned at Berhampur, Maity said
• These outreach centres train local students to gain employment
• The centre has opened an R&D department in July. It will be used for conducting research on line replacement units for aircraft. "This is a component that enables the distribution of fuel to different areas of the aircraft in order to keep it balanced," Maity said
• The well-equipped campus provides excellent opportunity for technical learning. The facility is used by students of IIT, Bhubaneswar, and many other private institutes
Source: Telegraph
Comments
comments