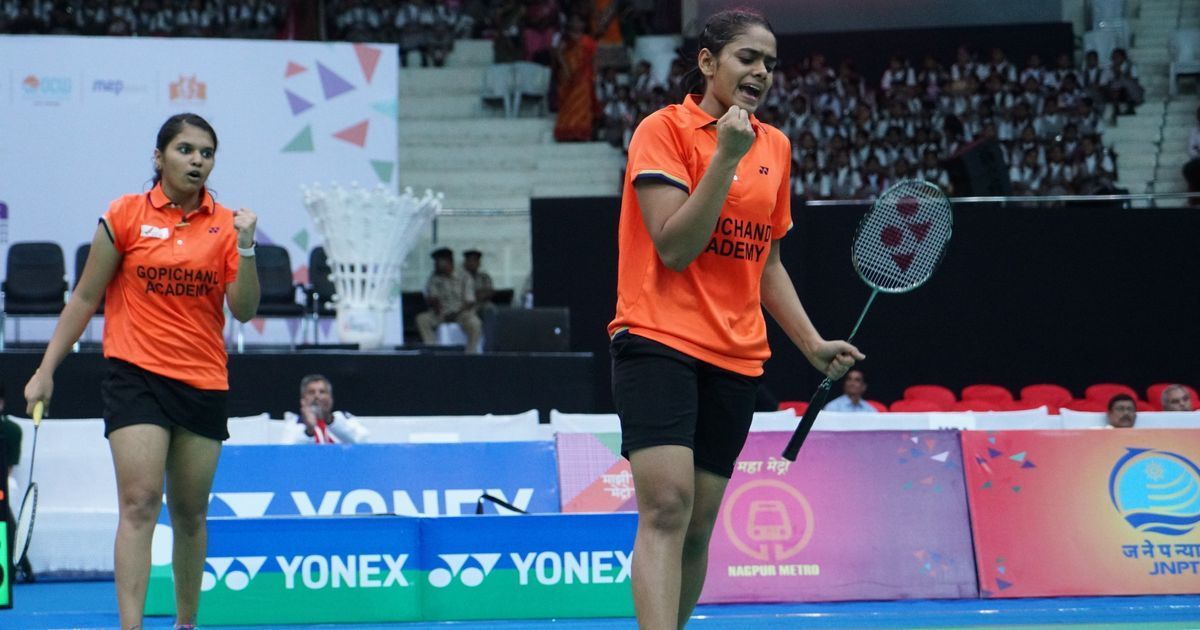 In the last edition of the senior national badminton championship in Patna, 18-year-old Rutuparna Panda teamed up with her 12-year-old sister Swetaparna in the women's doubles category, for lack of better options.
The girls from Cuttack in Orissa had qualified for the Nationals in February by winning the state championship and lost in the third round against another junior pair of Mithula UK and Ashwini Bhat.
Nine months later, the elder sibling reached the women's doubles semi-final of the same tournament in Nagpur after pairing with one half of the combination that beat them in Patna.
Rutuparna cannot stop gushing about the change in fortunes in the last seven months.
"Coaches in the Gopichand Academy saw me play at the Nationals in Patna and asked me to come to Hyderabad for a one month camp. I wasn't sure about going since I had never stayed away from my parents and family for that long. But I thought I will try for a month. The coaches made me really comfortable and here I am," said Panda.
Panda had been playing on the junior and senior circuit for a few years. She was one of the many talented shuttlers around who were playing both singles and doubles but nobody took much notice.
Former doubles international and now Indian team coach Arun Vishnu was the one to spot Panda playing in Patna and convinced chief national coach Pullela Gopichand to call her in for a trial of sorts.
"She was playing women's doubles with her younger sister in Patna," said Arun. "Rutuparna was making her sister stand in the front court while she played from the back. But her strokes and movement impressed us and so we called her to the camp. I had seen her before as well and liked her game. But this time around she was so impressive that we thought it was time to give her a chance."
Big move to Hyderabad
Till she came to Hyderabad, Panda had not known what a formal coaching system feels like. The siblings got interested in the sport after watching their father Ramchandra, who has a spare parts shop, participate in a few open court tournaments in their home town and started learning the game from him.
"We don't have any coaching centre in Cuttack," Panda said. "There is a NIS (National Institute of Sports) coach in Bhubaneshwar but it was too far for us so our father only became our coach."
After coming to Hyderabad, the training methods were a huge step up for Panda but Arun insists that the drive of the girl was amazing, as she was willing to push herself without any prodding and soon gave up singles to concentrate on just doubles training.
Meanwhile, Mithula shifted to the Gopichand Academy from Bangalore's Prakash Padukone Academy just a month later after her earlier partner decided to concentrate on singles, and the coaching staff decided to pair her up with Panda.
Mithula, by then, was the country's best junior doubles player and had won every junior tournament in the country with Bhat.
So was it difficult for both to adjust? "Not at all," said Mithula, who had decided to make a career in doubles soon after reaching three finals in the 2015 Jaipur Junior Nationals. "It was very clear that when the coaches suggested that I play with her they knew about her qualities. We just had to build our communication and work hard."
The level of improvement in their communication can be understood from the fact that Mithula ends up answering questions of Panda's background. While Mithula is calm and calculated with her expressions on and off the court, Panda is bubbly and that helps them tackle pressure situations on the court.
"It's (Panda's energy) to do a lot with she being new to the circuit. She is eager to learn, do everything the coaches want to do and that is why she is also progressing well," explained Trupti Murgunde, who was the coach of the team for the Asian U-19 championship where Panda made her international debut.
While the first selection was probably based on 17-year-old Mithula's reputation as they had played just one national ranking together, they made it to the World U-19 team on merit by winning the three ranking tournaments they featured in.
Comments
comments