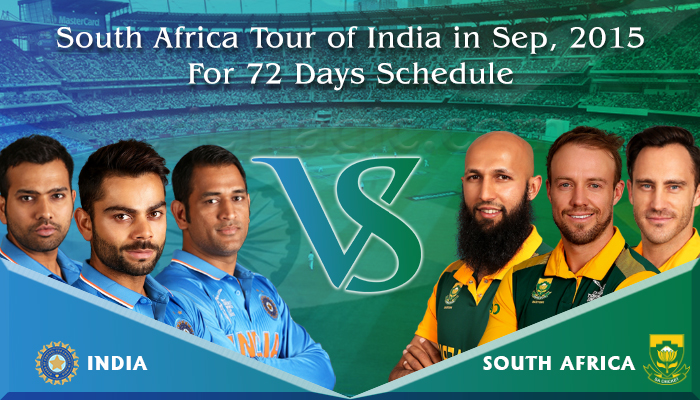 Considering the background against which the cricketing relationship between India and South Africa were forged, it took a long time to formalize the rivalry. The first edition of the Gandhi-Mandela series, which gets underway with a Twenty20 International in Dharamsala on Friday (October 2) – Mahatma Gandhi's birthday, is an apt tribute to two men who dedicated their lives for more than just their country's freedom.
The series is also a symbolises that the recent issues between the two boards have been buried for a fresh beginning. That South Africa's 72-day tour is India's first home series after the passing away of Jagmohan Dalmiya while he was the BCCI president makes the occasion even more poignant. Dalmiya's crucial role in arranging South Africa's first international assignment after an apartheid isolation of 21 years and eight months is well documented.
On November 10, 1991 when Jimmy Cook faced the first ball from Kapil Dev in a one-day international at Kolkata's Eden Gardens, the significance of the moment was not lost on anyone. Clive Rice, South Africa's captain, captured the mood after a lap of honour at the Eden when he said, "I know how Neil Armstrong felt when he stood on the moon."
Since then the two teams have come together to produce a treasure trove of memories. Sachin Tendulkar's famous last over in the 1993 Hero Cup semifinal, Mohammad Azharuddin's onslaught on Lance Klusener in 1997, the needle contests in various Champions Trophy games, the unfortunate match-fixing saga, India's first-ever T20I match in 2006, Virender Sehwag's triple-century in the 2008 Chennai Test, Tendulkar's 200 in the 2010 Gwalior ODI and his fiery battles with Dale Steyn during the 2010-11 tour, VVS Laxman's steely resolve in the Durban Test win in that series, and a century by Jacques Kallis in his last Test in 2012 are some of the abiding images.
Many more layers will be added to the rich rivalry over the next three T20Is, five ODIs and four Tests over the next two and a half months. That India and South Africa will be playing ODIs for the first time since their respective series losses in Bangladesh adds an extra punch to the context.
The last time South Africa played Tests in India was in 2010 when Harbhajan Singh's stellar show took India to a famous win in the dying moments of the last game in Kolkata and helped them retain the No.1 Test ranking. A lot of water has flown under the bridge since then and now the teams will be playing for the 'Freedom Trophy'. The Indian Premier League has contributed significantly in helping the South African players get a better understanding of the subcontinental conditions.
"We are fortunate to have quite a few players who know Indian conditions because of the IPL," Russell Domingo, South Africa's coach, said on the team's arrival in New Delhi. "They understand what is required to play in these conditions."
Domingo, however, was clear that the varied conditions across the country will offer the team with unique challenges.
"We expect tough and uncompromising cricket during the tour. That is also how we play," he said. "The players are used to tough places. South Africa is not for sissies. We enjoy different cultures. We enjoy meeting and mixing with new and different people."
Domingo would be expecting AB de Villiers, Hashim Amla and Dale Steyn to walk the talk. It is de Villiers's first full tour of India since becoming an IPL star. He would love to gift his Royal Challengers Bangalore with a special knock when he turns up for his 100th Test at the M Chinnaswamy Stadium.
Memories of Amla's lone defiance with the bat during that 2010 series is still fresh, while Steyn's reputation as one of the fiercest bowler in world cricket has gained more weightage since he single-handedly demolished the Indian batting in the first Test of that series.
South Africa's relentless approach makes them the current No.1 Test side in the world as per the ICC rankings. They are the only team to not have lost an away Test series since 2006, and Ravi Shastri, India's team director, expected his team to be tested too.
"We know what we are up against. They are a stiff opposition. They play well in overseas conditions, better than any other side in world cricket," said Shastri. "They travel better than any other side in world cricket and their record shows that. We know what we are up against, the respect is there, but we won't take any backward steps."
Having just recorded their first overseas Test series win – against Sri Lanka – in the last four years, India would like to ensure that there indeed no backward steps.
Head to Head:
Tests (29): India 7, South Africa 13, Draw 9
ODIs (71): India 26, South Africa 42, No Result 3
T20Is (8): India 6, South Africa 2
Sidhanta Patnaik is a senior staff writer at Wisden India
He tweets @sidhpat
Comments
comments