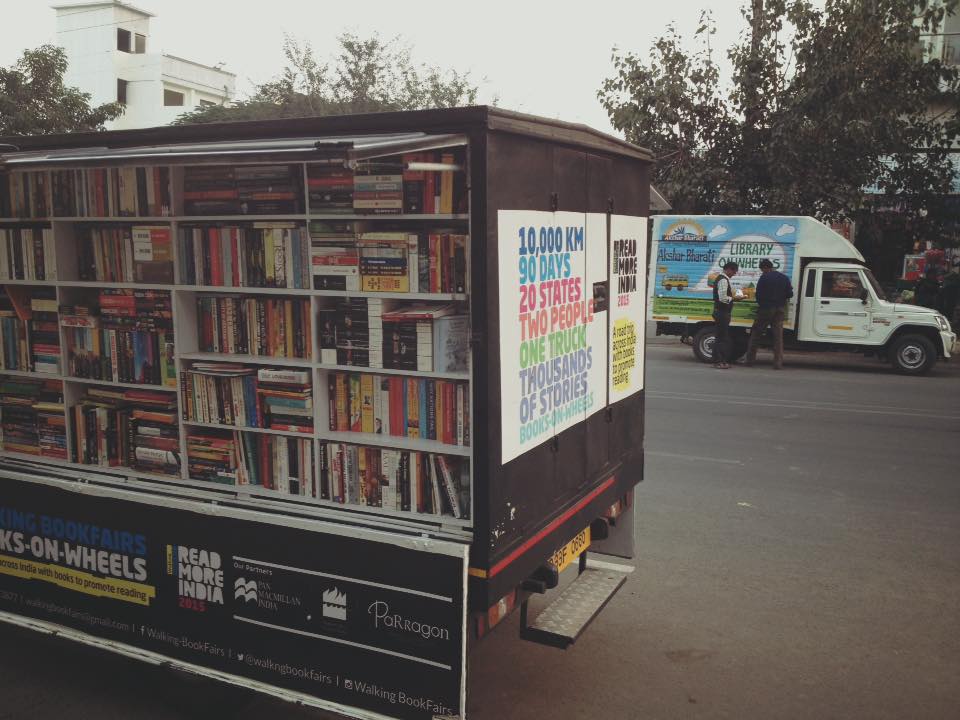 Bhubaneswar-based 'Bibliophile Travellers' Akshaya Rautaray and Satabdi Mishra (pictured above) of 'Walking BookFairs' are travelling to 20 states, 10,000 km for a period of 90 days as part of their 'Read More India 2015′ book tour to promote reading. The journey started on December 15 from Odisha.
For them, the book tour is a celebration of books, reading, writers, bookshops, booksellers, libraries and publishers.
At their truck that is custom made to hold 4,000 books, anyone can look at books by various authors and read diverse kind of writings by both Indian and Foreign writers free of cost.
"It is ironical that there are so many literary festivals happening all over the country but less and less people are reading books. There are very few bookshops in India and no bookshops in smaller towns or villages.
"Most bookshops are shops selling textbooks and stationery. Even the bookshops that one finds in bigger towns or cities stock mostly best sellers with zero discounts offered to general readers.
"Though there are many good authors in India, many books and authors are not able to reach people everywhere because of a lack of effective distribution chain and because there are no bookshops," says Akshaya, who along with Shatabdi has set up a 'Walking BookFairs' store in Bhubaneswar."
More Details here on rediff.com
Comments
comments