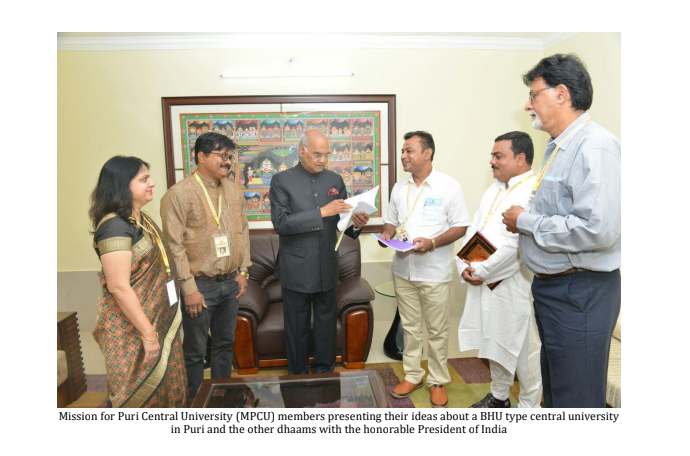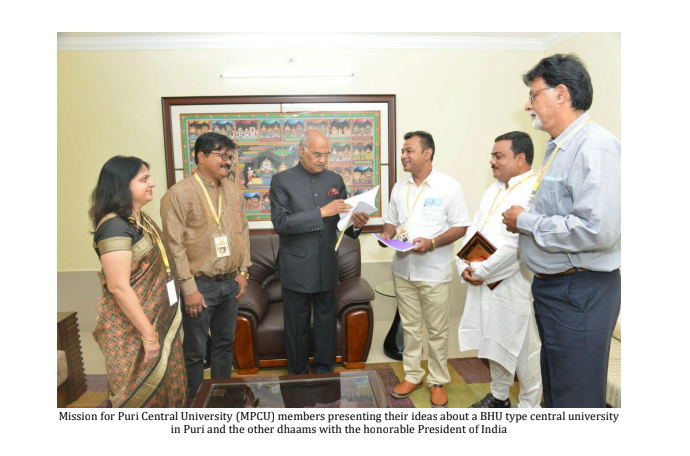 Dear Esteemed Chief Minister:
Thank you for your proactive efforts and regular letters to central ministers (including the PM) that has led to the establishment of several centrally funded institutions (NISER, IIT, IIM, and IISER) and a central university across various places (Bhubaneswar, Sambalpur, Berhampur, and Koraput) in Odisha during the last 12 years.
We request you to continue such efforts, and in particular, urgently pursue a  broad based central university like BHU in the ancient knowledge center Puri.
Recently in several seminars and meetings at the 50th annual convention of the Odisha Society of the Americas (OSA) and in various e-forums there is a discussion on grassroots effort for such a "BHU-type Central University" in Puri. Attached is a booklet that describes and chronicles various aspects of this effort over the last 3-4 years.
We strongly support this effort and agree that:
(a) Odisha lacks and urgently needs a BHU-type broad based central university (Note that BHU is somewhat of a unique  university in India that has  a wide array of programs including Languages, Science, Commerce, Liberal Arts, Medicine, Law, Agriculture, Engineering, Education and Performance Arts.); and
(b) Puri is an apt location for this as it is one of the 4 dhams (pilgrimage centers) institutionalized by Adi Shankara, and has the history of being a premier center of knowledge in India. Various priests, preachers, tourists, poets, saints, seers, teachers, devotees and thinkers visited (and some stayed over in) Puri and left their imprint on Puri. This includes, Adi Shankara, Narahari Tirtha, Nimbarka Acharya, Jayadeva, Sri Krishna Chaitanya Mahaprabhu, Vishnuswami, and Madhvacharya.  Even now Puri has 752 mathas (monasteries), and many Kotas, Jagas, Akhadas and ashrams (hermitages). More importantly,  Puri being one of the premier historical center of knowledge of India is widely known. Last year (2018) the President of India Shri Ramnath Kovind when visiting Puri in his speech (18th March 2018: https://presidentofindia.nic.in/speeches-detail.htm?466) said many paragraphs about Puri as an ancient center of knowledge and specifically said that Puri was called Vidya Nagari and India's Kashi of the East. We think that these attributes will appeal to the current central government very much. In addition, Puri's proximity to Bhubaneswar will take the existing knowledge ecosystem of Bhubaneswar one notch higher.
In case any one points out that Odisha was already given a Central University in Koraput, one must counter that since that time Bihar has been given SIX central universities at Gaya, Motihari, Nalanda, Kishanganj, Vikramshila and Pusa and thus Odisha's desire for a BHU type central university in the abode of Lord Jagannath is reasonable and appropriate.
As you are well aware timing plays a very important role in such efforts. During the initial 1-2 years of the previous governments many new central institutions and universities were declared and in 2014 and 2015 Odisha was granted an IIM and an IISER. Other states have noted that and few days back the Chief Minister of UP has demanded an IISER for UP. (July 8 2019: https://timesofindia.indiatimes.com/home/education/news/adityanath-writes-to-hrd-minister-urging-him-to-establish-iiser-in-up/articleshow/70121729.cms)
Hence, we should not  be complacent and fall behind. We request you to immediately demand a BHU-type central university and write to the honorable Prime Minister and HRD minister about it.
Booklet for Central University Puri
Comments
comments