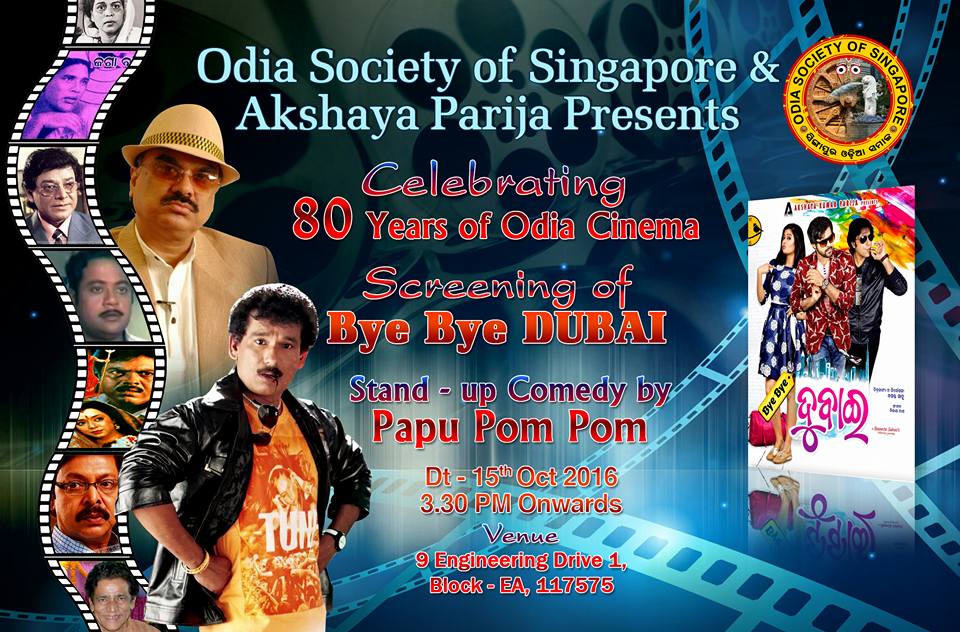 Singapore Odia Society is celebrating 80th year of Odia Cinema and Akshay Kumar Parija, shall be screening his latest Odia film – Bye Bye Dubai on 15th Oct'2016. Versatile Papu Pom Pom will be performing stand-up comedy at the occasion.
'Bye Bye Dubai' was the first ever movie to be shot in Dubai for about 15 days. The movie was successful in showcasing the luxury and night-life of the City of Gold.
Akshay Parija known as the Ollywood industry's Game Changer is now taking 'Bye Bye Dubai' to South-East Asia's City of Garden, the Singapore city. Here the movie will be screened amidst Odias and other Indian dignitaries settled-in there.
The entire team of Bye Bye Dubai are grateful to Shri Sambit Mishra and Singapore Odiya Association for the honor of hosting the overseas premier of the film. I hope with this trend setting initiative many more Odiya films will follow in coming days, said Producer Akshay Ku Parija.
Odia Society of Singapore shall be dipped into the hilarious journey by live performance of Papu Pom Pom, there at 9 Engineering Drive-1 venue.
Papu's quote on his travel to Singapore:  My first experience at Singapore and big privilege to be able to take our Odia brothers and sisters to a hilarious journey.
We are all excited and waiting for this function being hosted in Singapore. This is a beginning and we hope to host many more such functions in future, says Sambit Mishra, President of Singapore Odia Association.
Comments
comments