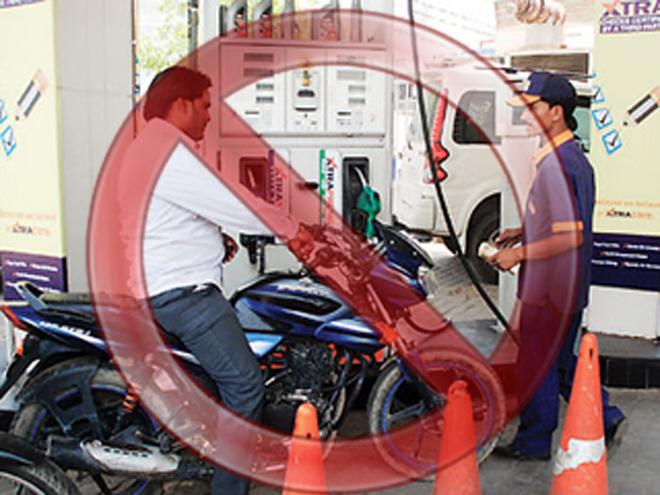 Odisha will now enforce traffic rules the hard way. The government has asked the police to ensure No Helmet No Petrol a public movement is adhered by petrol pumps across the state.
The suggestion of a campaign was given by Chief Secretary A P Padhi while reviewing implementation of road safety measures in the state at a high level meeting.
Mr Padhi directed the works department to expedite corrective works on major black spots within two month.
The National Highway Authority of India was told to act promptly on observations of the Supreme Court Committee and start corrective works of the black spots on National Highways and was asked to fix appropriate signages and signals on roads leading to various towns and cities within a month.
Mr Padhi said the goal to reduce road accidents could be achieved only if transport, police and works departments work together towards implementation of road safety measures and enforcement of rules.
On the availability of trauma care centres for road accident victims in the state, Padhi said the state government has been proposing to set up eight more trauma care centres in addition to the existing eight such centres.
The issues relating to identification of black spots, necessary corrective measures, checking of drink and drive, suspension of driving licenses of habitual traffic offenders, establishment of trauma care centres etc. were discussed and sorted out in the meeting, Mr Padhi said.
"The police have been advised to take up 'no helmet-no fuel' initiative as a public movement and ensure its implementation," he said.
Driving licenses of drivers committing more than five offences were being suspended. As of now, 18,000 licenses have been suspended.
Meanwhile, the NHAI has identified 23 black spots on National Highways and 13 black spots on state roads. The state police have identified around 200 black spots in 26 districts bases on incidences of accidents and causalities during last three years, officials said.
Padhi directed officials to complete the identification of black spots, share the information among each other and start corrective measures within two months, an official release said.
PTI
Comments
comments