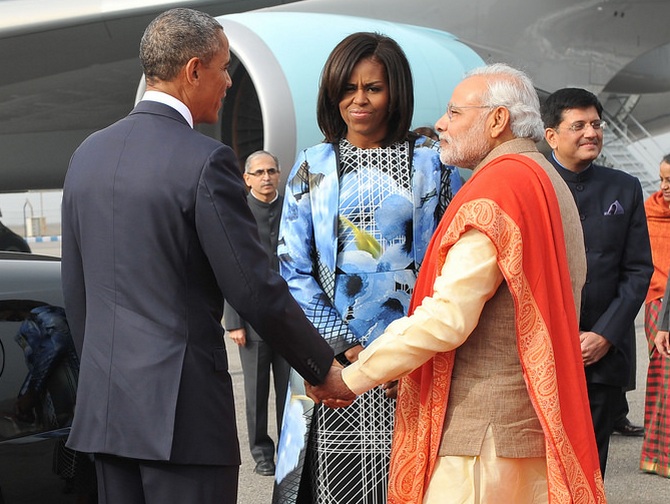 It is a regular, if freezing, January afternoon in New York, or so the news reports show, with the city having escaped the brunt of blizzard Juno.
As we speak on the phone, designer Bibhu Mohapatra, in his studio near Times Square, seems to have his hands full.
He is juggling several things at the same time — preparing for his fall collection for the upcoming New York Fashion Week, arranging for important faxes to be received and responding to all the wishes pouring in on Twitter.
It's been four days since Michelle Obama, the First Lady of the United States, touched down in Delhi for a state visit wearing a floral printed dress from his Spring Summer 2015 collection, and messages of congratulations are still pouring in on the social media.
Mohapatra is no stranger to dressing celebrities.
Hollywood A-listers such as Gwyneth Paltrow, Hilary Swank, Glenn Close, Kristen Wiig, Elisabeth Moss and Lupita Nyong'o have worn his designs in the past.
He is quite a favourite with Bollywood actors as well, with Sonam Kapoor, Priyanka Chopra and Kareena Kapoor donning his creations on the red carpet.
This is also not the first time that Michelle Obama has donned one of his dresses. She wore a yellow, printed and layered dress from his resort collection titled Citrus Painterly, nearly two years ago for The Tonight Show with Jay Leno.
Given the United States' obsession with the First Lady's wardrobe, it had made Mohapatra a household name.
It's been a long journey for this boy from Rourkela, Odisha, who came to Utah to pursue a master's degree in economics and then left it all in 1998 to pursue a course in fashion designing in New York instead.
"Growing up in Odisha, it was a different sort of India back then, especially when it came to art and design. It was difficult to carve out a career in fashion," he says.
So, he focused on his studies and decided to pursue economics, a subject that he enjoyed.
With his brother and cousins already in the US, he too applied for the master's degree course at Utah State University.
Full interview Article Link on Rediff
Comments
comments