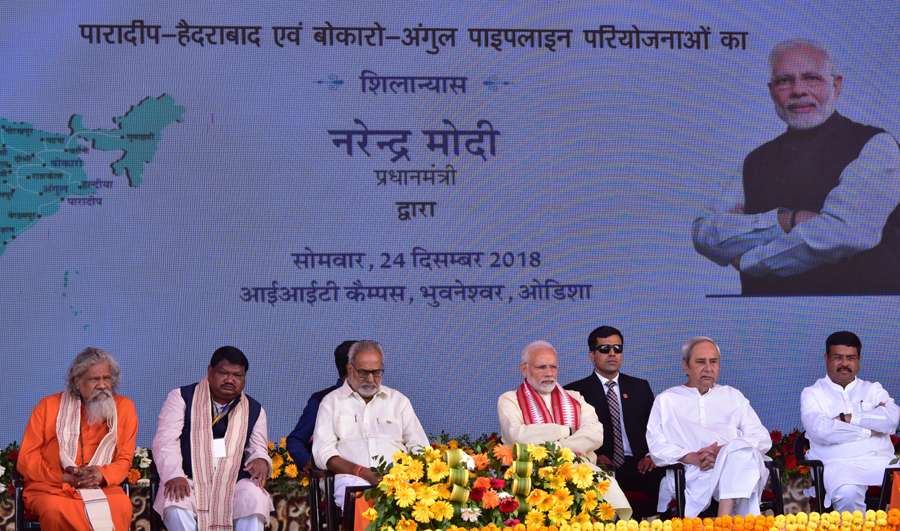 The Prime Minister, Shri Narendra Modi, visited Odisha on 24th December, 2018.
At the IIT Bhubaneswar campus, the Prime Minister released a commemorative stamp and coin on the Paika Rebellion. The Paika Rebellion (Paika Bidroha) was fought against British rule, in Odisha in 1817. The setting up of a Chair on the Paika Rebellion, in Utkal University, Bhubaneswar, was announced.
The Prime Minister inaugurated the Lalitgiri Museum. Lalitgiri in Odisha is a famous Buddhist centre of archaeological importance, comprising Stupa, Viharas (monasteries) and images of Lord Buddha.
Shri Narendra Modi dedicated the IIT Bhubaneswar campus, to the nation. He also inaugurated the new ESIC Hospital at Bhubaneswar.
He laid the Foundation Stone for Paradip-Hyderabad pipeline projhect of IOCL and Bokaro-Angul Pipeline project of GAIL (India) Ltd. and road projects.
It may be noted here that, Paradip-Hyderabad Pipeline is designed to supply of petroleum products like Motor Spirit (petrol), High Speed Diesel, Aviation Turbine Fuel and Superior Kerosene Oil from IndianOil's Paradip refinery. The Paradip-Hyderabad Pipeline project involves laying of 1212 km pipeline from Paradip to Hyderabad, traversing through 16 districts in the states of Odisha (6 districts), Andhra Pradesh (6 districts) and Telangana (4 districts).
The project cost of this Pipeline is Rs. 3808 crore and is targeted to complete the project by August 2020. Paradip-Hyderabad pipeline, having a capacity of 4.5 Million Metric Tonnes Per Annum (MMTPA) shall take its inputs from Paradip refinery and feed the upcoming petroleum product depot at Berhampur in Odisha, existing depots at Vizag and Vijayawada in Andhra Pradesh, upcoming depot at Achutapuram, also in Andhra Pradesh, and, upcoming depot at Hyderabad in Telangana. Besides the above, product inputs to the pipeline shall also be made at Vizag Port. Pumping facilities will be installed at Paradip and Berhampur in Odisha; Vizag, Rajahmundry and Vijayawada in Andhra Pradesh.
The Bokaro – Angul section being constructed by GAIL (India) Limited will have a total length of 667 km, of which 367 km will be in Odisha and 300 km in Jharkhand. It will cover five districts in Odisha (Angul, Sundargarh, Jharsuguda, Sambalpur and Debagarh) and six districts in Jharkhand (Bokaro, Ramgarh, Ranchi, Khunti, Gumla, Simdega).
The project cost of this section will be approx. Rs 3400 crores and is scheduled to be completed by December 2020. The section is part of the 2650 km-long JHBDPL project, popularly known as 'Pradhan Mantri Urja Ganga' passing through the states of Uttar Pradesh, Bihar, Jharkhand, West Bengal and Odisha. The pipeline is further being extended from Barauni (Bihar) to Guwahati (Assam) with a length of approx. 730 km which will be a gateway for pipeline infrastructure in the North East.
Speaking on the occasion, the Prime Minister said that the total worth of projects which were either inaugurated, or for which the Foundation Stone was laid today, is over Rs. 14,000 crore. He said the Union Government aims to develop eastern India as the gateway to South-East Asia.
The Prime Minister said that IIT Bhubaneswar would spur the industrial development of Odisha, and work towards technology to improve the lives of the people.
The Prime Minister mentioned the plans to expand the healthcare infrastructure, road network, and oil and gas pipeline infrastructure in the State. The Prime Minister reiterated the Union Government's commitment towards the all-round development of Odisha.
Along with Hon'ble PM, Prof. Ganeshi Lal, Governor, Odisha, Shri Naveen Patnaik, Chief Minister, Odisha, Shri Jual Oram, Minister of Tribal Affairs, GoI, Shri Dharmendra Pradhan , Minister of Petroleum & Natural Gas and Skill Development & Entrepreneurship, GoI and Dr.(Prof) Prasanna Kumar Patasani , Hon'ble Member of Parliament, Bhubaneswar  also shared the stage.
Comments
comments