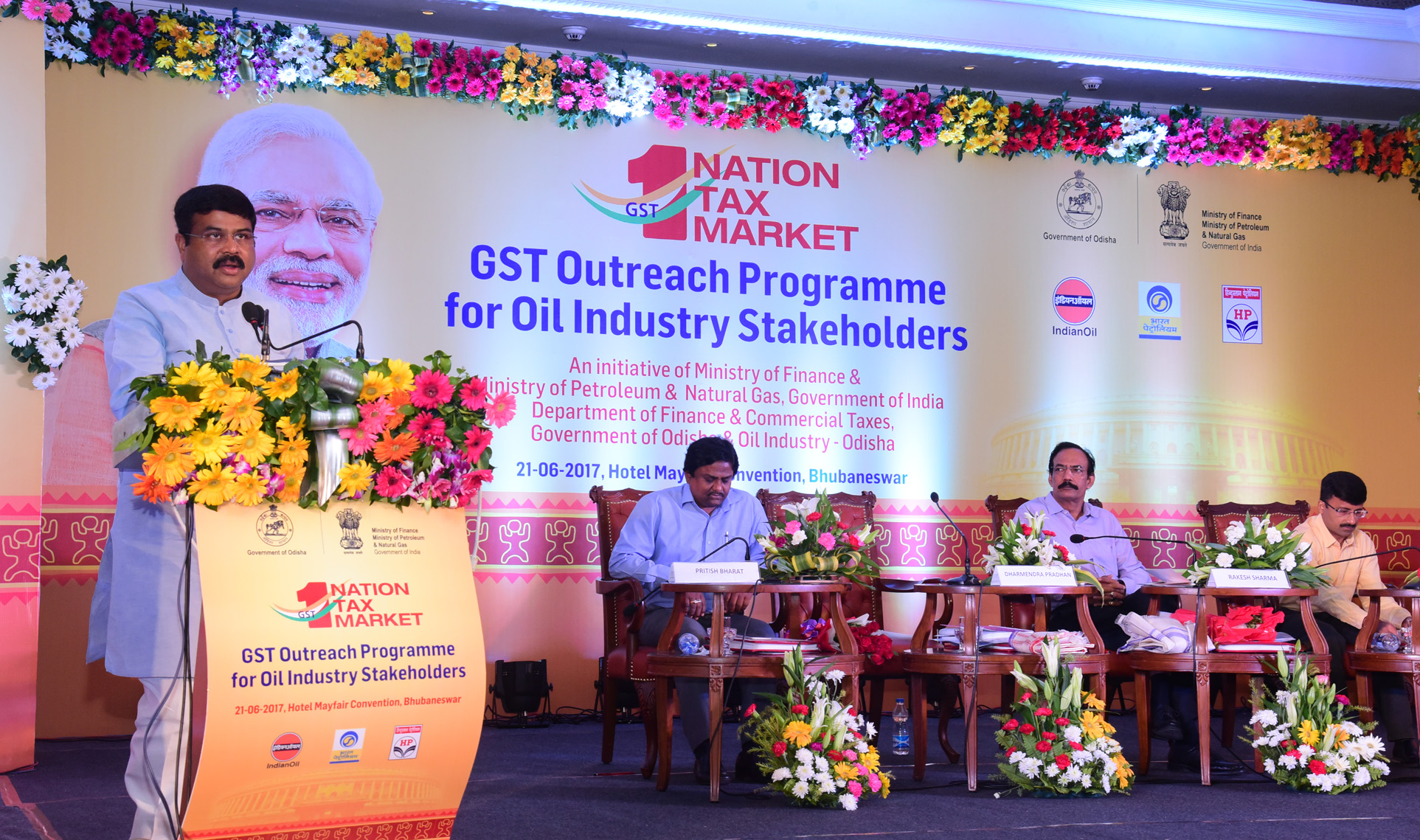 GST outreach programme for oil industry stakeholders an initiative of Ministry of Finance & Ministry of Petroleum and Natural Gas, Government of India, Department of Finance and Commercial Taxes, Govt. Of Odisha and Oil Industry Odisha was held today in Bhubaneswar. Hon'ble MoS (I/c) P&NG Mr. Dharmendra Pradhan was the chief guest of the programme. Mr. Pritish Bharat CGM IOC Odisha delivered the welcome address. Among others Mr. Saswat Mishra, Commissioner of Commercial Taxes, Mr. S K Mohanty, Jt. Commissioner, Central Excise & Customs and other dignitaries from oil marketing companies of Odisha were also present during the occasion.
1st of July 2017 is a moment of truth in our quest for one nation, one market, one tax. GST is a win-win situation for the entire country. It brings benefits to all the stakeholders of Industry, Government and the consumer. It will lower the cost of goods and services and gives a boost to the economy and makes the products and services globally competitive. GST aims to make India a common market with common tax rates and producers and remove the economic barriers thus paving the way for an integrated economy at the national level.
The GST outreach programme was essentially intended to bring all the stakeholders tax development of the central/ state governments and tax payers under one common platform. This programme also provided an opportunity to the tax payers to seek necessary clarifications from the commercial tax departments. Officers made a presentation on the various aspects of GST and various issues relating to implementation of GST and concerns arising out of the transitional provisions were discussed. With specific reference to the petroleum sector Hon'ble MoS I/c welcomed the transformative moment in the tax architecture of the country in the form of implementation of GST w.e.f. 01.07.2017. He also highlighted the political unanimity of the issues for uttering into one nation, one market, one tax. GST is a new regime where tax is reaching out to the tax payers. He also assured all the tax payers that he will appraise the competent forum about the concerns and apprehension of all the stake holders. He also expressed confidence that the technological initiative will ensure successful implementation with ushering in transparency and less intrusive and promote ease-of-doing business. He was of the opinion that Odisha will be greatly benefitted as taxing point has shifted the base to tax on consumption.  As Odisha is a consuming state, the tax revenue will be buoyant. A pro- measure which will facilitate expanding the tax-base. It is a pro-reform measure and justaposed with demonetization is a radical reformative step. He called upon all to be part of the historical transition to a new tax system.
MS (Motor Spirit), HSD (High Speed Diesel), ATF (Aviation Turbine Fuel), Crude & Natural Gas are only out of GST. Rest all petroleum products shall be covered under GST for example SKO (Superior Kerosene Oil), LPG, FO (Furnace Oil), LDO (Light Diesel Oil) etc.
Commissioner of Commercial Taxes, Odisha, Shri Saswat Mishra gave a presentation on GST.Chief Commissioner Central Excise & Customs & Service Tax, Shri Rakesh Sharma, Bhubaneswar Zone is Guest of Honour and explained all the queries raised by the participants and Sri Debasis Palit State Head Retail Odisha & Jharkhand, BPCL gave the vote of thanks.
Comments
comments