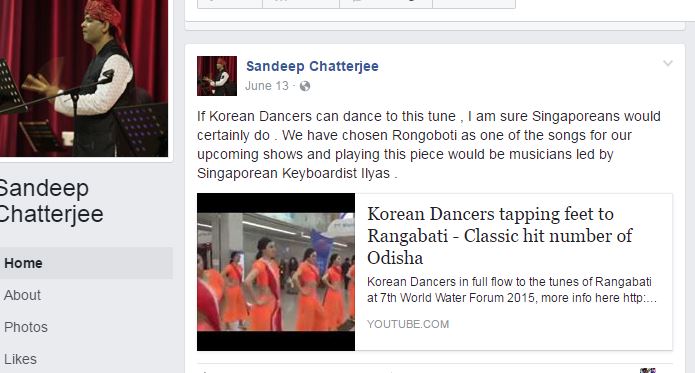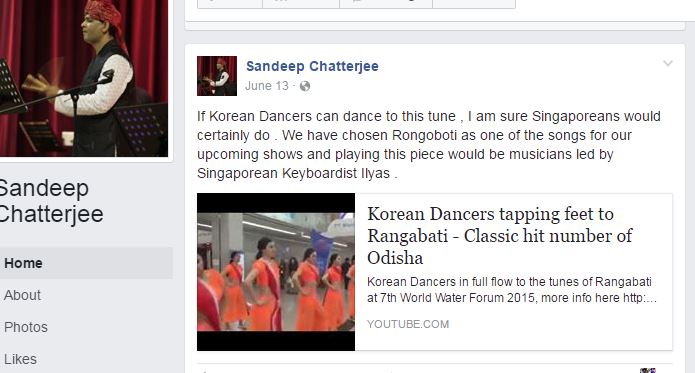 Here is the link to the video that Sandeep Chatterjee posted with the statement above.
Read more why Korean dancers were dancing to this video
Here is when Sandeep performed at the Buona Vista CC Singapore . Song is oroginally sung by Jitendra Haripal . A famous Sambalpuri song from the State of Orissa.
Sung by Sandeep Chatterjee , Somdatta Goswami , Rupa Ray and Amrita Banerjee
Sandeep Chatterjee is a Singapore based Singer , Songwriter and Composer . He sings in many Indian languages most notably in Hindi , Bengali and Odia . Sandeep is a versatile singer and regularly performs Bollywood Songs , Ghazals , Bhajans , semi-classical nos. He has been singing since the age of six . During his college days he regularly performed in musical bands . In a major musical contest in Bangalore he was adjudged the " Best Male Singer " in 1996. During this time he recorded two songs in a music Album .Between 1997 to 2006, Sandeep was not active in music .Since 2006 he has been learning classical music under Mrs. Kalyani Puranik at the Temple of Fine Arts. He has performed as a lead Singer for musical productions "Taal Express, "Water" , and "Damaru " Sant Bhakti Vandana" and also participated in the Singapore Arts Festival . He has appeared in media channels such as Vasantham , FM96.3 , Channel News Asia etc. He has performed in various musical programmes in India , Singapore , Malaysia , Indonesia . In 2012 Sandeep produced his first Solo Album " Khwab " which was written , composed and sung by him. He has also two Bengali albums " Birohi Papiha Bole ( Nazrul Songs ) " and " Samarpan " ( Rabindra Sangeet ) . Sandeep is releasing his new album "Haqeeqat" in 2014 .
Sandeep also has an outstanding academic and professional career . He has a Masters Degree in Personnel Management and Labour Welfare from Utkal University ( First Class First rank ) followed by HR and Management courses from continuing studies arm of Stanford University and University of California Berkeley and currently is the Managing Director of Flexione Pte Limited a technical services company.
Comments
comments