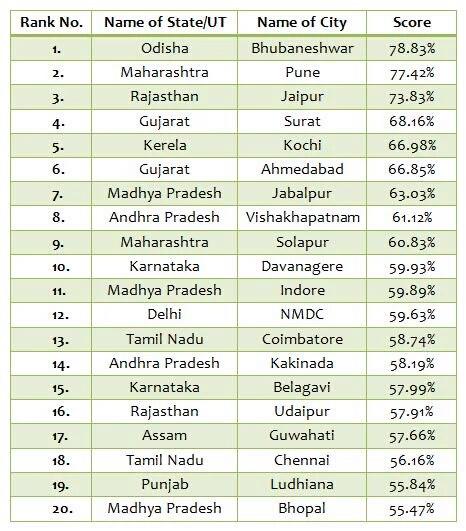 Union Development Minister M Venkaiah Naidu announced the names of 20 smart cities on Thursday in New Delhi.
Bhubaneswar, Pune, Jaipur, Surat and Kochi are the top 5 smart cities in India with 78.83%, 77.42%, 73.83%, 68.16% and 66.98% scores respectively.
Venkaiah Naidu while addressing the media said, "Today marks a historic landmark in annals of urban development as we get to know the first batch of 'Smart Cities'. This will demonstrate how integrated planning & smart technologies can deliver better quality of life."
Stating that the Smart City plans have been prepared by the Urban Local Bodies and the States, he added, "The results of the competition revealed the unrecognised strength of the federal structure in our country."
"A total investment of Rs 50,802 crore has been proposed in the selected Smart Cities and towns during the five-year period," said Naidu.
It was reported last year that Union Development Ministry will provide Rs 100 crore per city per year over the next five years.
The rest 15 cities are Ahmedabad (Gujarat), Jabalpur (Madhya Pradesh), Vishakapatnam (Andhra Pradesh), Solapur (Maharashtra), Devanageri (Karnataka), Indore (Madhya Pradesh), NDMC (Delhi), Coimbatore (Tamil Nadu), Kakinada (Andhra Pradesh), Belgaum (Karnataka), Udaipur (Rajasthan), Guwahati (Assam), Chennai (Tamil Nadu), Ludhaiana (Punjab) and Bhopal (Madhya Pradesh).
Bhubaneswar Buzz is available in 10 social media channels, check out all of them here
Did you know Odisha is first in India to host Asian Surf Championship
Like Us in Facebook to get more content like this
Comments
comments