କହିଲା ଜାତିର କାନେ କାନେ, ଉଠିବୁ ଆଉ ତୁ କେତେ ଦିନେ,
ପୂରୁବ ଗୌରବ ପୂରୁବ ମହିମା, ପଡୁ ନାହିଁ କିରେ ତୋର ମନେ ।
ରଚନା – ଉତ୍କଳ ଗୌରବ ମଧୁସୁଦନ ଦାସ
The sacred land of Jagannath, the state of Odisha, is well known for its rich cultural heritage, its religious importance, and its contribution to building a modern-day India. Since the era of Emperor Chandragupta Maurya, State of Kalinga (present-day Odisha) was well-known politically and economically in the Indian subcontinent.
Odias have immensely contributed to national growth, and have served, shaped and built India in many capacities. Odias have made a national landscape of uniqueness for their significant contribution to the country over the past several decades in Bollywood, sports, fashion, business, legal, art, healthcare, bureaucracy, etc. We the people of Odisha are inherently proud for our rich culture and contributions. Our people also have got recognition in the national and international platform.
Just to name a few, Guru Kelucharan Mohapatra was the first person to get Padma Vibhushan from Odisha. He is credited for the revival of the classical dance form in the 20th century.
Here, my intention is not to list such personalities who are successful in their respective field of specializations but to show the mirror to the outrages on recent election results and tell how as a society we have become.
Haldhar Nag, a Sambalpuri poet and writer, was awarded Padma Shri for his contribution to Kosli language.
Raghunath Mohapatra a noted sculptor, awarded Padma Shri, Padma Bhushan, and Padma Vibhushan before nominated as a member (as first Odia to do so) to the upper house of Parliament by the President.
Tulasi Munda also awarded Padma Shri for her contribution to spreading literacy among the impoverished Adivasi peoples of Odisha
Sumani Jhodia, who successfully led a campaign against liquor in the Rayagada district, was appointed by Biju Patnaik in the 1990s as an adviser.
All the great personalities mentioned here, we honor their contribution with full recognition and gratefulness. Not for a slightest of the moment, we questioned their educational qualifications, rather, we appreciated their roots.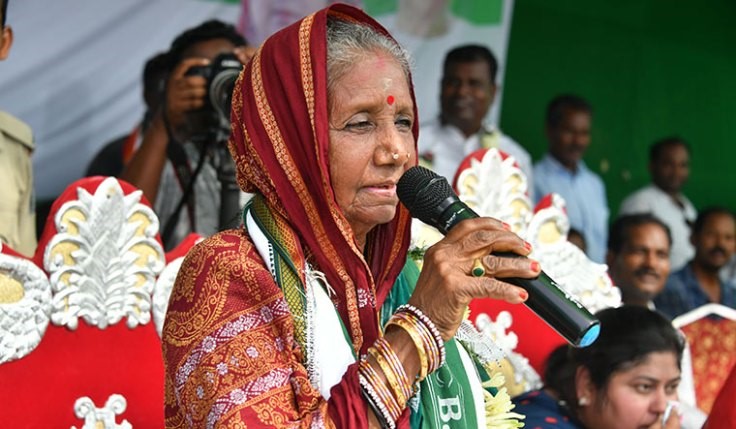 68-year-old Pramila Bisoi, a Biju Janata Dal (BJD) MP from Aska constituency in Odisha.
A recent addition to the list is Smt. Pramila Bisoi, fondly known as Pramila Mausi, who recently got elected to the lower house of Parliament (Lok Sabha). At a time when riches have dominated the political spectrum, it is almost next to impossible to believe that a 68-year old woman (got married at the age of 5) worked as an Anganwadi cook, the face of Mission Shakti, a farmer, and a Self Help Group (SHG) worker, having monthly income Rs. 10,000 to Rs. 12,000 can win an election.
Despite all odds, she has been instrumental in raising a range of issues including empowering women, forest conservation, and availability of potable water. While serving people, probably she might not have ever imagined to be a politician or aspire to be a politician. However, Sj. Naveen Pattanaik, the enigma of Indian politics, firmly believed in her work, put his faith in her and offered her to be the candidate from Aska parliamentary seat, the seat once Mr. Patnaik represented in the parliament, and the rest is in front of us. She won the seat astoundingly with a huge margin.
Today I'm hurt and disappointed looking at the outrages of our people on social media gossip on Mrs. Bisoi. I take this as nothing but the humiliation to the 68-year old woman. And the humiliation for what, just because she can't speak English and Hindi? Have we gone mad? Have we lost all our decency and common sense?
It's very unfortunate that instead of appreciating what she has been doing over two decades, some of us started trolling her, humiliating her. We should be proud of the fact that she is the one who represents true democratic values and the molehill in the mountain of the rich and elite-dominated powerhouse.
Article by : Biswa Pratap Singh ([email protected])
Comments
comments