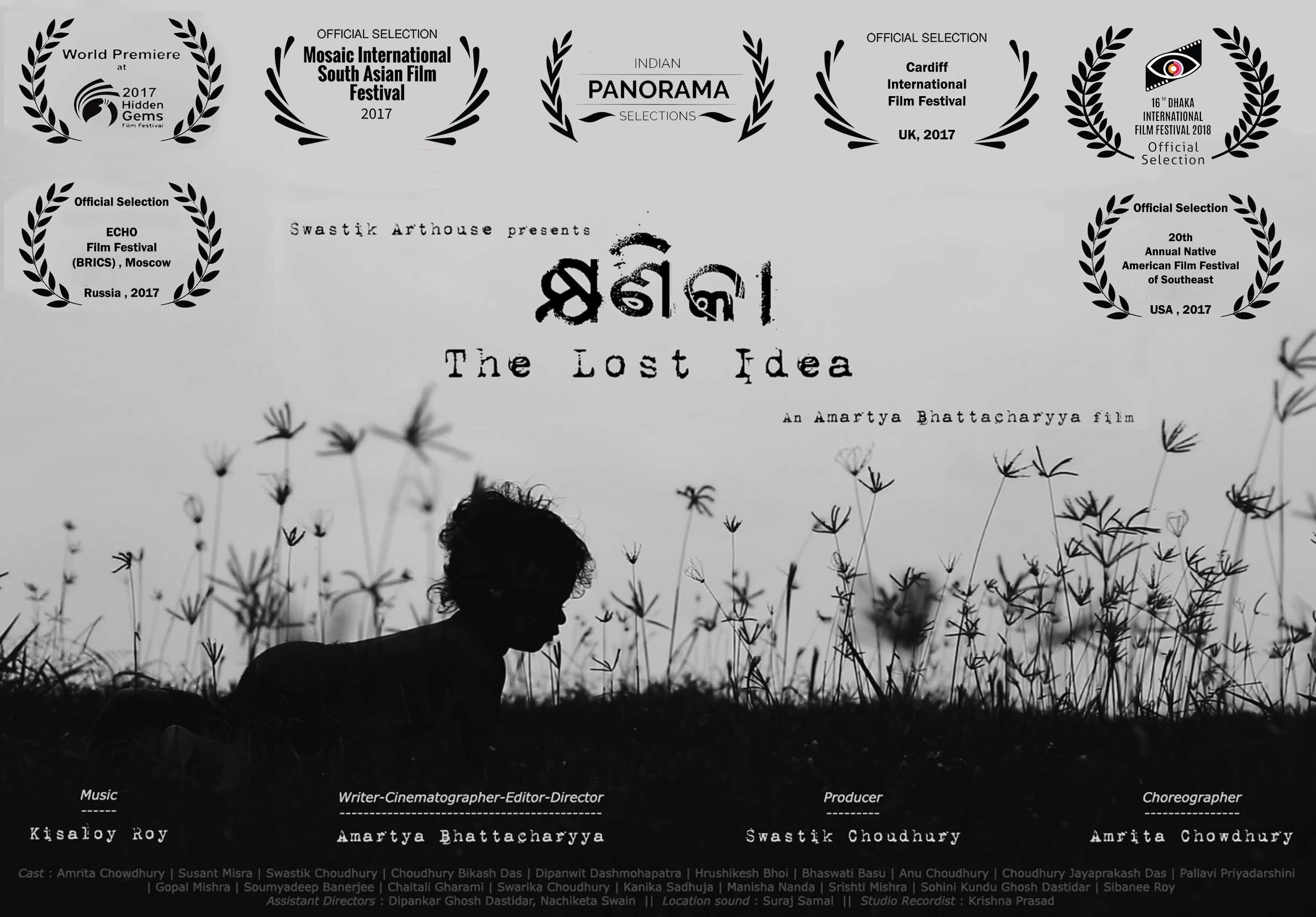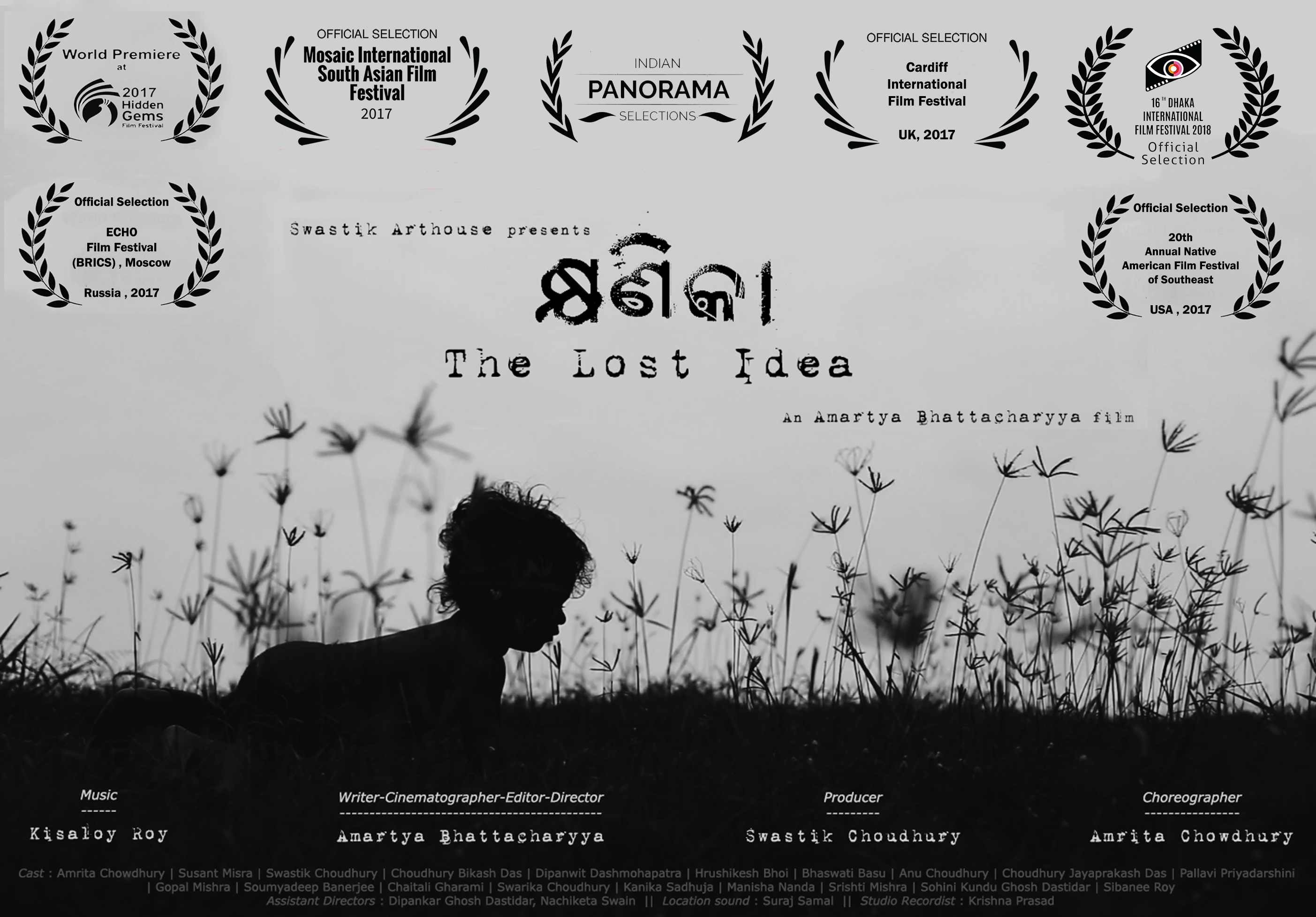 Odia film Khyanikaa – The Lost Idea is now travelling to France and will be screened at PHENICIEN INTERNATIONAL FILM FESTIVAL in Lyon, France coming April 2019.
This is the only Indian feature film at the festival. This marks the 25th international film festival for the film and is undoubtedly a landmark, which as per records, would probably be the first time that an Odia film has achieved this.
The film has made its mark across 14 countries. It was the only Odia film at the prestigious Indian Panorama section at 48th International Film Festival of India, Goa. The film's director Amartya Bhattacharyya, who is also the editor, writer and cinematographer of the film, won the Best Editing at the 29th Odisha State film awards which was awarded a couple of weeks back. The film was highly praised at festivals in Canada, UK, USA, Russia, Ethiopia, Bangladesh, Bolivia, Mexico and other countries. The film had also won an award at the 5th Noida International Film Festival earlier this year. The film also earned a lot of appreciations on its release in Bhubaneswar, though the release was limited to INOX only.
Amartya Bhattacharyya (Writer-Director-Cinematographer-Editor) says- I think this is a victory for independent cinema in Odisha. This would surely boost the spirit of many young filmmakers in Odisha, who feels skeptical about breaking away from conventional cinema. Though it was extremely disheartening to see how Khyanikaa was deprived of its due recognition at the 29th Odisha State Film awards, a potent film can't remain deprived everywhere. I only hope that the people in Odisha warm up to greet films like Khyanikaa more passionately, and only then can we truly build a sustainable model for such kind of films.
Swastik Choudhury's (Producer and actor) says – Knowing Khyanikaa will be at its 25th festival is a matter of great pride for every Odia. Never has an Odia film been to as many festivals as this film has so far. All it matters now is how we can ensure more films like this gets made in Odisha. Odia films have a long journey to make in order to establish their weight at the international platform. Khyanikaa and Capital I have started the process in recent times.
On another development, Amartya Bhattacharyya's latest feature film Runanubandha, a Bengali film produced in Odisha under the banner of Swastik Arthouse, is set for its international premiere premiere at 7th Toulouse Indian Film Festival in France. The film was earlier premiered at the 24th Kolkata International Film Festival 2018. Runanubandha also made it to other festivals like 11th Bengaluru International Film Festival and 14th International Film Festival of Thrissur.
About the Film
The film is a fantasy driven tale of two men, a poet and a painter, claiming possession over the same Idea, in a rural village portrayed as a wonderland. Idea is personified as a beautiful young lady, free of all bondage.The two men try to justify their claim over their Idea through their forms of art.
Unable to settle the conflict, the two men approach 'Fate', personified as a big fat man of authority, to judge their claims. They soon realize that Idea is no one's possession and it isn't wise to rely on 'Fate' for a judgement. They decide to bury their 'Fate', and settle the matter in peace. Idea, portrayed as a free spirit, gets impressed by a kid who resides in an alternate world of fantasy, and decides to venture into the new creative world.The real world, with all its materialistic obsessions, rigid notions and prejudices, loses the Idea forever.
The 89 mins long feature film produced under the independent banner of Swastik Arthouse and directed by Amartya Bhattacharyya features Amrita Chowdhury as Idea, Susant Misra and Swastik Choudhury as the aspiring painters and poets. Choudhury Bikash Das plays a mad man, while Hrushikesh Bhoi (Kansha in Dhanuyatra) plays 'Fate'. Anu Choudhury appears as a guest performer. The film also involves some native villagers in its cast, who were trained to act on the location itself. The music is composed by Kisaloy Roy.
The film, being an independent film, is like a home-made piece of art where we haven't even used a post-production studio. From color grading to sound mixing, everything was done by the director Amartya himself on his home desktop. The film was shot with a DSLR camera and without any industry resources or equipment. It has been shot in and around the peripheries of Bhubaneswar and Puri.
Contextually, the film is extremely relevant in the present day where people are obsessed about copyrights to possess their ideas. Only the expression of an Idea can be copyrighted, but an Idea is a free stream of consciousness.
Comments
comments