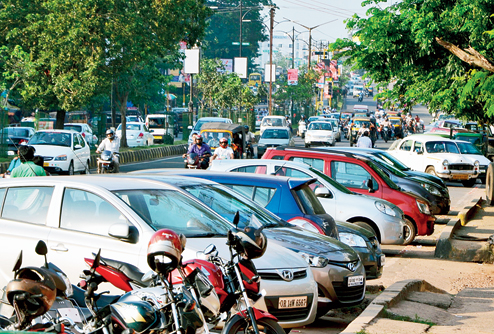 The Bhubaneswar Municipal Corporation (BMC) has decided to reduce the entire stretch of Janpath into two parking zones from the current 11 to reorganize space and relieve people of paying multiple fees on a single stretch. The zones are from Sishu Bhawan Square to Sriya Talkies Square and Sriya Talkies Square to Vani Vihar.
The civic body's move came amid complaints from people having to pay the fee anew even while switching from one shop to another within a distance of 30 to 50 metres. The reason for this being that the parking lot contract has been given to 11 different contractors.
"If we carve only two lots out of the 3.9km Janpath, like one from Sishu Bhawan Square to Sriya Talkies Square, then people moving within this space won't have to pay the fee for moving their vehicles from one shop to another," said a BMC official. Owing to the longer space being given on contract, there won't be any parking fee burden on the commuters. A commuter shuttling between Vani Vihar and Sriya Talkies in his car will have to pay only once, he added.
Officials said the new system may fetch less revenue but it will simplify the parking space management and make the lives of commuters easy. The civic body generated Rs 3 crore from parking fee licence in the 2017-18 financial year. "We are yet to decide whether we will increase the parking fee after the introduction of the new system. Currently, we are charging Rs 20 for cars and Rs 10 for motorcycles," the official said.
The BMC also has plans of reducing the number of parking zones in areas like the Sachivalaya Marg, Vidyut Marg, Unit-I, Jayadev Vihar to Kalinga Hospital and KIIT Square. Other areas like Khandagiri, Nayapalli, Acharya Vihar, Rasulgarh and Kalpana Square will have bigger parking lots.
Comments
comments