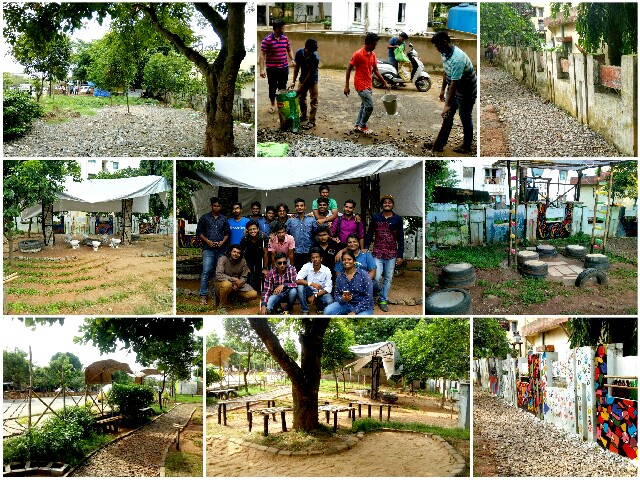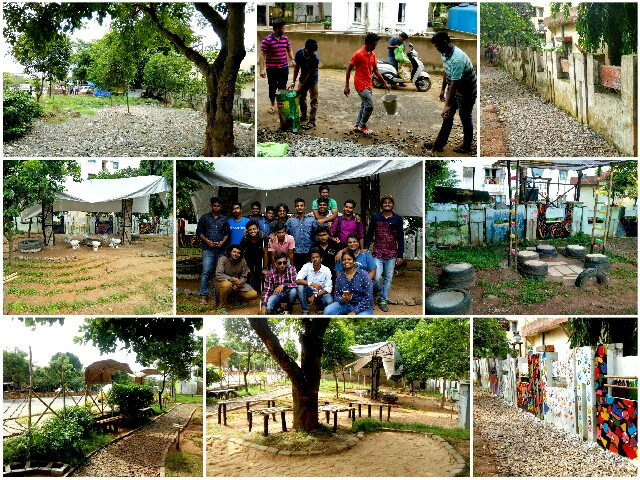 It was indeed a moment of delight when around 20 students of B.Arch. from CET Bhubaneswar took a step forward to take time out of their daily schedule and decided to give something back to the society, that they live in. Within a month, a dump yard and an abandoned land was transformed into a recreational space. The space which was earlier used for just dumping away the garbage was beautifully transformed into a small community park, where people can stop by and relax and have a leisure period after a hectic day of work, or before starting off to work. The best part is that, all kind of natural, recyclable elements and waste materials were used to complete the project. Right from wooden logs, to newspapers, bottles, tyres, glasses, everything and anything that is discarded on our daily basis household chores, was brought back to life by this endeavor. The small site near Fire station chowk, which was earlier used to add a baggage of pollution to the environment was rejuvenated and reincarnated into a cheerful place where people of all ages can connect to.
This project was done as a part of a national competition ANDC, that is ANNUAL NASA DESIGN COMPETITION which is annually held every year by NASA INDIA. NASA INDIA or National Association of Students of Architecture is the largest Students body association of the country that took the bold step of introducing this idea as a part of the brief of ANDC to commemorate the 60th year of NASA INDIA.
The idea was to reflect back to the society with our skills, knowledge and capabilities. What are we good to the society, if we are unable to make the best out of our learnings!
Article by Suman Routray
Comments
comments