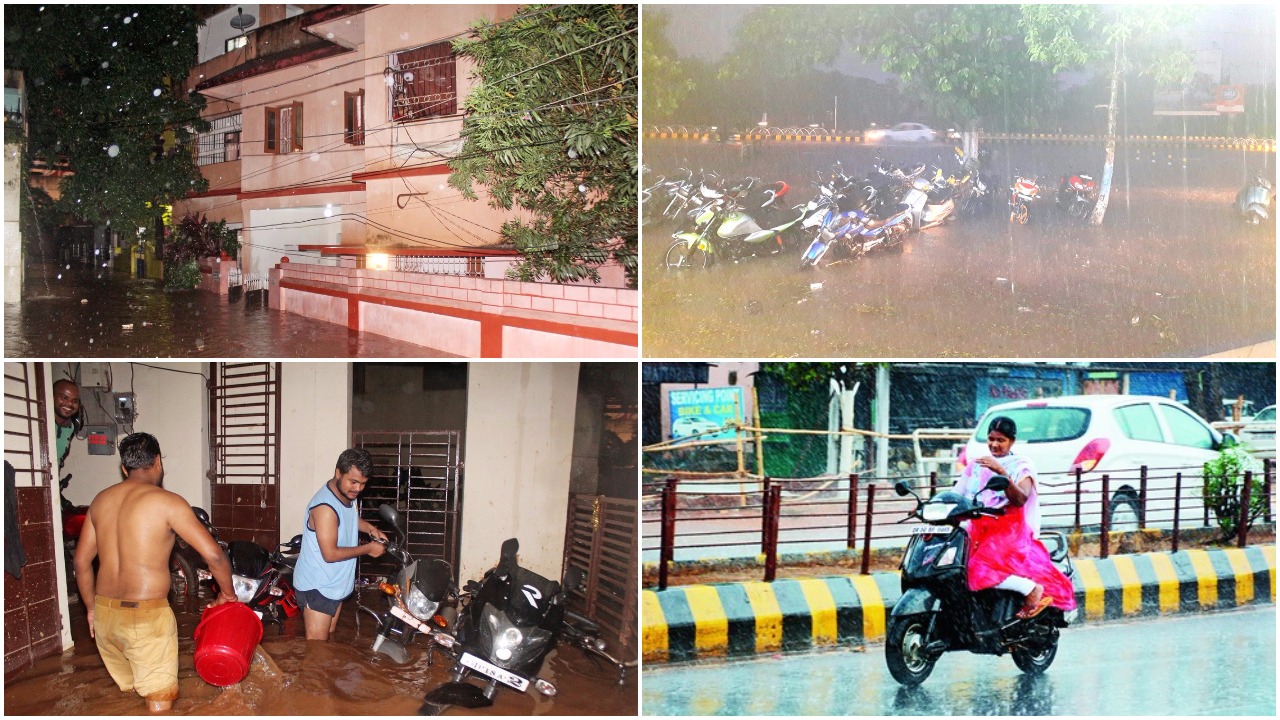 Game that put Bhubaneswar on high is over, players just boarded their flight back home and smart city is welcomed by its own wounds of water logging after heavy rainfalls putting the dream city on standstill which was otherwise dancing over the weekend. Obviously nothing to blame media if they shifted their good words into ugly about city's urban management. Its time again to introspect why year after year its an unsolved problem, not just of Bhubaneswar but of many Indian cities which face the same when it comes to monsoon.
Well Bhubaneswar was not a city that has historical records of getting water logged prior to nineties but with shift in urban planning ideology the story of water logging is now an annual ritual that city can't excuse, rather its getting worse year after year with addition of new areas into its challenge. Such situation has arrived with massive construction of roads, natural drains squeezed into concrete beds, concrete walls to safeguard properties which once used to be vegetation walls, road dividers, flyovers, conversion of swampy areas into construction sites and loss of water sponges. The issue is how to move on and make Bhubaneswar tune its wings in a manner that water logging or flooding can enter into urban planning activities rather than a year after year war.
As many might have noticed the base height of the roads across the city year after year continued to rise along with the urban construction drive, which the drainage system cannot cope in times of heavy rain. Although they have dominated the headlines every year, local governments some how have failed to pay sufficient attention to drainage systems, which has led to regular water logging in large number of areas including the new areas each passing year. Some how for a long time, local authorities have paid too much attention to 'above-ground' construction projects, which are highly visible political achievements and have ignored factors that aren't usually seen, including the drainage systems.
Such ignorance to geography of the city has led into situations that Bhubaneswar now has to rely on pumping stations to drain storm water, mainly as a result of poorly designed and maintained drainage systems. The urbanisation drive, especially the construction of large areas of land with impervious surfaces, has made storm drainage virtually impossible. The storm water run-off stays on the surface and then converges into water logging. This due to the fact local authorities have largely ignored the construction of drainage systems amid the urbanisation drive, adding that urbanisation and construction have resulted in huge areas being covered over with impervious materials e.g. a curved flyover on a highway becoming a swimming pool was beyond imagination before but Bhubaneswar has witnessed such miracles in its streets.
Just few years ago parts of newly urbanized areas of Bhubaneswar required Boats to rescue its citizens, which was beyond imagination for many of those who lived their life since birth in this beautiful city of temples. However, overcoming such incidents overnight seems next to impossible but development of an effective early-warning system is the most effective measure to reduce losses and casualties caused by water logging or urban flooding, requires co-ordination of government agencies including flood prevention, requires input from multiple government departments. The city must formulate an effective plan that will enable them to share information and co-ordinate effectively. Perhaps greater and more effective information-sharing would also enable the emergency services and equipment to be directed to the areas where they are most needed.
One of the most effective measures to increase the efficiency of storm drains in cities would be to reduce the storm-water run-off and raise the levels of water filtration and conservation in urban areas. In order to solve the problem of urban flooding once and for all, the government needs to push forward the "Sponge City" idea. It will allow at least 70–90 per cent of rainwater to soak into the ground, rather than being discharged into rivers. Similarly the level of filtration could be further raised in some areas with low levels of precipitation to increase the use of rainwater. This includes the development of residential communities with storage ponds, filtration pools and wetlands, plus roads and squares built with permeable materials that will allow storm water to soak into the ground more effectively.
It would require a major shift in ideas about urban construction. Rainwater should be regarded as a resource, rather than a burden to be dealt with. Concepts of urban construction should shift from the destruction of the ecosystem to its renewal. Storm Water should be be treated as an issue of public security, so it should become a mandatory requirement when new or old urban areas are being re furbished or planned or built should take into considerations, yes funding such a programme could be a major problem because it would require massive infrastructure investment.
Perhaps smart investing is a necessity for cities like Bhubaneswar aspiring to become smart and ready to house over four million population in next one or two decades from present one million. People must be made aware that more frequent and intense extreme weather events are also expected. Floods like those triggered by unprecedented rainfall in the financial capital Mumbai in 2005 or Delhi while hosting the Commonwealth Games in 2010, or in August 2000 floods in Hyderabad or Surat in 2006 and 1999 floods in Kolkata all are great reminder, how a city suffers. What is necessity now is to transform Bhubaneswar water logging problems into an opportunity by interconnecting the ten natural drainage channels so as to solve the problem in long term while reinventing city's lost oasis than just flushing water in seas through a combination of canals & rivers.
With the United Nations predicting that the number of people in India's towns and cities will almost double to 814 million by 2050, cities need to work out now how to minimize human loss as well as economy and reduce infrastructure damage caused by disasters.
Read the article by Piyush Rout
Comments
comments