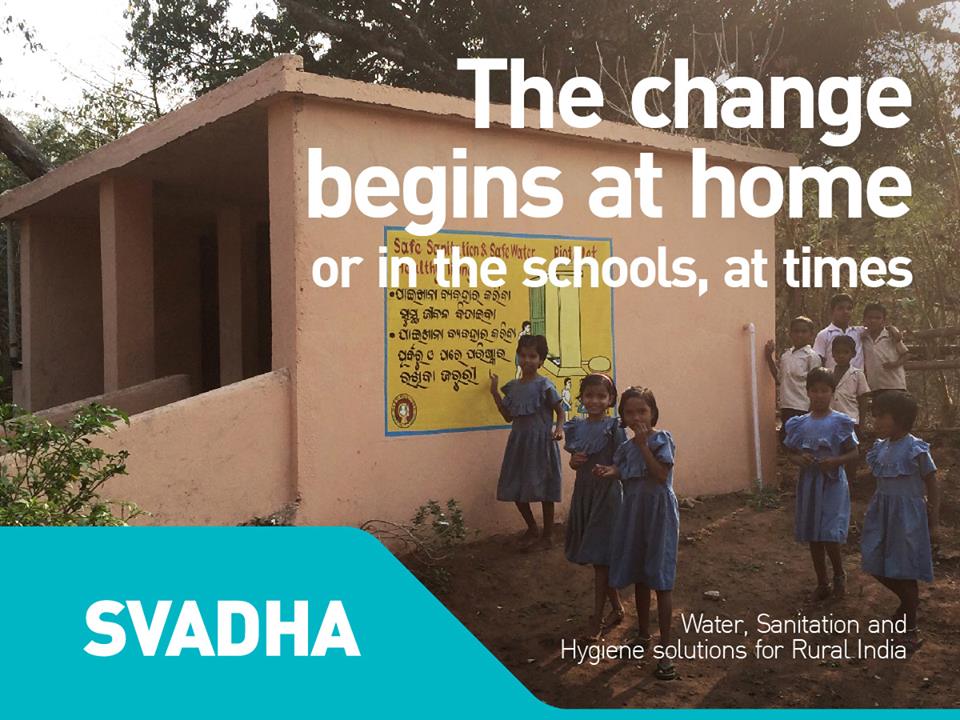 A global index report released in 2015 shows India is performing poorly when it comes to sanitation equity and accessibility. While the country was positioned at a dismal 93rd in the overall 'The Water, Sanitation and Hygiene Performance Index 2015' (developed by Water Institute at University of North Carolina, US), it ranked 34th in 'sanitation access'.
It's no wonder then that a number of companies, including start-ups, are now trying to address the problem. One such platform is Svadha, a Bhubaneswar-based social venture.
Svadha 'aggregates' from leading manufacturers to provide high-quality and affordable sanitation products in rural areas in Odisha. "Using design research and consumer insight, we also innovate (to produce) new sanitation products and services to better meet consumers' needs. These products are then delivered to consumers through our vast network of over 250 sanitation entrepreneurs, whom we train and support to maintain sustainable sanitation access in rural areas," says Garima Sahai, co-founder and CEO, Svadha, adding, "This integrated network brings greater impact through enhanced livelihoods for our entrepreneurs, and dignity and health for consumers."
Svadha's main operations currently focus on Odisha, which has a household toilet penetration rate of only 33%. "Svadha has impacted over one lakh consumers so far," Sahai says.
Nature's true calling
The market potential for toilets in India is huge. As per a report released by international non-profit organisation WaterAid in 2015, 60.4% people in India don't have access to safe, private toilets. India, the world's second-most populous country, also holds the record for the most number of people waiting for sanitation (774 million), the report revealed.
The situation in urban areas is no better. As per another report released by WaterAid in November last year, India—the world's fastest-growing economy—is the worst country in the world for urban sanitation. India ranks right at the top for having the greatest number of urban dwellers living without a safe, private toilet (157 million), as well as the most number of urban dwellers practising open defecation (41 million), as per WaterAid's report. The report also said the problem is so big that the daily waste produced on the streets of India's towns and cities is enough to fill eight Olympic-sized swimming pools, or 16 jumbo jets, with poo every day.
As cities expand, the number of urbanites living without basic sanitation has swelled by 26 million since the year 2000, as per reports. "The industry's potential is said to be about $20-25 billion, provided the government creates legislation and standards to stress the importance of sanitation," says Rajeev Kher, founder and CEO, Saraplast, a Pune-based company that manufactures and services a wide range of portable and fixed sanitation products and services through '3S', the sanitation services brand of the company. Some of its offerings include free restrooms, portable wash basins and urinals, bio-toilets, polyethylene septic tanks, 'sanibins' for sanitary napkin disposal, plastic and ferro-cement bio digesters, among others. "Ours is a temporary solution for unserved settlements at places where toilets can't be constructed. Considering the growth of urbanisation, our business model is quite sustainable, primarily because of its mobility factor. It is difficult to construct permanent brick-and-mortar toilets, especially where land is unavailable. They also involve a lot of cost, first to construct and then to maintain. Portable toilets do not require much maintenance, making the concept popular," explains Kher.
Comments
comments