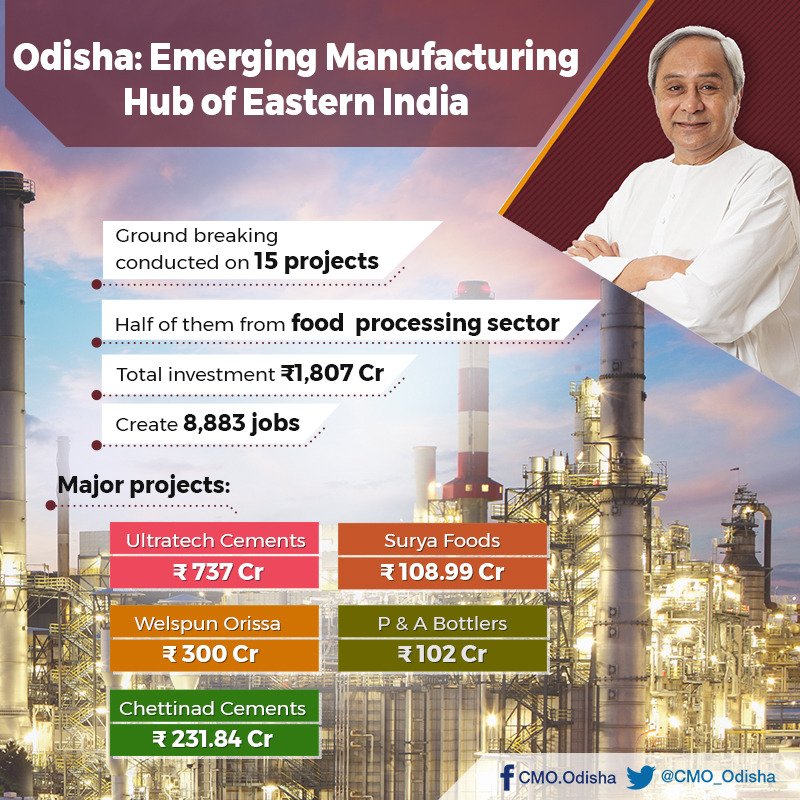 In the run-up to the second edition of 'Make in Odisha' conclave 2018, Chief Minister Naveen Patnaik on Saturday performed ground-breaking ceremony for 15 industrial units worth `1807.92 crore through video-conferencing from the Secretariat here. Food processing including seafood, a strategic priority of the State Government's industrialisation plan, contributed over half of 15 investment intents. The other investment proposals are from diverse sectors including cement, plastics, infrastructure and logistics, textile and apparel and downstream metal units.
In addition, the High Level Clearance Authority (HLCA) headed by the Chief Minister cleared six mega manufacturing proposals entailing investments to the tune of `25,845 crore. These large scale manufacturing units have the potential to create 13,700 jobs, official sources said. Of the new projects, Ultratech Cement will set up a cement grinding unit with an investment of `737 crore in Cuttack while Chettinad Cement will set up a cement plant in Jajpur with `231.84 crore investment.
Welspun Orissa will set up an industrial park in Bhadrak district with an investment of `300 crore. Surya Foods will invest `108.99 crore for a biscuit manufacturing unit in Khurdha while P&A Bottlers Pvt Ltd will set up a brewing industry in Dhenkanal with `102 crore investment.The HLCA clears three proposals of Vedanta Ltd including expansion of alumina refinery at Lanjigarh with an investment of `6,483 crore, aluminium smelter unit at Jharsuguda with investment of `1,240 crore and production of caustic soda and chemical by-products at Bhadrak with an investment of `6,500 crore.
Comments
comments