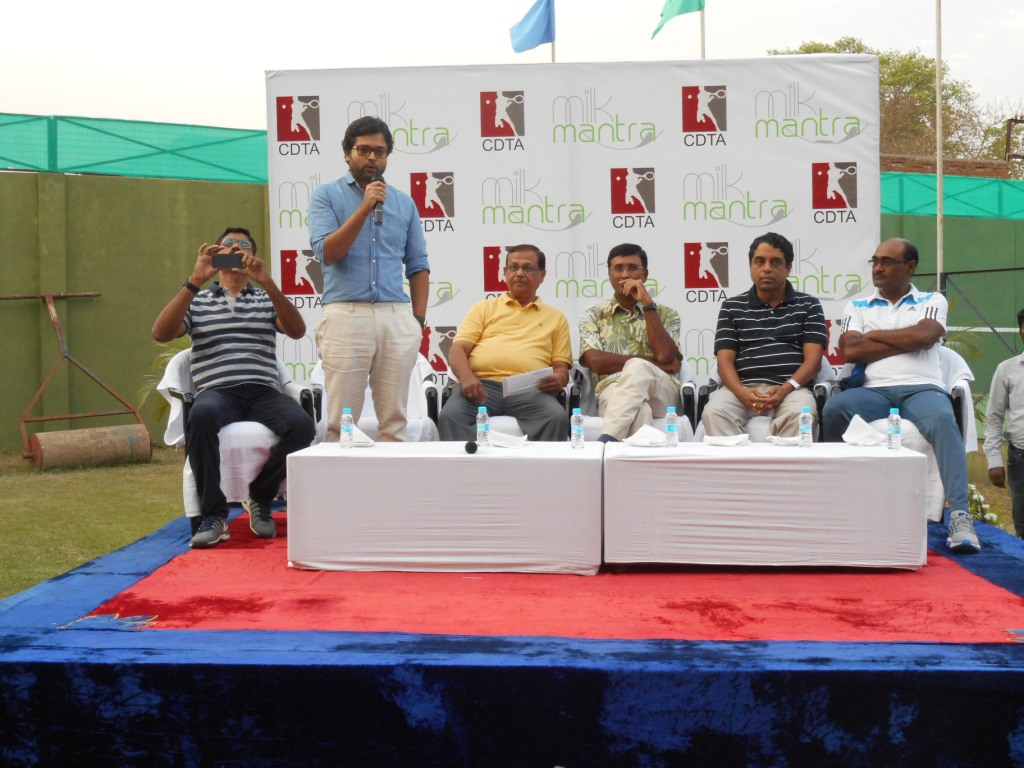 With a strong belief in nourishing truly pure living – one aspect is having Truly Pure milk nutrition which milk mantra brings for consumers through its Milky Moo and Mooshake brands of functionally innovative products. The second aspect is of leading a healthy and active life-and to inspire children to do both these, Milk Mantra has created a sportive environment meant to bring out the best in tennis players of Cuttack by sponsoring two synthetic turf courts to Cuttack District Tennis Association (CDTA). The turfs laid with internationally reputed 'Rebound Ace' technology of Australia are aptly called the Moo Courts. The two courts; Moo Court 1 and Moo Court 2, were inaugurated by the Honorable Principal Secretary, Home Department, GoO, Asit Kumar Tripathy (IAS) in presence of Additional D.G. of Police (Hdqrs), Cuttack, Odisha, Satyajit Mohanty and Milk Mantra Founder & MD Srikumar Misra.
"Odisha in past has created many sports persons of international repute which shows the ability of our youth. By sponsoring this excellent infrastructure, Milk Mantra has contributed towards sports", stated Principal Secretary, Home Department, GoO, Asit Kumar Tripathy (IAS). The newly laid synthetic surfaces are laid with internationally reputed Rebound Ace technology of Australia on which the Australian Grand Slam is being played. One of the primary advantages of these synthetic turfs is, these are softer, more forgiving nature of the surface but with lower maintenance than expected on most soft turfs.
Appreciating the initiative of Milk Mantra & CDTA in love of tennis Additional D.G. of Police (Hdqrs), Cuttack, Odisha Satyajit Mohanty stated, "tennis had a long and glorious past in the millennium city of Cuttack. A complex of seven Tennis Courts with excellent coaching facilities was there in seventies and eighties. The players representing the State in the seventies and eighties were product of the old complex." I hope, this world class infrastructure will bring back the lost identity of Cuttack Tennis, he added.
Speaking on the occasion, Srikumar Misra, Founder & MD of Milk Mantra said, "Tennis is a game to showcase individual prowess and with excellent turfs to practice and play on, individuals, especially young children, would get an environment which will inspire them to hone their skills.  CDTA and Milk Mantra share the philosophy to create such an environment and Moo Courts have been branded bringing in global design, fresh thinking and inspiration for everyone who loves the sport of tennis. I am sure, these turfs will definitely guide the tennis loving young kids in right path to represent Odisha and India in International forums", he added.
Many tennis lovers including veteran players, coaches and young players were also present at the CDTA campus. A exhibition match was also played after the inaugural ceremony.
Comments
comments