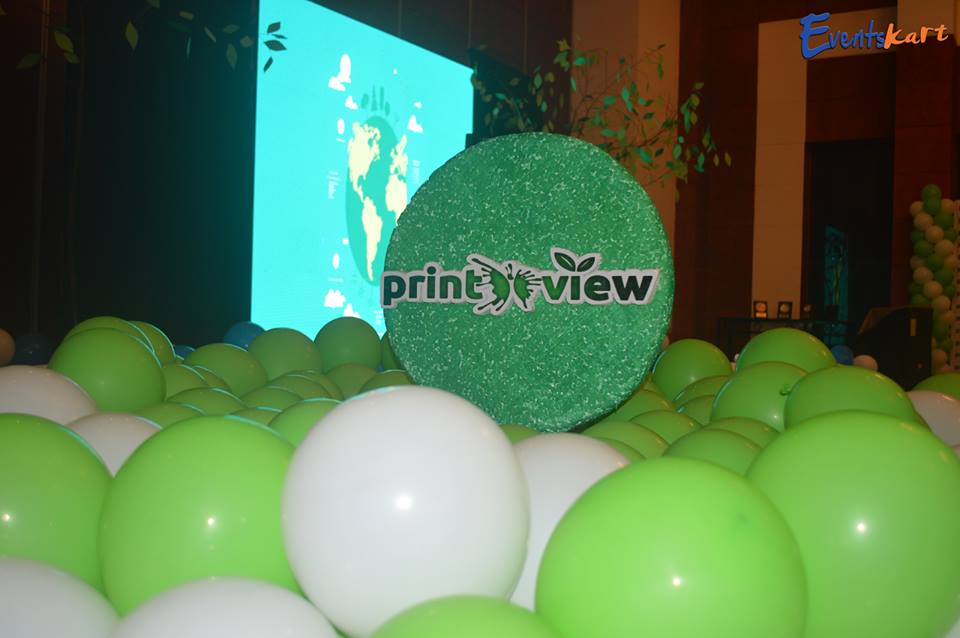 Printview showcased an all new dimension in the world of digital printing, with eco-friendly materials and technology on Monday, April 25 2016 at Hotel Hindustan International. In a scenario where environmental issues are on the rise, Printview is committed to do its best when it comes to saving natural resources without compromising on the quality it is Digital Printing takes a toll on the most important natural resource of this planet – Trees. The use of paper for various purposes is an inevitable cause. But finding an alternative is always innovative. And we, at Printview, believe in innovation.
With the aid of Konica Minolta, we would make the best use of technologies like Toner recycling system, Induction Heating (IH) fusing technology, Optimal Power Control and Low TEC values. All the raw materials to be used for printing are derived from BIOMASS, a biode–gradable material. And most significantly, the quality of the end products would be at par with those that are best in this category.
Conserving natural resources is one of the core challenges and contributes to our company's management philosophy – Going Green, Efficiently. "With Innovation, we just do not mean printing a visually stunning masterpiece. Our motto also means new ways of protecting the environment…" –Mr Siddeshwar Panda, CEO and Founder, Printview.
About Printview
Printview, is one of those few stones which was turned because of an idea. An idea that grew from a mere, economical printer installed within four walls, to an incomprehensible imagination. When we started our journey in 2014, getting established as an organisation was too far a dream for us. It's aptly remarked that all good deeds seek time, and the day came when we could nally address ourselves as a legal company by June 2015. And since then we had no looking back, for a day with 24 hours falls short for us to portray our creativity and innovation in this modern, competitive era. In this present scenario, where start-ups have become more signicant than politics, we are proud to announce ourselves as one of the most successful companies in India which planted it's seeds too soon but with utmost care, dedication and hard work, is touching milestones in the elds of innovation and digital printing. Talking about numbers, last year, the gross turnover of our company was more than 20 lakhs, generating a revenue of around 5 lakhs last month. Though the entire nation would believe that given the current economic condition of our country, this is an incredible achievement to conquer within a span of 9 months, we are too modest to brag about it. What we really take pride is in the satisfaction and the smile that we were able to inculcate in our customers with the standard of products that we have delivered. And promise to deliver. With the launch of Printview eco, we will establish ourselves as the first company in this nation to use eco-friendly materials in digital printing. We imagined to do our bit for the planet. And we realised our imagination into innovation. Come, be a part of us. Make a Dierence, Go Green.
Comments
comments