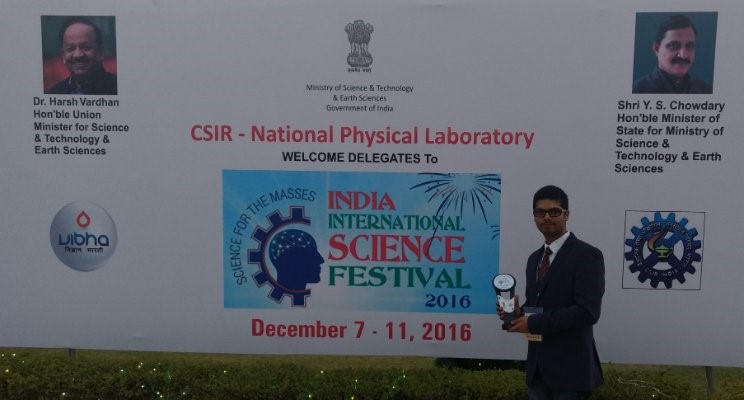 Veer Surendra Sai University of Technology, Burla marks International achievement. Team (Joshit Mohanty & Mukesh Kumar Patro) bags Runners Up Award for Best Innovation and Joshit Mohanty (Team Lead) was awarded Best Hall Presenter Award by Shri Rajnath Singh Hon'ble Home Minister, Dr. Harsh Vardhan  Hon'ble Union Minister for Science and Technology, Dr. Vijay P. Bhatkar President, VIBHA, under the theme – Innovative Agricultural Practices and Live Stock Management. The event was organized by Ministry of Science and Technology, Ministry of Earth Sciences and Vibha – Government of India at 2nd India International Science Festival held from Dec 7 – 11,2016.
The team from VSSUT university was selected for presenting their innovative idea at 2nd India International Science Festival which held at CSIR – NPL campus, New Delhi. "Science for the masses" was the message of the event. The festival included International Scientific Innovations from different countries. Country's respected organisations such as Indian Space Research Organisation (ISRO), Defence Research and Development Organisation (DRDO), Bhabha Atomic Research Centre (BARC) etc. presented their innovations and developments. CSIR sub centers across the country presented their excellence on this world stage. The event too witnessed International Film Festival. Around 22 countries participated in the event – USA, UK, Russia, Sweden, Taiwan, UAE, Germany, Israel – to name a few.
The team – Joshit Mohanty and Mukesh Kumar Patro (B.Tech, Mechanical Engineering) proposed an innovative idea for active agricultural land monitoring system based on Drone, LiDAR, Cloud storage. The system has potential for underground crop monitoring and soil health monitoring in real time. It would minimize human efforts to calculate the loss due to natural calamities. It is also equipped with an alarming system to distract the live stocks from entering into the cultivated lands.
"This system can increase the production by monitoring the resource availability in the land such as fertilizers and water and sunlight. This system will also help Fresh Vegetable Retailers in marking the areas of high cultivation. It will help government authorities to maintain data on a regular basis of the agricultural growth and losses in the state. Being available online, it's a transparent system that anybody can visit" said Mr. Joshit Mohanty, the team lead.
The IISF as a major science event was conceptualized in 2016 and was organized for the first time at IIT Delhi in December,2015. It was visited by more than 4 lakh people (2015) and was a great success. It had won the distinction of Guinness Book of World Record for successful conduct of Largest Practical Science Lesson by 2000 school students. The 2016 event witnessed more than 6 lakh people on the campus.
Hon'ble Vice Chancellor Prof. E Saibaba Reddy congratulated the team on their success in the international event. Prof. Debadutta Mishra, Dean Student Welfare, supported the team as University Delegates to the center. Asst. Prof. J.B. Lakra, Mechanical Engineering Department constantly guided the team through the entire journey.
Comments
comments