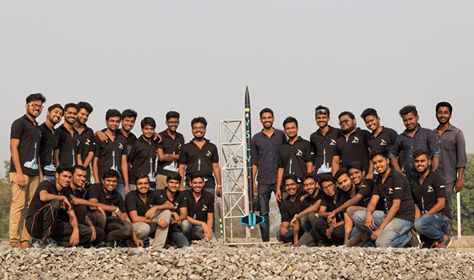 Last Friday, on 30 March 2018; VSSUT Satellite Launch Vehicle- VSLV MK-III Graviton flew up to one apex high over it's pinnacle on being successfully fired from the Mahanadi River Valley, Burla, Odisha.
An arduous effort by a 30 membered team of innovative intellects and ardent techno-nerds of Idea Innovation cell VSSUT Burla, generated the perfect thrust for the light weighted Rocket as it reached supersonic speed within one second of it's launch as the rocket was launched at 08:31:53 IST on 30th morning.
This is the first student rocket initiative in Asia by the team lead by Mr Jaswasi Jasowant Sahoo, a Btech pre-final year student of Chemical Engineering of VSSUT, Burla accompanied students from various disciples of the University like electrical engineering, mechanical engineering, civil engineering etc.
The 30 membered team included Bodhisattwa Sanghapriya, Om Prakash Das, Apurwa Masook, Sovan Panda, Sudarshan Samal, Tatwamsiddha Nanda , Ranjan Panda, Sahasranshu Purohit, Rounak Agarwal, Sumit Sahu, Pranay Panda, Kunal Mittal,  Bibhudatta panda, Lakshya agrawal, Markendaya mohapatra, Prabhudatta Mishra, Saswat Nanda, Aditya Sahu, Amartya Mohanty, Bhabya Mohanty, anshuman Patnaik, Rashmi Ranjan Pattnaik, Prasant Kumar Sahoo, Rohit Tekriwal and Soumyajeet mohapatra.
As per the reports, the rocket was successfully retrieved by the parachute. VSLV was designed and aimed to measure the silt content of the Mahanadi River bed. The Rocket carried the pico satellite to an altitude of 3.89 km and then the rocket and the satellite returned back to earth with the help of two separate parachutes. The rocket descended via parachute and was recovered about 1.5 km from launch point as it was carried away via wind. The rocket consisted of a 200-gram payload which consists of cellular signal GSM to check cellular signal strength on upper atmosphere to study the effect of cellular network signal on different altitudes.
Reports say the VSLV 3.0 rocket weight 6kgs and 1.5 mts high reached to a height of 12800 feet, measured via altimeter on payload. The framework of the design and building of the rocket was done incredibly by the team as such the airframe was capable of withstanding lot of dynamic pressure during its flight and the motor thus used with an appropriate specific impulse resulting zero anomalies and an outstanding, efficient invention by the technical minds. Moreover, the coding team developed an innovative software to map the real time flight profile of VSLV. Via onboard avionics and telemetry, which is in its beta version. The backbreaking efforts of the team stepped up their purposed dream to another height of success, as it marked the accomplishment of 3rd mission in the VSLV programme.
Comments
comments