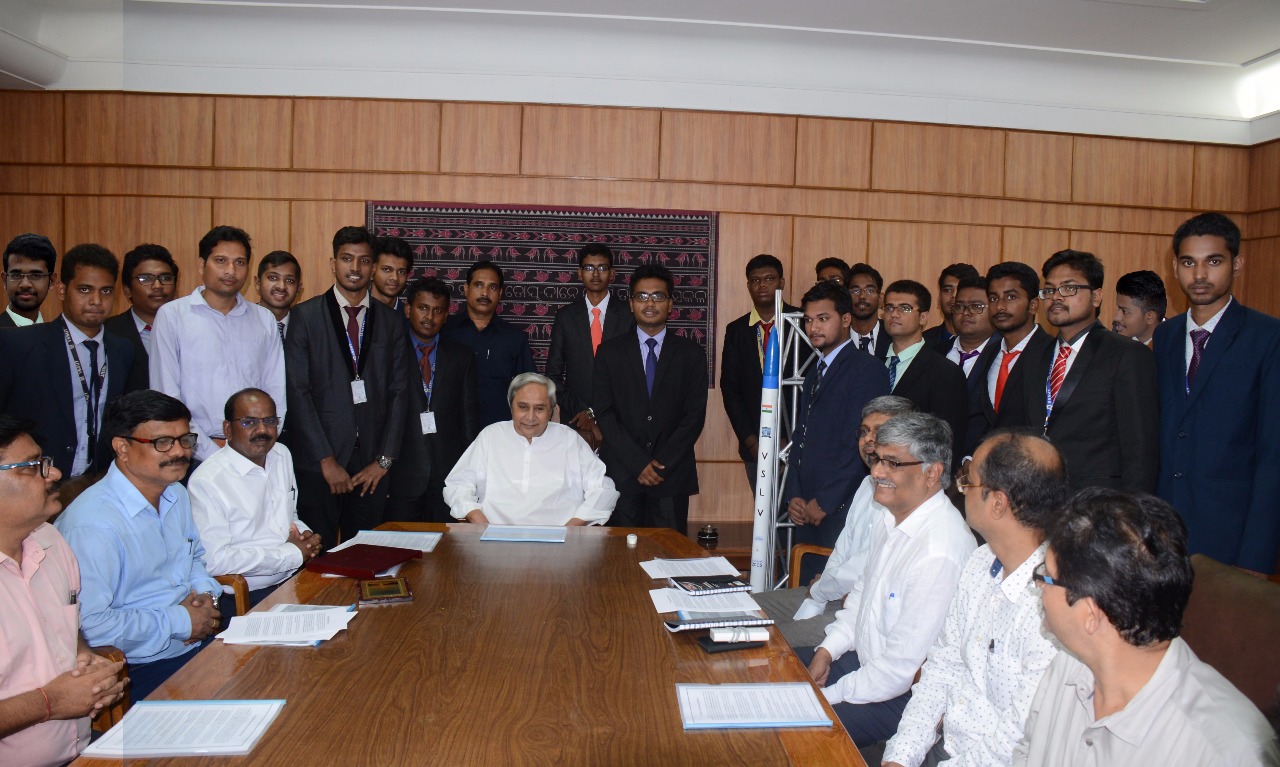 To commemorate the extraordinary achievement of the young intellects of VSSUT, Burla, in winning the Champion trophy and the Best Innovation Award of the Asia's first Intercollege Rocket Competition, Hon'ble Chief Minister of the state, Shri. Naveen Patnaik felicitated the team of 20 students of VSSUT, in a grand felicitation ceremony held at the Odisha Secretariat at Bhubaneswar on 7th October 2017.
The perpetual collaborative effort of a 20 membered team of the Idea Club of Veer Surendra Sai University of Technology, Burla; resulted in a huge success entitling to the Champion of the Asia's 1st Inter college Rocket Competition. The two-day event was organized by the Space Development Nexus and BRICS (Brazil, Russia, India, China, South Africa)  on 26th and 27th of August,2017 at New Delhi adored by the Chief guest and the honorable judge ,Dr A.M. Varprasad, Director, CIGS ISRO, the former eminent Scientist of DRDO.
The VSSUT team launched their 3000ft Rocket VSLV 1.0 on the second day of the event and concluded with the Champion trophy and the Best Innovation Award of the Asia's first Intercollege Rocket Competition.
"After over one year continuous and dedicated effort of the 20 membered team, the VSLV 1.0 was tested successfully at Hirakud, Odisha. It was a great achievement an inspiration for the entire team. "The Team leader of the 20 membered team, Mr. Bodhisattwa Sanghapriya said.
The complete project is divided into 10 missions, with first mission being successful launch of VSLV into 1km apogee. And subsequently launching of VSLV to 2,4,8 and 10km. After implementation of successful remodeling in the future editions, the team aims to launch the final mission of 40km launch for monitoring of Hirakud Dam and Reservoir. Hence utility of the rocket is diverse and multifaceted. It can be put to use for different purposes in different missions.
The CM awarded the team for their brilliance along with a prolonged assurance of support in future projects. The team is looking ahead for another great success at Russia in the World Festival of Youth at Moscow. The CM wishes all good fortune for the team's further attempts and success.
Hon'ble Vice Chancellor Prof. E Saibaba Reddy constantly provided necessary funding and support for the project to be successful. Prof. Debadutta Mishra, Dean Student Welfare and Prof. P.K. Pradhan, Registrar helped the team immensely for gaining various approvals and academic permissions. Dr. Sanjay Agrawal, vice-president of Idea Club has been instrumental in technical suggestions regarding the project. Mr. Bandhan Bhoi, faculty advisor of Idea Club was always a constant supporter as a mentor for the team. Dr. P. K Kar, Dean F&P and HOD of chemical engineering department is guiding the team in the field of Propulsion.
Comments
comments