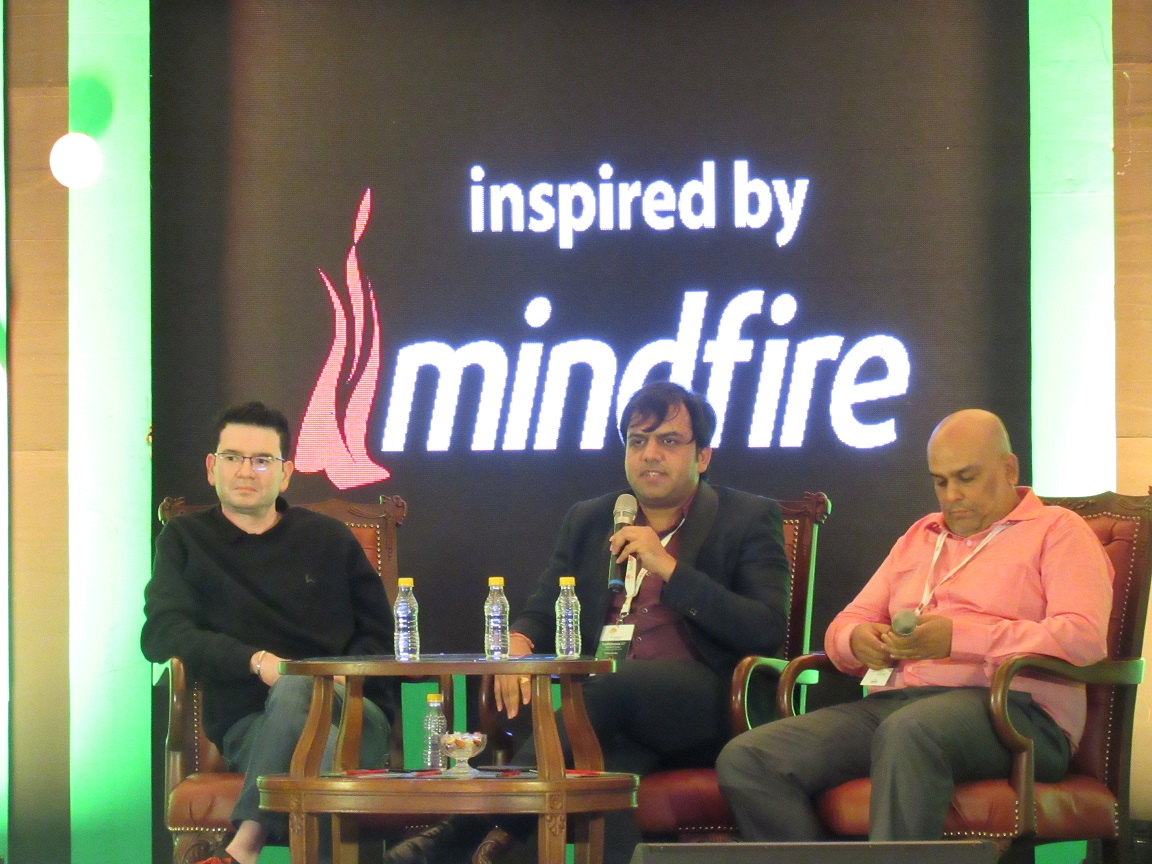 Bhubaneswar, 10th December, 2017: Realizing the absence of a technical conference in the eastern part of the country, Mindfire Solutions, an 18 year old software services firm seized this opportunity and organised the first technical conference in Eastern India through TechBhubaneswar in smart city Bhubaneswar. A symposium on 'Technology and its advancements' was organised for this purpose that could act as a carrier to impart the latest technological advancements to the aspiring 550 attendees and many software professionals who participated in the program. Founder & President, Mindfire Solutions, Chinmoy Panda, inaugurated the session and welcomed all the delegates.
The theme of the symposium was based on Futuristic and latest technologies such as IoT, AI, Mobile & Web, Open Source & Cloud and Software Testing. To throw light on the latest technological developments to the enthusiastic attendees, Mindfire solutions brought the best of the minds from the country who spoke on the technical aspects and enlightened the gathering. The speakers included Rahul Verma, Sunny Vaghela, Ramit Manohar Kaul, Shivprasad Koirala, Dhananjay Kumar, Nirmalya Sengupta, Ritesh Modi, Pooja Baraskar, Diksha Deo, Sabyasachi Patnaik and Col Prabir Sengupta.
These experts from their respective fields discussed on various technical subjects which included motivational talks like Reinventing the Test Automation Wheels, Information Security Testing Beyond Compliance, Just Pass is NOT Quality, Six Most Used Design Patterns in Project, Object Prototypes in JavaScript, Akka: An introduction to Actor based programming, BlockChain and Etherum, The Disruptive Force, Commercial Internet of Things, Transform Business and Enterprise with Hololens and Mixed Reality, Staying Motivated in a Changing World, and Change is the Only Constant. A panel discussion was also organised to enhance and explore the limitless scope and possibilities of technology.
Speaking more about the idea behind the conference the founder and MD of Mindfire Solution Chinmoy Panda stated, "Bhubaneswar is a city of many things, and an exciting addition to that list is technology. Over the years, a strong group of technology lovers and builders has grown in Bhubaneswar. Mindfire is one of the organizations at forefront of this growth. As a group we observed something was missing in Bhubaneswar – a neutral conference focused on learning, knowledge and getting everyone together. It is with this purpose of community that we organized TechBhubaneswar for the first time last year. The enthusiastic participation further inspired us to organize the second edition this year, and it has been astounding. We hope to continue this for years to come and TechBhubaneswar will be seen in future as one of many steps that made Bhubaneswar a technology hot-spot!"
Speaking on the event and its impact Debendra Nandi, Brand Manager of the company said, "This symposium will not only to help the technocrats in updating themselves with advancements but also it will take forward our aim of making Bhubaneswar the next generation IT hub of India."
About Mindfire Solutions
Mindfire Solutions is an 18 year old, globally respected Customer Software Services company which serves 400+SMB clients in US, UK, Australia, Asia and Europe. Currently Mindfire has 700+ employees in its advanced development centres at Noida and Bhubaneswar. Mindfire provides custom applications development, outsourced product development, custom migration services and QA testing services to its esteemed clients.
For More Information, please visit Mindfire Solutions website http://www.mindfiresolutions.com/.
Comments
comments