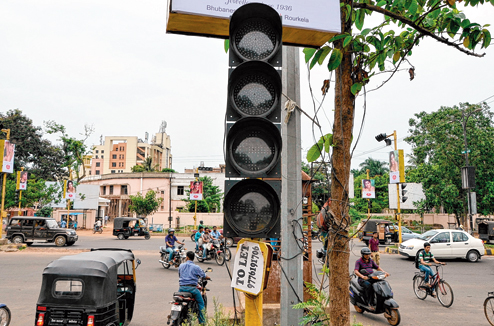 The dilapidated traffic signal posts in the city will shortly get a makeover with the municipal corporation deciding to upgrade the system.
The Bhubaneswar Municipal Corporation has decided to prepare a detailed project report, which will include identification of junctions and intersections requiring traffic signals and identification of space for pedestrian access.
According to the upgrade plan, the civic body would introduce modern technologies such as CCTV camera-linked traffic surveillance system and central operation centres, where computers could analyse the traffic flow.
The plan also involves development of traffic islands (an elevated green area at spacious traffic junction). The official said the modernised signals would be installed at more than 60 locations in the city.
Though the city has as many as 17 functional traffic posts with signals, most of these are lying defunct. Traffic signals at Rabi Talkies Square, Kalpana Square, Ram Mandir Square and PMG Square have been lying defunct for the past few months.
Comments
comments