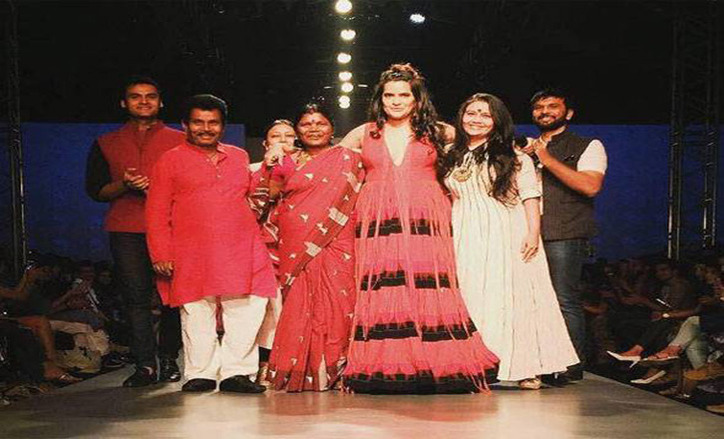 Clothes have a magical quality about them. Your attire becomes who you are, your personality defined!
Singer Sona Mohapatra, who turned a showstopper for the label Virtues by Viral, Ashish and Vikrant, added drama with her powerful act on the second day of the ongoing Amazon India Fashion Week (AIFW) Spring-Summer 2017.
Mohapatra, who was seen sporting a bright orange layered pleated dress made of a fabric called Kotpad with natural dye, entered the stage dancing to the song "Tere ishq nachaya" sung by her. She even sung a few lines of the song "Aja ve" live for the audience.
The designers, whose collection was titled Mrs Nair's High Tea showcased a total of 23 ensembles, which included layered dresses, capes, Ikat weaved frock dresses, pants and off-shoulder gathered tops.
The entire collection was done by a traditional dyeing process called Aal, which is used in Odisha. The colour palette had soft hues like white, blue, reds and browns.
Talking about the collection, Mohapatra told reporters here: "I am proud to be here…It would be interesting to share with you also that the garment I am wearing took 16-20 days to dye. It's an all natural dye. The more you wear these garments, the colour starts getting darker and deeper, which is such a rare thing."
Comments
comments