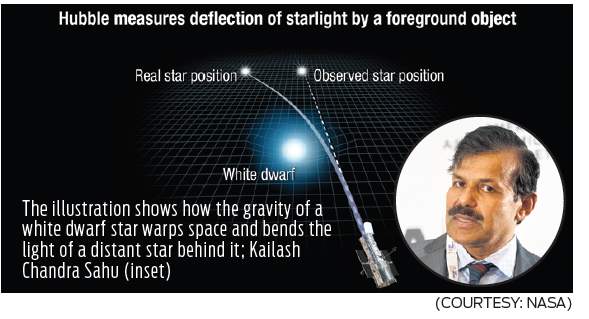 He has grown up watching the night sky. Today the world is looking up to him. Hemanta Pradhan retraces the journey of Kailash Chandra Sahu from a nondescript Ganjam village to one of the planet's leading astronomers
There are more things in heaven and earth than can be dreamt of in our philosophy. But his is a different philosophy. One where the heavens crumble, twist, turn and stretch out over sheets of calculations, where earth is but a speck in the scheme of a gigantic design. Kailash Chandra Sahu's days are like any one of ours — he wakes up in the morning, does his yoga, and takes the odd trek to the Annapurna Base Camp. But it's his journey, from Belagaon in Ganjam district to the Space Telescope Science Institute that truly does justice to the word astronomical.
A child in a corner of the world, Sahu's village had no power. The nights were dark. So a young boy looked up the only source of light — at the stars. "It may seem strange, but the rural and unpolluted atmosphere of my village contributed a lot to my journey. My father had the habit of spending some time under the sky at night after dinner in the front porch of our home. As an astronomer, I often go to far-off places like the Andes Mountains in Chile or the Rocky mountains in Canary Islands, where we have large telescopes because of the superb sky conditions there. But the rural atmosphere of my village offered a wonderful view of the night sky on a daily basis," says the astronomer from his home in Baltimore, US.
With brothers who were inclined to figuring out the reason behind natural occurrences, a young Kailash, though deeply enamoured with science, had no way of channelling his desire to study the skies in Odisha. "I was generally interested in Physics, so I took solid-state physics during my MSc. (Physics) from Berhampur University. I secured first position in MSc (Physics) in the University. Then I joined IIT, Kharagpur to do my PhD on piezoelectricity," says Sahu.
Read more from Hemanta Pradhan
Comments
comments