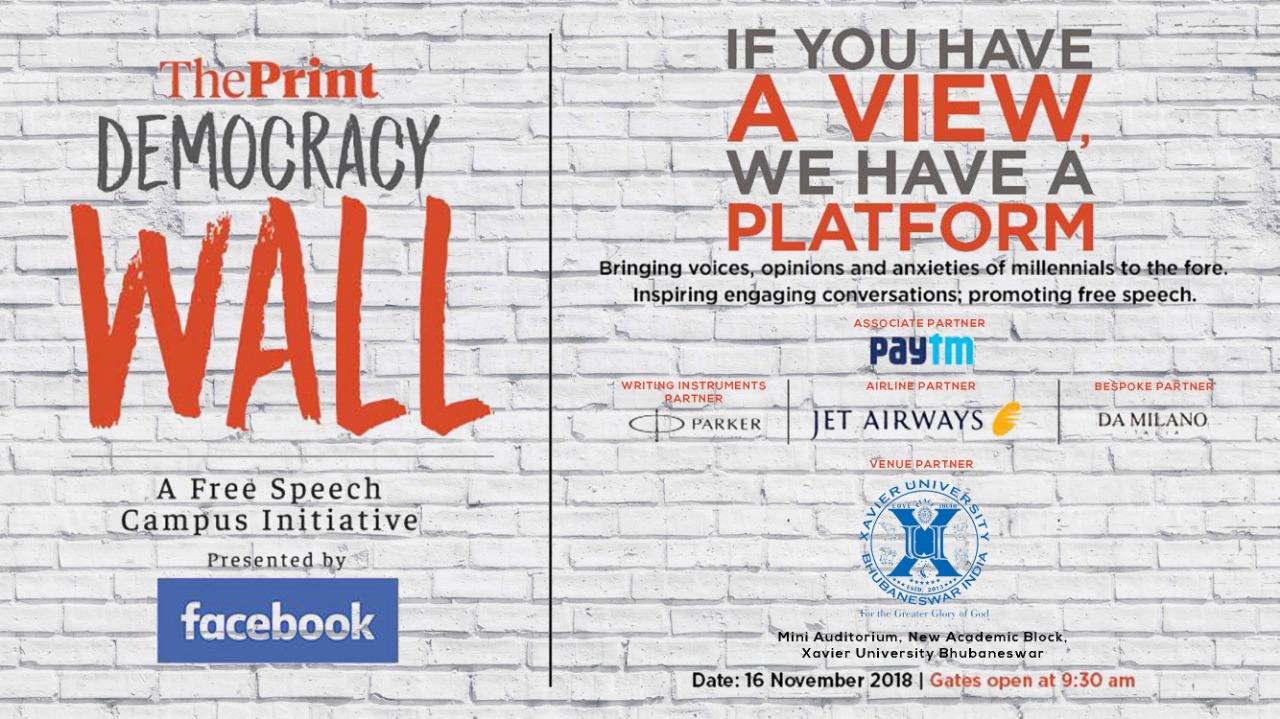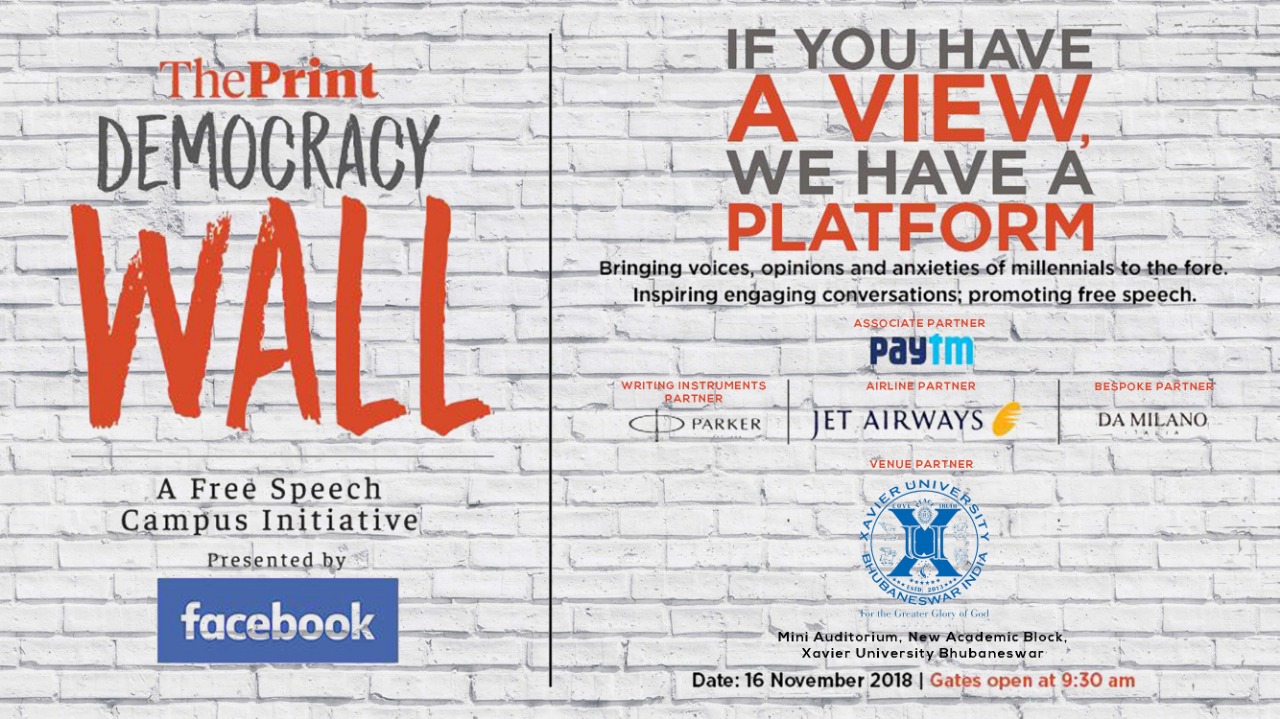 Xavier University, Bhubaneswar (XUB) will be hosting Democracy Wall– A free speech campus initiative by ThePrint, on 16th November 2018. The aim of this initiative is to create citizens that are empowered, well-informed and ready to engage in issues involving governance, society and, politics. It offers young and aware Indians a platform to express their thoughts and aspirations: in voice, prose, verse, painting or music. The event will be graced by many eminent personalities that are- A youth icon, A political icon, ThePrint expert speaker and a stand-up Comic mainly from four major diverse areas.
It provides a platform to the young and politically aware youth to express their thoughts and opinion. It brings the millennials forward to engage in stimulating conversations regarding governance, politics, and society. The Democracy Wall emerged in China in 1978 when the county's citizens voiced their opinion and raised questions on the authority by sticking posters on a wall in Beijing. The movement empowered the people and led to the Chinese Democratic Movement. Bringing forward a similar take, Democracy Wall brings the top-of-the-mind concerns of millennials to the fore, stimulating substantial conversations. As a forum for open expression and healthy questioning of established ideas and notions, it aims to help the next generation of Indians emerge as involved citizens
As a prelude to the event, Photography and Opinion Piece contest is organized. The theme for the Photography contest is,"What makes us human?"and the theme for the Opinion Piece contest is,"Is young India worried about machines taking over jobs in India.  XUB aspires to offer ThePrint's Democracy Wall as a platform to students all over for quality discussions and an enriching learning experience.
ABOUT XUB
Xavier University Bhubaneswar (XUB) was established in accordance with the Xavier University Act 2013 and was inaugurated on the 7th of July 2014. XUB is India's first digital University and an institution of higher learning for imparting professional and technical education. It is a self-financing institution imparting professional and technical education. XUB has 8 Schools that offer world-class education in different fields. XIMB offers an MBA in Business Management, Global Management and Executive programs. Xavier School of Human Resource Management (XAHR), erstwhile XIMB-HRM, offers the MBA-HRM program. MBA-RM is offered by the Xavier School of Rural Management (XSRM), erstwhile XIMB-RM. MBF- Master of Business Finance is offered by Xavier School of Commerce, MBA-SM by Xavier School of Sustainability (XSoS) and MBA-UMG by Xavier Center of Urban Management and Governance. The Xavier School of Sustainability, Xavier School of Commerce, Xavier Center of Urban Management and Governance, Xavier School of Economics, Xavier School of Computer Science and Engineering, and the Xavier School of Communications offer different postgraduate and undergraduate programs.
Comments
comments