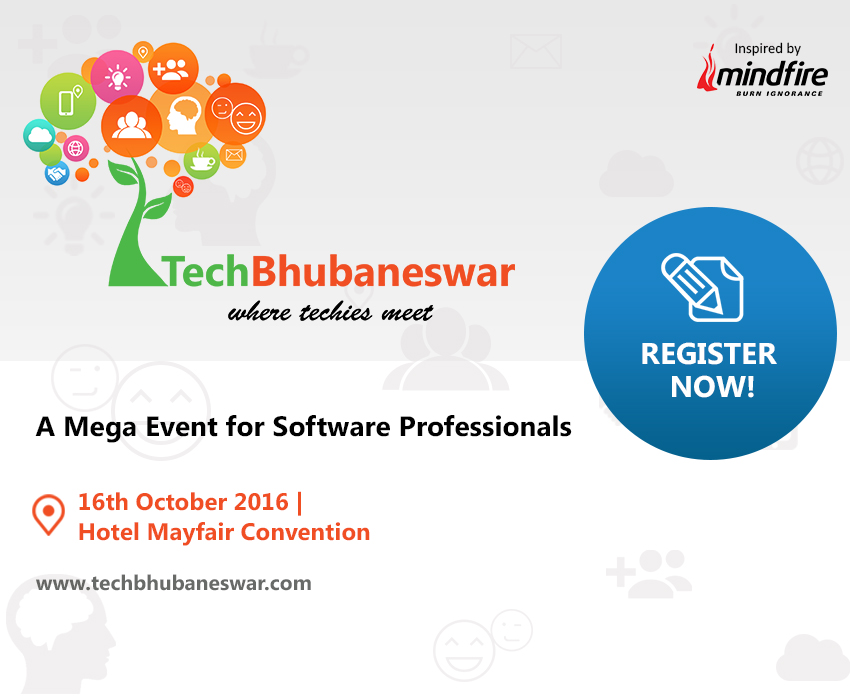 We are glad to announce that TechBhubaneswar, which will be the first ever tech conference of eastern India is coming soon!
If you are a techie and hungry for knowledge, then TechBhubaneswar is the perfect opportunity to gain as well as impart knowledge.  This is the place where there will be a diversity of techies who will socialize and share knowledge. Over 600+ software professionals will join their hands to jubilate technology. TechBhubaneswar will be pioneered at Hotel Mayfair Convention, Bhubaneswar, on 16th October, 2016. It will commence at 9:00 AM. Eminent speakers will administer talk in the 14 sessions, which will be based on Mobile & Web, Open Source & Cloud and Software Testing. It will also include a few boosting non-technical sessions as well.
Registration process has already begun. It's a one-day event and there is NO REGISTRATION FEE. One can apply as an attendee or as a speaker. The final speaker list which will consist of acclaimed speakers will be decided by an expert panel. Both the categories have their own benefits. There will be lunch for all.
Benefits of being an attendee:
Certificate of Participation
Chance to Win Exciting Goodies
Delicious Lunch
Chance to Socialize
TechBhubaneswar T-Shirt
Click here  for more
Benefits of being a speaker:
Letter of Acknowledgement
To and Fro Travel Allowance
Accommodation and Food
Memento
TechBhubaneswar T-Shirt
Click here for more
Eligibility: Only software professionals can participate
2016 will see the very first imprint of TechBhubaneswar. Mindfire is taking the initiative this year. About 600 techies will take part in this mega event. We hope you come forward and take part. Your participation will fill this conference with grandeur and make it a memorable one.
The seats are limited. Register soon!
For more details, visit: www.techbhubaneswar.com
Keep yourself updated with our Facebook Page https://www.facebook.com/techbhubaneswar
Let's celebrate knowledge!
Comments
comments