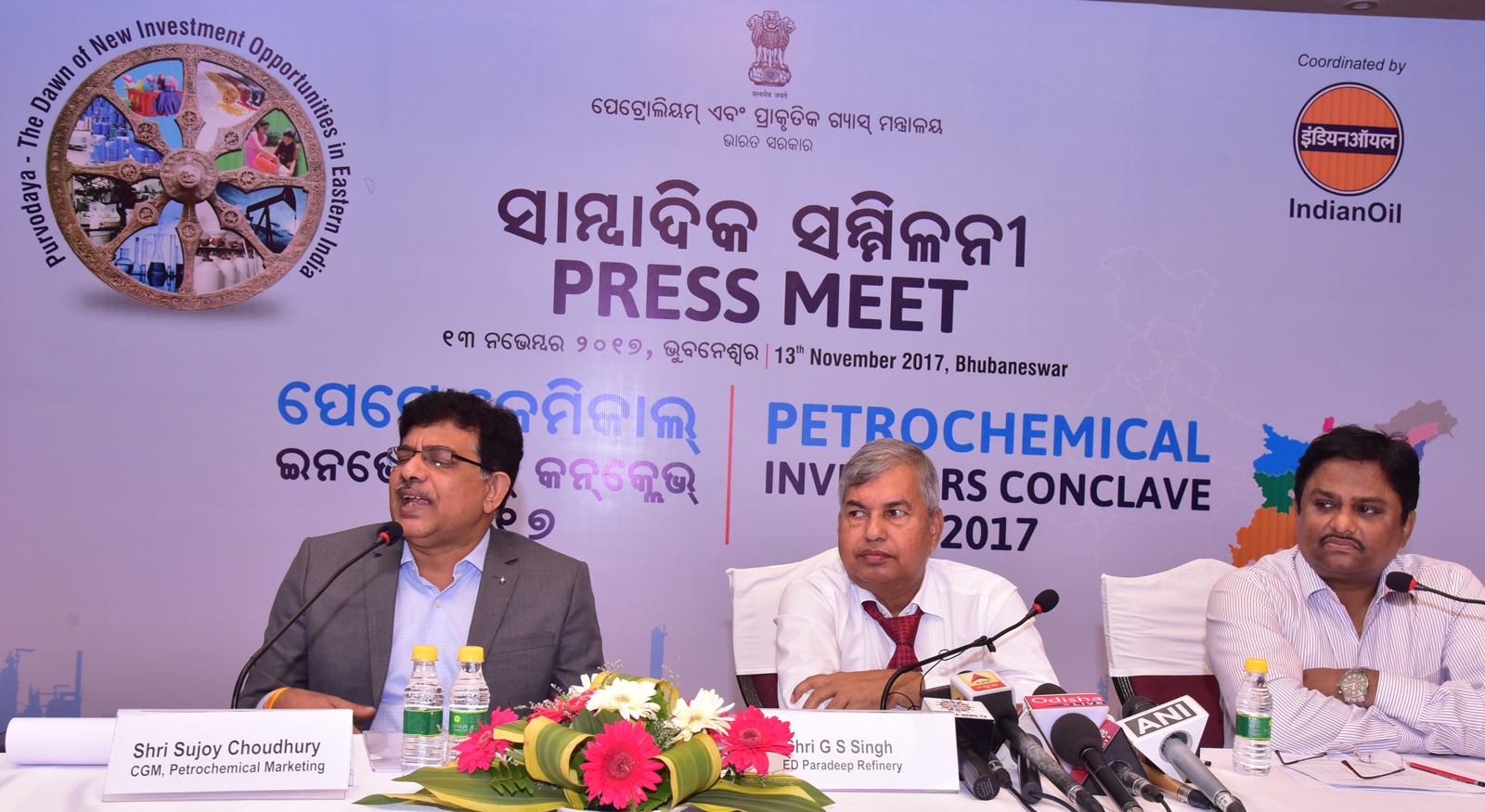 Indian Oil Corporation Ltd. (IOCL), under the aegis of the Ministry of Petroleum & Natural Gas, Government of India, is organising a first-of-its-kind Petrochemical Investors Conclave at Mayfair Convention Centre, Bhubaneswar, Odisha, on 16th November, 2017, announced in a press meet organised by IOCL today. The press meet was addressed by Shri Pritish Bharat, CGM, Odisha State Office, IOCL. Among others Shri Sujoy Choudhury, CGM, Petrochemical Marketing, Shri G.S. Singh, ED, Paradip Refinery and senior officers of IOCL were present at this occasion.
The theme of the Conclave is "Purvodaya – The Dawn of New Investment Opportunities in Eastern India."
Shri Ananth Kumar, Hon'ble Union Minister for Chemicals and Fertilisers, and Shri Dharmendra Pradhan, Hon'ble Union Minister for Petroleum and Natural Gas, Skill Development & Entrepreneurship, have been invited to be the chief guest and guest of honour at the Conclave.
Senior officials of the Ministries of Petroleum & Natural Gas and Chemicals & Fertilisers, Government of India; CEOs of oil & gas sector companies, and other dignitaries, will be participating in the event. Ministers and senior officials of the Government of Odisha have been invited to the Conclave.
The Conclave aims to highlight the emerging investment opportunities in the petrochemicals sector in Eastern India and help catalyse investments in the downstream Plastic Parks and Textile Parks proposed to be developed in Eastern India.
Eastern India is poised to chart a high growth path in the coming years and offers immense potential for the growth of the Plastics and Textile industries. The region has access to a plethora of raw material necessary for the optimal development of these industries. Besides, it also possesses the necessary infrastructure, including ports, railway connectivity and road networks that will facilitate the speedy development of the two industries. The Conclave will identify ways and means to leverage these resources and advantages, together with skilled manpower, and thereby enable Eastern India to propel itself into a higher growth orbit.
The unique conclave will comprehensively focus on the following topics, which would be of immense help to young investors/start-ups:
Global & Indian outlook of polymer/textiles intermediates
Petrochemicals potential of Eastern India
Downstream investment opportunities in Eastern India, with special focus on Plastics Parks and Textiles parks
Cost economics of projects in the petrochemical intermediates value chain
innovative financing schemes for entrepreneurs and start-ups
Experience-sharing by successful entrepreneurs
Incentive framework being offered by various Government agencies, technical process details and so on.
The conclave will primarily serve as a platform for young investors to interact with business leaders of the petrochemicals industry, Government functionaries, financial institutions, supply chain professionals as well as incubators in the academia at one place.
An investor facilitation lounge is being set up to provide a window for clarifying the issues raised by prospective investors. An exhibition is also being organised at the Conclave venue for the benefit of the delegates.
Petrochemicals: A sunrise Industry for Eastern India
The petrochemicals sector caters to a number of other sectors, by providing raw material for clothing, housing, construction, furniture, automobiles, household items, toys, agriculture, horticulture, irrigation and packaging to medical appliances.
One prospective State that shows a huge potential for the growth of petrochemicals industry is Odisha. Odisha can offer investment opportunities for young entrepreneurs, employment opportunities for youth, and a huge scope for growth of ancillary industries related to plastics.
Paradip is the most strategically located region for investment in Petroleum, Chemicals and Petrochemicals. Public sector Indian Oil Corporation has already commissioned a 15 million metric tonnes per annum refinery at Paradip at an investment of Rs. 35,000 crore.
A new polypropylene unit of 700 KTA (kilo tonnes per annum) capacity is also getting ready at Paradip Refinery to support the plastics industry. Estimated to cost Rs. 3,150 crore, the plant will be commissioned in the year 2018.
With IndianOil as the Anchor Tenant, a Petroleum, Chemicals and Petrochemicals Investment Region (PCPIR) is being developed at Paradip to provide a conducive business environment for attracting and promoting exclusive investments in petroleum, chemicals, petrochemicals and allied sectors.
Currently, India's per capita consumption for plastics is at about 10 kg per person, which is low in comparison to the global average of about 32 kg. With the rise in living standards, the buying capacity for clothes, houses, furniture, automobiles and household items has also increased. This adds to the polymer consumption demand in India.
With availability of raw material and skilled manpower at its doorstep, Eastern India makes a promising destination for investments in petrochemicals, polymers and textile industries.
Comments
comments