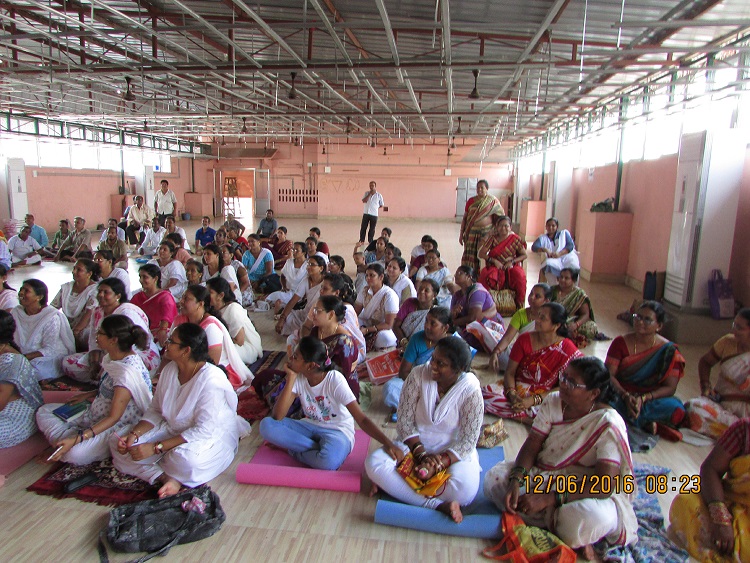 SAKAR, an NGO working to promote Yoga and Naturopathy for the welfare of the masses in the state of Odisha is conducting free yoga camps under the guidance of Central Council for Research in Yoga & Naturopathy, Ministry of Ayush, Govt. of India at four venues in Barhampur town. As a part of International Day of Yoga 2016, this month long free Yoga camp started on 21st May 2016 will be concluded on 21st June 2016, the International Day of Yoga. Everyday discussions on various health related topics, chronic diseases and its remedies are being done in this free yoga camp.
On 15th June, 2016 a special focus programme was carried out on the topic "Diabetics is Reverseable" by a Naturopath Shri Satyanarayan Sahoo of Bhubaneswar (former SBI Employee). Shri Sahoo also presented the myth facts on diabetics cure in 72 hours and gave a dietary plan to deal with diabetes.
Speaking on the occasion Ms. Swarupa Rani, Secretary, SAKAR appealed to the participants to take advantage of yoga and naturopathy and lead a disease free life. She also focused on how yoga keeps our mind fresh. Among other speakers, Shri S. Durga Prasad, Shri SP Adinarayan, Shri Vijaya Bhaskar were also present on the occasion and shared their views on yoga and naturopathy. They urged the public to do yoga regularly and make their homes disease free.
It may be noted here that, 102 participants of all age groups are attending this month long free yoga camp at Kanya Parameswari Temple, Khaspa Street in Berhampur town and learning yoga under the supervision of yoga trainer Shri Vijaya Bhasker. They are practicing yoga for more than one hour everyday in these free yoga camps.
For more information, please contact:
Swarupa Rani
Secretary, SAKAR
Mob: + 91 9437287882
Comments
comments