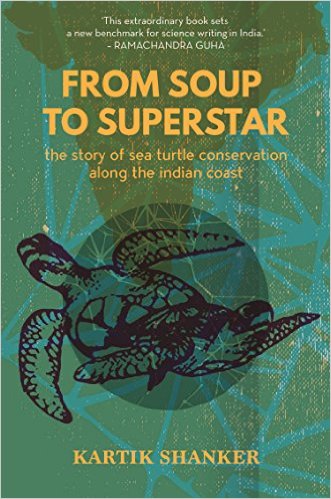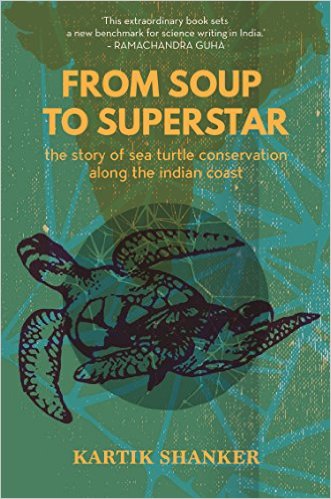 The book From Soup to Superstar features major turtle action around coastal Odisha and Tamil Nadu as well as the islands of Andamans, Nicobar and Lakhadeep. A chapter is also devoted to turtle life in other coastal states – Gujarat, Maharastra, Goa, Karnataka, Kerela, Andhra Pradesh and West Bengal.
Every winter, Olive Ridley sea turtles makes news when they come ashore to lay eggs on the Indian coast, and again, after a couple of months, when the hatchlings emerge to walk into the sea. Especially in coastal Odisha, where the numbers are staggering. The annual mass nesting of Olive Ridley turtles is known as Arribada. It remains a major wildlife attraction and also probably the only time Indians hear about sea turtles.
Although India's 'V' shaped coastline runs over 7,500 km its marine ecosystem remains neglected in comparison to the flora and fauna on land that are the main focus of conservation efforts. Even in India's rich multicultural language system, there is no difference between an aquatic turtle and a terrestrial tortoise.
Where ignorance of marine life is commonplace, Kartik Shanker's new book From Soup To Superstar is noteworthy, especially when it comes to generating awareness on marine species and the environment. Where science writing often hinges on dry, complex and technical language, this book is a breath of fresh air, a great example of lucid story telling where conservation messages are filled with adventure for an unputdownable read. Shanker is a rarity – a good storyteller in a good scientist.
The Olive Ridleys are not the only ones that visit India out of the seven species of sea turtles in the world; five species have been recorded on India's vast coastline. The other four sea turtle species are the Green, Leatherback, Loggerhead and Hawksbill. There are also 23 species of fresh water turtles, one terrapin and four tortoises found in India.
The book is not only the story of sea turtle conservation along the Indian coast but also of motley crew that has dedicated their lives for a conservation cause. From Soup To Superstar is a celebration of seafaring turtles and the adventurous marine conservationists who have worked tirelessly through the last four decades. Thanks to their stupendous work the turtle, from a prized commodity for meat and eggs, is now an icon for marine conservation. But yet again the turtle is not in the same league as the tiger or elephant or the rhino.
Although conservation efforts have been underway since the 1970s, a lot has changed in the last four decades along India's coastline. This is also where the majority of the 1.3 billion Indians live.
Many turtle landing beaches have been lost to development and the species are under threat due to a variety of factors including port building, oil exploration, trawler fishing, flattening of coastal dunes and increasing human habitation.
According to Shanker, using a single species as a flagship of conservation can be a double-edged sword. On one hand, it can bring in support and protection measures but on the other hand can alienate local people as it impacts livelihoods or restricts access to traditionally used areas.
Comments
comments