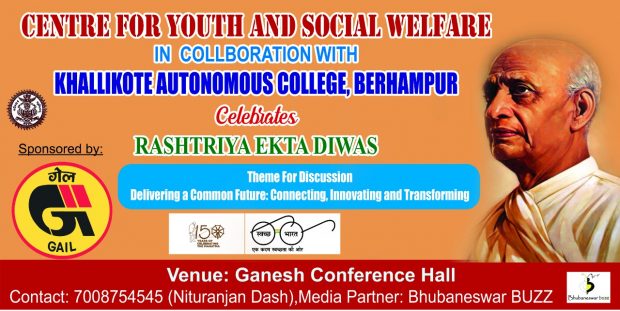 Centre for youth and social welfare in collaboration with GAIL India Limited has celebrated Rashtriya Ekata Divas in the Khallikote Autonomous College, Berhampur. This event was sponsored by the Gail India limited. Theme for the discussion was "Delivering a common future: Connecting, Innovating and Transforming" where eminent personalities like Dr. Uttama Jena (Principal K K Autonomous College), Shri Sidharth Padhi (Vice-Principal), Shri Mayadhara Swain OPS (SP Vigilance Division), Nituranjan Dash (General Secretary, CYSW Odisha) motivated youth by sharing Sardar Patel's life experiences and future perspectives.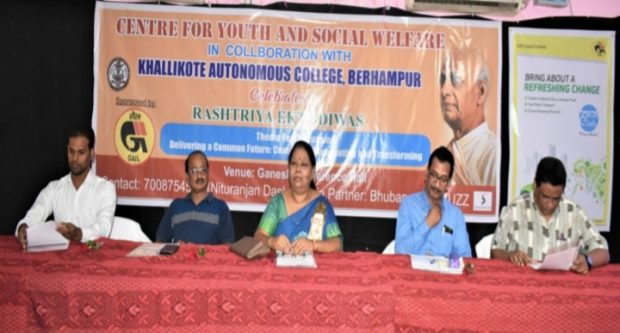 ---
Shri Mayadhar Swain, OPS (SP Vigilance, Vigilance Division Berhampur) narrated how 656 princely states joined in India after India got Independence. Young generation of mother India would remember Sardar Vallabhbhai Patel's contribution in this regard. Statue of Unity is located in the Sardar Sarovar Dam and dedicated to Sardar Patel, the Indian States man and Independence activist. He urged students to visit once in their life time to this place. In addition to that Shri M S Swain gave valuable insights on the achievements of vigilance department during last five years. Recently Kashmir has been added under the central vigilance department. It was due to the abolition of the Article 370. State vigilance and CBI department word differently in respective areas. State vigilance only focuses on govt people and govt money spent in an inappropriate ways and CBI works where central funds used or misused. Trap case, DA and other misuse of govt money comes under state vigilance department activities. Corruption in India is a result of the connection between bureaucrats, politicians and criminals. Our young generation should unite against corruption and take an oath to make a corruption free India.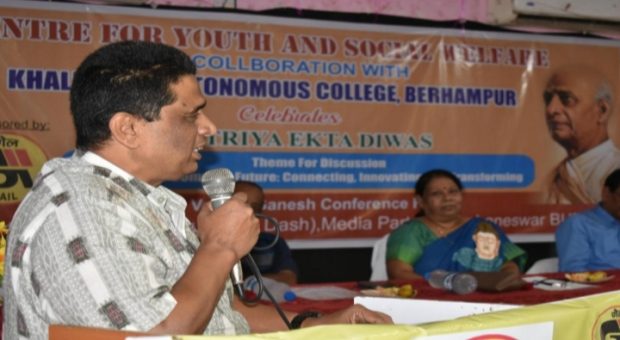 Shri Sidhartha Padhi (Vice Principal, Khallikote Auto. College) was invited as Guest of Honour and he talked on "Connecting Young Minds". He expressed his gratitude to Sardar Vallabhbhai Patel on his 144th birthday anniversary. His sacrifice and dedication towards uniting India would never be forgotten. Vasudhaiva Kutumbakam is rooted in the Indian philosophy. It reflects that entire world is one family. Sardar Patel was the leader of common people. He always fought against Veth, social injustice, inequality and tax exemption to save poor people from the British exploitation. Geographically united India is the result of Patel's hard work and dynamic leadership. Now-a-days, leaders are working for regional interest and there are so many inter-state issues you will find from the news paper. Young students should learn their life philosophy and work for a broader interest.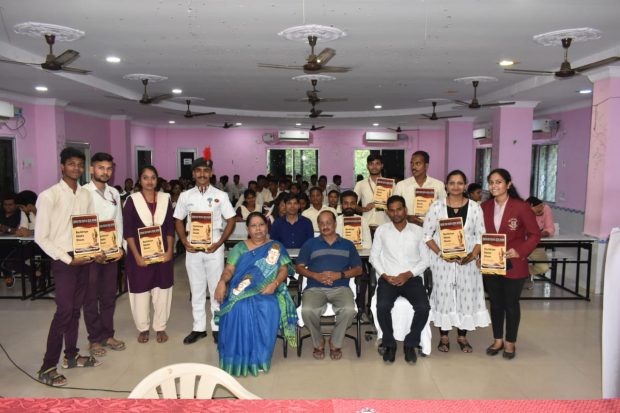 Uttama Jena (Principal, Khallikote Auto. College) welcomed everyone to the celebration of Ekata Diwas. In her talk she emphasised that it was essential to celebrate Rashtriya Ekata Divas. This is to remember not only birth anniversary of Sardar Patel but also to develop spirit of Iron Man within the youths of India. What is the need of celebrating Birth anniversary of Sardar? He was the man for whom we can imagine of modern India having 28 states and 9 union territories. Nizam of Hydrabad, Nabab of Junagad joined in the last phase. Displaying the vision of a statesman, tact, diplomacy and pragmatic approach, he prevented the balkanization of the country and ensured the merger of more than 560 princely States with the Union of India at a critical and most turbulent period in the history of the country. What makes this stupendous integration most remarkable is that it was achieved without any bloodshed. It indeed was a herculean task to bring the rulers of different princely States on board. Adopting different approaches as warranted by the situation, he gave friendly advice in some cases, persuaded the rulers to see reason in others and even used force as in the case of Hyderabad, What is most remarkable is the fact that Sardar Patel. He achieved a unified India when the rulers of the princely States were given the option of joining either India or Pakistan or remaining independent. After securing the accession of Junagarh, he ensured the liberation and integration of Hyderabad State with rest of India in a deft and swift action codenamed "Operation Polo". The police action ended in just four days on September 18, 1948. Every year, September 17 is being celebrated as "Hyderabad Liberation Day" in Telangana and parts Maharashtra and Karnataka.
In a truly masterful display of statesmanship, Sardar Patel ensured a smooth integration of the troubled domains by not allowing the situation to deteriorate into civil unrest. There was neither bloodshed nor any kind of rebellion as he went about the task of building a strong India with a missionary zeal. Youth in the modern India should develop the leadership spirit like Sardar.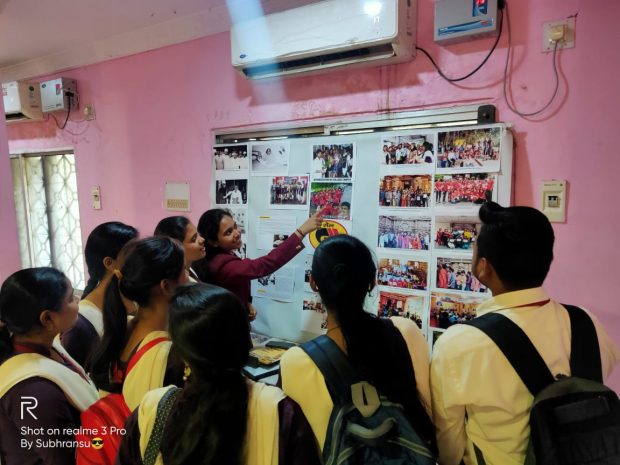 Dr. Pabitra Mohan Nanda (Examination Controller, Khallikote University, Berhampur) was invited as Chief Speaker to focus on Transformation. Now we reached in the 21st century. Reformation like Triple Talaq, abolition of Article 370, De-monetization, Swatch Bharat, GST tax reformation and creating a social harmony among different religious communities are major steps taken by the Modi Sarkar after forming the Govt in Centre. Kashmir valley witnessed mass killing of Kashmir Pandits even most of them were forced to convert Muslim. A situation happened where separatist started terrorism in the valley with the support from Pakistan and other foreign countries like China. If Sardar Patel would become the first prime minister instead of Home minister then religion based countries like India and Pakistan could have been emerged separately. During the partition it could have been possible but Nehru didn"t agree with the proposal. The communal struggle and terrorism could have been stopped in 1950. Either way, the economic impact of Patel's policies would have been disastrous. Had India become a Soviet satellite under the second PM, private capital would have died a natural death and sectors like banks would have been nationalised in the 50's (not 1969). That, as several economists agree, would have spelt a bigger doom. And if India had become an "introvert economy", growth rates would have been lower than the already abysmal "Hindu rate of growth of 3-4 per cent" of the period. And because Patel was perceived to be pro-capitalist, against controls, central planning, nationalisation, Gandhism and unreasonable labour which is why most Indian businessmen wanted Patel, not Nehru, to be the PM. His successor would have deliberately initiated policies that were anti-Indian business.
He spoke on the involvement of Sardar Patel on Freedom movement. Young generation should follow his life philosophy. Patel was a great social reformer. He always highlighted local issues before the British administration. His involvement in the khadi, untouchability, peasants protest in Kheda, salt march, veth (bonded labour) reflects his nature as true patriot.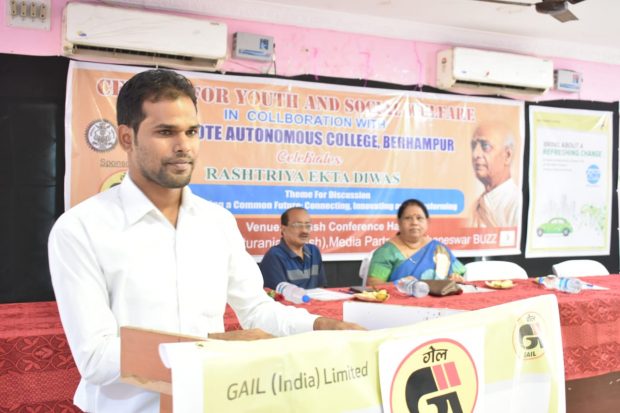 Shri Nituranjan Dash, General Secretary, CYSW Odisha explained on "Innovation". He spoke on how CYSW social organization started in the year 1999 and continuously working to create a positive social impact in the field of education, environmental issue, heritage walks and specially on youth rights. CYSW Odisha has successfully organized three heritage walks in the Odisha State Museum and Mukteswar temple (IHWF 2019) and World heritage site Konark for Divyang (visually impaired) students in collaboration with Archaeological Survey of India, Sahapedia and UNESCO. Our special heritage walk event "Anubhuti" has received prestigious FICCI Tourism & Travel Excellence Awards 2019. Youths are facing a lot of problems in Odisha. Recently, Department of Higher Education has stopped Students Union Election in the state. Without asking college union leaders, how a department can decide such a step? Protest has been organised in different places in Odisha to regulate College elections safely but it was suppressed by the higher authority and even threatened youth rights activists.
According to the RPDW Act 2016, person with Benchmark Disability gets scribe during the examination but in the ASO exam conducted by OPSC (2018) has denied them to issue admit cards. Different social welfare organizations urged OPSC for reconsideration but it was not done. 550 crores budget allocated by the Odisha State Govt. under Biju Yuva Bahini to spent in different social welfare schemes but Khallikote Autonomous College students are deprived to get books, sanitation facilities, sports equipments, digital library in the college campus. An unemployment rate of 7.1 per cent in 2017-18 in Odisha, beating the national average of 6.1 per cent took the gloss off the state's high growth trajectory. Rate of skilled labours are increasing in rural areas but State Govt failed to provide Jobs/ Recruitments to those people. In his talk he highlighted problems that Youths are facing in Odisha since last 10 years. Technological innovation in the agricultural could engage more youths living in the rural areas. Instead of going to Surat, Kolkota and Kerala for labour and manual work they can get an engagement in their villages too. Production and marketing of rice, pulses, vegetables, medicinal plants, millet, sea foods etc. could strengthen Odisha"s economy. Young scientist should come up with such innovative ideas to fulfil the needs. Shri Nituranjan Dash urged students to become an entrepreneur where lakhs of people can be engaged. Youths in Odisha are living in a vulnerable condition and youth rights have been violated many times. Youths are considered as backbone of a country and such negligence is not acceptable at any cost. Youth should come front to lead in each field like Politics, Education, Health and Business Sector.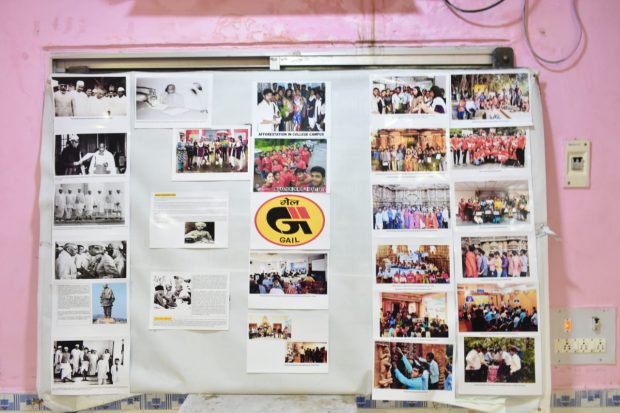 Comments
comments