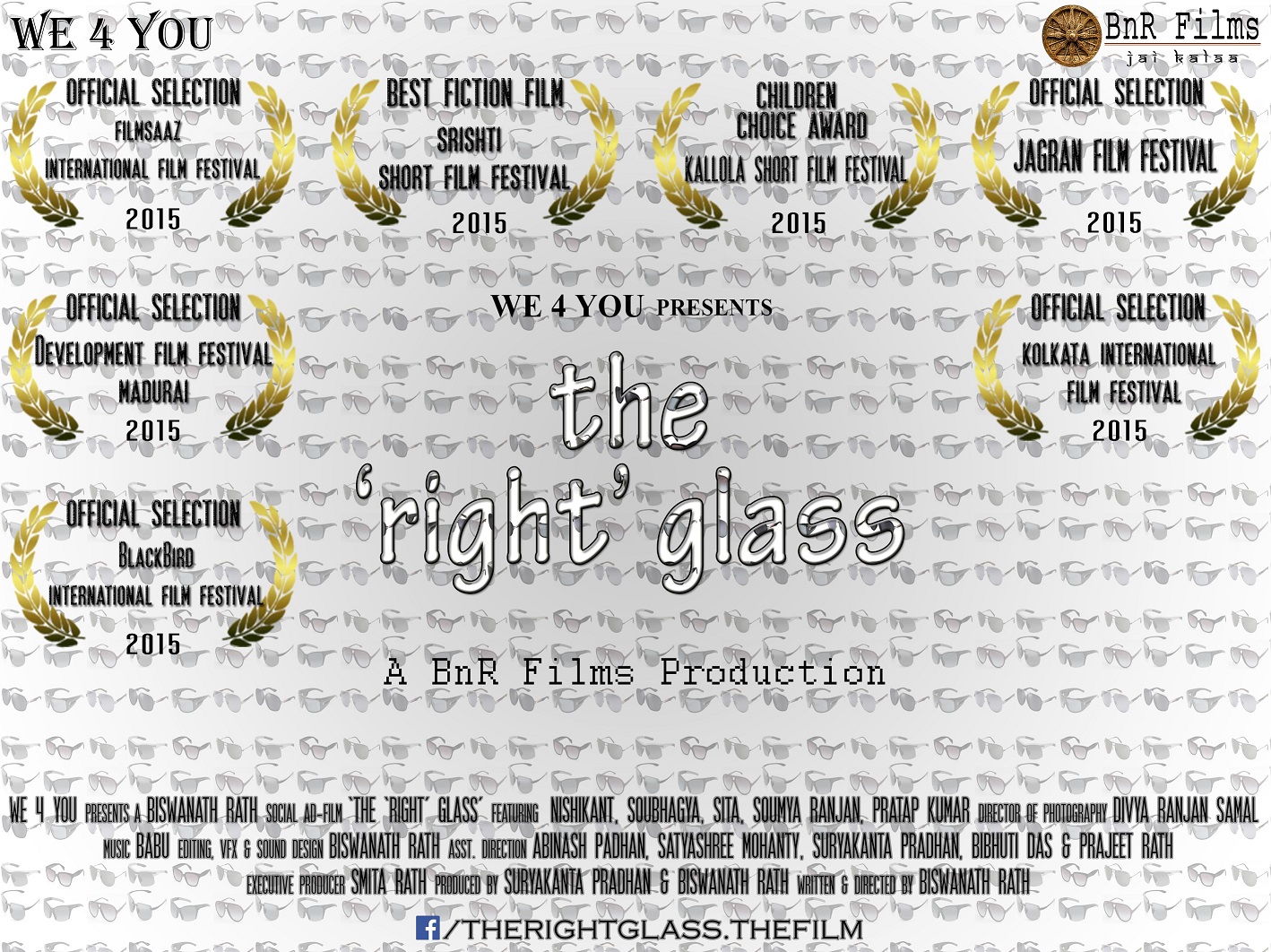 While most of the film fraternity is busy debating, discussing and celebrating the recent announcement of National Awards, Odia filmmaker Biswanath Rath's multi-award winning social short film "The 'Right' Glass" continues to make its 'silent' yet extraordinary journey in International Film Festival circuit. This time the film is representing India in Parachute Light Zero ACT III International Film Festival to be held at Paris (France) on 15th-16th April 2016, where it will be screened among a total of 60 International films. The 'Right' Glass, a silent film based on 'Child Right', is the only film from India to have found a place in the 'List of Official Selections' in this festival. A matter of pride, not just for Odisha, but for the entire nation.
However this is not the first time this film has got such outstanding recognition in festival circuit. Last  December, the film was screened at Afghanistan Human Rights International Film Festival-Kabul, where it was again the only film from India, which received 'Official Selection' and was screened among a total of 40 International films , which in turn were the films selected out of total 200 entries received by the festival organizers from 16 countries. More recently the film was also screened in 'Goldensun International Short Film Festival, 2016 held at Malta (Italy) in January this year.
 This social short film 'The 'Right' Glass', written & directed by Biswanath Rath and produced by Bhubaneswar based NGO 'We 4 You", reminds every one of the inviolable human rights that each and every child is born with and the responsibility that each of us, as a member of family, community and society has in ensuring that no child is denied his or her basic rights. Director Biswanath says, '"'The 'Right' Glass' is an attempt in making everyone realize this harsh reality of our society. We are overwhelmed with the kind of response/recognition our film TRG has received so far. Afghanistan Human Rights Film Festival and PLZ International Film Festival-Paris are even more special to us since we or our film are representing India in these festivals. "
Ever since its premiere in Feb 2015, the film has already received multiple awards in the International Film Festival circuit. With a running time of just 80 seconds, what makes this film even more special is the fact that it's a silent film. First  it received 'Children Choice Award' from honorable Governor of Odisha Mr. S.C.Jamir  in 'KALLOLA Short Film Festival' organized by UNICEF at Bhubaneswar (Odisha). Then it went on to receive the 'Best Fiction Film' award in SRISHTI Short Film Festival, Bhubaneswar (Odisha). Recently, it was also screened in Other major festivals in the film's journey include: BlackBird International Film Festival-2015, New York (USA), Jagran Film Festival-2015' (held at Mumbai, Delhi and 16 other cities), Kolkata International Film Festival-2015, Development Film Festival, Madurai-2015, AMU International Film Festival, Aligarh-2015
Apart from 'The 'Right' Glass', Biswanath Rath has also written-directed number of award-winning short films like 'Kar Bhalaa', Music Videos like 'Feel The Passion' etc. While bi-lingual short film 'Kar Bhalaa' has received two awards and Official Selections in 15 International Film Festivals so far, released on 24th July 2015, his music video 'Feel The Passion' (English) has achieved a unique milestone of crossing 1 Lakh Youtube views within just 2 months of its release in VEVO Channel. This makes it the first such International Music Video by an Odia Director to have received such huge response. This Music video has also received 'Official Selection' in Blackbird International Film Festival-2015 (New York, USA).
Interestingly the filmmaker has recently directed a Tamil Music Video (for a leading Media Brand in India), which is also the first such Tamil project to be directed by an Odia Director. This Music video is slated to release this year.
Biswanath Rath is the Founder & CEO of BnR Films LLP, a Chennai based Film Production company (co-founded by his wife Archana Rath) which produces Ad-Films, TV Commercials, Documentaries, Corporate Videos, Music Videos, Promotional Films, Short Films and feature films. All the ad-films/short films produced by the company (written-directed by Biswanath) have received huge appreciation from audience as well as critics. Presently BnR Films has got presence in Bhubaneswar, Chennai, Mumbai, Bengaluru, Hyderabad, Kolkata, Delhi, Kochi, Guwahati and Pune. BnR Films is currently into the production of a Documentary series.
PLZ International Film Festival Official Website: http://www.concept-artgentin.com/#!artistes-selection-officielle/m8ivm
Links to articles published (about ''The 'Right' Glass' and other films) 'in other newspapers/e-papers/Online portals: http://bnrfilms.in/?page_id=182
For more information, please visit official website http://bnrfilms.in or official Facebook page:
https://facebook.com/BnR.Films or our Twitter page: https:twitter.com/BnRFilms_in
Comments
comments