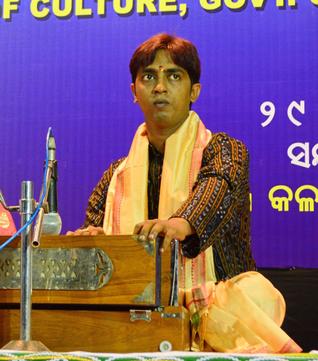 Ajaya Dash has accompanied several stalwarts and has made a name for himself as a harmonium player.
Though only in his late 20s, Bhubaneswar-based acclaimed harmonium player Ajaya Dash has earned laurels to his state and for himself. Winner of Gold Medal at the 15th National Youth Festival, he is probably the only harmonium player from Odisha to accompany stalwarts such as Manna Dey, Anup Jalota, Kavita Krishnamurthi, Hariharan, Udit Narayan, Md. Aziz, Sonu Nigam, Vinod Rathore and Shreya Ghosal. And he continues to be a favourite accompanist and music arranger for almost all vocalists and singers of Odisha.
Ajaya seems to be destined for music. "As a school student, I dreamt of being a lawyer. However, if I am in music today, it is due to my grandfather. Though he was a special class contractor by profession, he was a passionate sankeertan(devotional music) performer. He used to take me with him to these concerts where I developed my fondness for harmonium that used to be the major musical instrument in all such musical events in our locality. Thus, I started trying to play the instruments at home," revealed the young artiste, who is also an M.Phil student at Utkal University of Culture in Bhubaneswar.
As per his grandfather's decision, Ajaya joined Utkal Sangeet Mahavidyalaya, the premiere college of performing arts. "Since harmonium is not being taught as a classical instrument in music colleges, I had to join the Odissi vocal department. I loved learning and performing Odissi music but my passion for playing the harmonium was growing within me. I tried my best to develop my skills by watching several eminent harmonium players that I came across in various music concerts", he added.
Lady luck smiled at Ajaya the day he had a sore throat. "Since I was not able to sing, my Guru Ramahari Das (Sangeet Natak Akademi awarded eminent Odissi musician) once asked me to accompany him on the harmonium. And he was so happy with my playing that he inspired and guided me to excel in it. He also took me with him to several concerts across India for which I could get good exposure. He further guided me to be a music arranger," the self-taught instrumentalist acknowledged the pivotal role of his guru in shaping up of his career with deepest gratitude.
The gold medal at the National Youth Festival hosted in his home city of Bhubaneswar in 2010 made all the difference to Ajaya's career as an aspiring artiste. "There were 27 competitors in harmonium section who were representing their respective states. Since I emerged as the topper, I was invited to the next National Youth Festival hosted in Jaipur where Sonu Nigam was present. He heard me playing and invited me to accompany him later in his concert. Since then I have the fortune of accompanying many great musicians — both vocalists and instrumentalists," said Ajaya, who is also adept at the synthesiser. He has also brought out an album of devotional Odia songs, Srashta (The Creator), as its music composer and director that gives glimpses of the young artiste's promising future.
Despite significant achievements and accolades at a relatively young age, life for this artiste has been a big struggle for survival in a small city like Bhubaneswar. "It is difficult to earn a livelihood as a harmonium player here. So, I survive as a music teacher in a school. But, what really makes me feel like crying is the apathy of our government towards artistes. Without due patronage, both at the government and public levels, we have very little scope to grow as musicians in Odisha," he said.
And seconds later his eyes brightened up as he added, "The dream of my life is to create a band of at least 30 excellent harmonium players who would score a rare record for my state at the national level one day."
Source: The Hindu
Also Read: Born to Odisha parents, Vaibhav Mohanty creating waves in USA as music composer
Comments
comments