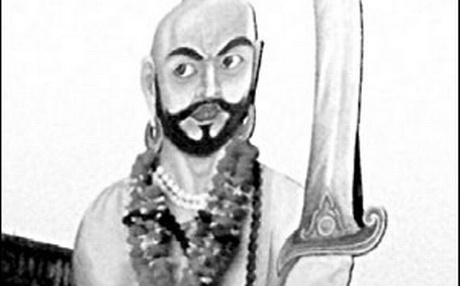 In the sacred Shamba Dasami of the year 1827, a male child was born in the famous Hajuri family of Puri Harachandi Sahi. His father was Raghunath Khuntia alias Bhimasen Hajuri, a servant of the Lord Jagannath. Since the child was born while his father was dressing the Lord with sandle-paste (Chandan), his name was given "Chandan Hajuri". But he is better known as Chakhi Khuntia. His mother was Kamalabati, a pious lady. In the childhood Chakhi Khuntia was very naughty. He was taught Oriya language and literature in a Chatasali. He then learnt Hindi to enable him for communicating with "Yatris" (Pilgrims) of Lord Jagannath. It is told that he had great interest in learning History and Geography of India, her hoary heritage and heroic tales of her national leaders. He was inspired by the biographies of the Indian heroes.
Chakhi Khuntia was learning rigorous physical exercises in the traditional Akhada or Jaga gharas of Puri. He even learnt wrestling and indigenous military feats and skills. Although in the childhood he was very weak and lean, through these physical attainments he strengthened a very well-built and muscular body.
Chakhi Khuntia happened to be the family priest or religious guide called Panda of Meropanth, the father of Manubai who was renamed as Laxmibai after her marriage to Gangadhar Rao, the King of Jhansi. Chakhi maintained relations with Laxmibai ever after her marriage and used to pay visit to the royal family at the time of religious trips. During that period the British people were trying to establish their empire in India through hook or crook. The missionaries with their support were preaching Christianity through various means. Even, they were bitterly criticising the Gods of Hindus and deprecating idolatry and other religious practices. Chakhi Khuntia with others strongly opposed to such denigration.
Gangadhar Rao, the King of Jhansi died untimely. Laxmibai had also lost her only son earlier. The British people prohibited her adopting a son to inherit the throne of Jhansi. Subsequently, the British ruler took away all the powers themselves and Laxmibai was left powerless. But she could not reconcile to such a situation and revolted against the British rule. She sought the assistance of Chakhi Khuntia at her juncture and Khuntia extended all possible help to her. Chakhi Khuntia played a very crucial role by fomenting resentment among the Indian soldiers called "Sepoys" and organised a mutiny which subsequently took a violent shape. Khuntia was well known as the Panda of Sepoys or Hajuri Panda (religious guide of Indian soldiers). On account of his involvement in this first freedom struggle, Chakhi Khuntia was arrested many times and kept behind the bars.
Chakhi Khuntia spent the last leg of his life at Puri. He was not allowed to go anywhere else. He devoted himself to the literary pursuits and religious rites relating to Lord Jagannath. He has composed a lot of poems, most of which are devotional songs. Some of his songs are expressing his great displeasure and deep indignation at the inhuman and suppressive measures of the British Government. Many of his writings are still unknown and might have been lost or damaged in the meantime. It is said that one of his palm-leaf manuscripts is entitled "Manubai" original name of Laxmibai, queen of Jhansi. He breathed his last in 1870 at Puri. It is a great pride for us that an Oriya son of the 19th century was not only inspired by the heroic deeds of a host of Indians, but also he himself inspired a large number of soldiers with profound patriotic fervour who sacrificed their lives fearlessly at the holy alter of the Mother India. He will be ever remembered by us as an immortal poet, a national hero, a great patriot and renowned devotee of Lord Jagannath.
Courtesy: Odisha Government magazine
Comments
comments