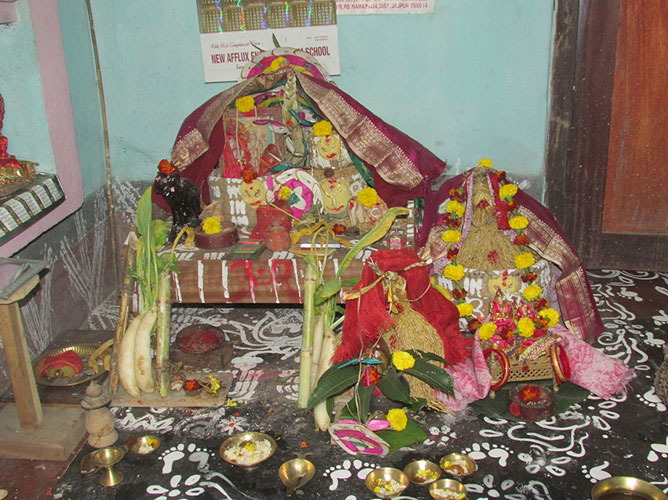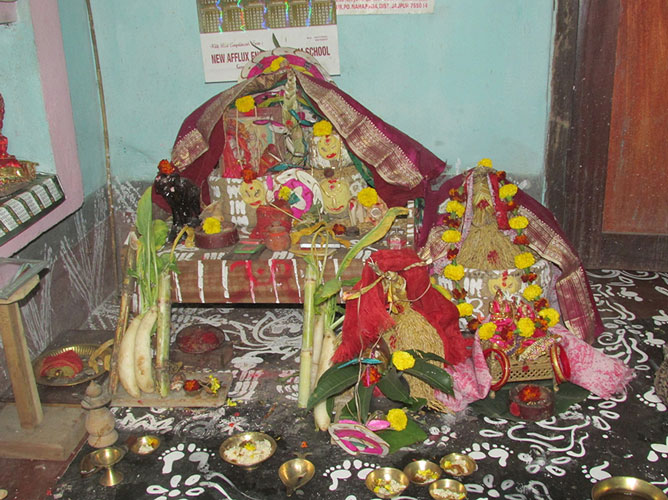 Manabasa Gurubar is a great festival for all Odias. It is the worship of Goddess Lakshmi in the month of Margasira as per traditional Oriya Panjika (Calendar). Manabasa Gurubar 2009 dates are November 5, November 12, November 19 and November 26. In Orissa, it is believed that Goddess Laxmi, the Hindu goddess of wealth and prosperity, visit homes in Margasira month.
Legend
The Legend of Manabasa Gurubar is based on the ancient scripture "Lakshmi Puran". The untouchables were not allowed to pray, worship and do rituals to God in the ancient ages. At that time Sriya a woman from untouchables dares to pray and worship and wins over the support of Goddess Lakshmi. But the real story begins when Lakshmi got separated by Lord Jagannath at the behest of his brother Balabhadra. Because she ends discrimination on earth by encouraging even untouchables to conduct rituals and worship. As Lakshmi moves out of Jagannath's house, both Jagannath and Balram undergo immense suffering so much even they have to starve without water and food. The curse of Lakshmi had a severe impact on both the brothers for 12 years and they had a tough time. Soon they realised the importance of Lakshmi and were keen to bring her back to their home. Lakshmi returned to Jagannath's house on one condition that there will be no discrimination of caste and creed on earth. This unique story highlights the fact that for God everyone was equal. Besides it reflected the reforms and progressive stance of Gods from the ancient times. Only in the end through Narad it is revealed that Jagannath to end castism and discrimination from this earth. He had himself "set up" these series of events which highlighted the social message besides the strength of true spirituality. The story not only draws an attention towards Castism but also gives an inspiration towards Women Empowerment.
Rituals
During the period the houses are kept neat and clean. "Chita" (Alpana) is drawn to welcome Goddess Lakshmi. Special pujas are offered to Goddess Lakshmi. According to Oriya scripture, Goddess Lakshmi is worshipped on every Thursday during the Oriya month of Margasira by, Oriya women, with utmost devotion. The women wake up very early in the morning and clean the house with broomsticks. It is believed that Goddess Lakshmi never visits a house if it is untidy and dirty. The doorsteps as well as the entrance are decorated with artistic Oriya's alpana called chita. The decoration also constitutes a pot made of bamboo canes used in the earlier days for measuring paddy (known as Mana). It is filled up to the brink with newly harvested paddy. It is believed that Goddess Lakshmi visits every house during the Puja. This is continued for 4 Thursdays (even if there may be 5). In this Puja different type of tasty cuisine like Manda Pitha, Khiri, Kakara, Chitau etc. are prepared and distributed to neighbours. On this day all Oriya women read Lakhmi Puran. It marks the end of this auspicious occasion.
Courtesy: Odisha Gov website
Did you know Bhubaneswar Buzz is only portal covering Odisha to have more than 19,000 followers (consistent) in top 3 Social media platforms i.e. Facebook,Twitter and Instagram
Bhubaneswar Buzz is available in 10 social media channels, check out all of them here
Did you know Odisha is first in India to host Asian Surf Championship
Like Us in Facebook to get more content like this
Comments
comments