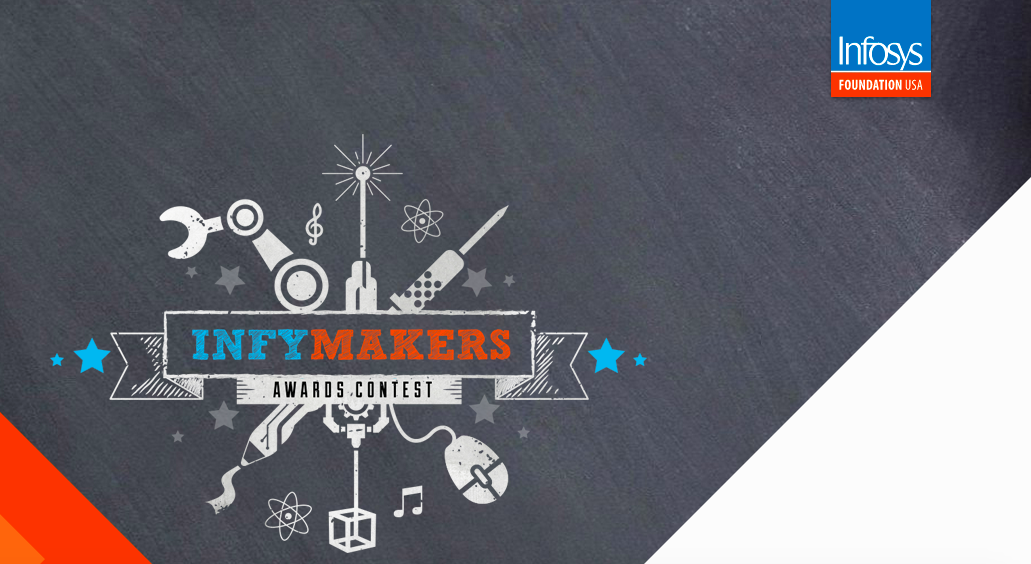 Infosys (NYSE: INFY), a global leader in consulting, technology, outsourcing and next-generation services, today announced the winners of the first Infy Maker Awards, India. The Infy Maker Awards are testimony to Infosys' commitment to encourage the concept of 'Making' in India, acknowledging those individuals that have an interesting or innovative solution for real-world issues or a knack for leveraging technology to make things easier. These Awards were initially launched in the U.S. by the Infosys Foundation USA in June 2015 in support of President Obama's Nation of Makers initiative.
In the first Indian edition, 20 winners were selected from more than 280 entries and more than 2,500 registrations. The winners were selected by a panel of distinguished judges representing technology, academia and the business community. The jury, comprising Ms. Kiran Mazumder Shaw, Chairperson & Managing Director, Biocon; Ms. Rama Bijapurkar, Author; Mr. Mohandas Pai, Chairman, Aarin Capital Partners; and Mr. Pravin Rao, Chief Operating Officer, Infosys, evaluated and selected the winning entries that were relevant to real-world problems, used technology in an innovative way, displayed originality of ideas and brought forward quality presentations.
The Infy Maker Awards India enable the creation of an ecosystem of innovation through 'making', one that will help India contribute more deeply to the larger global community of inventors and entrepreneurs. The 20 winning ideas will be presented an award of INR 5 lakh each, a trophy and a certificate.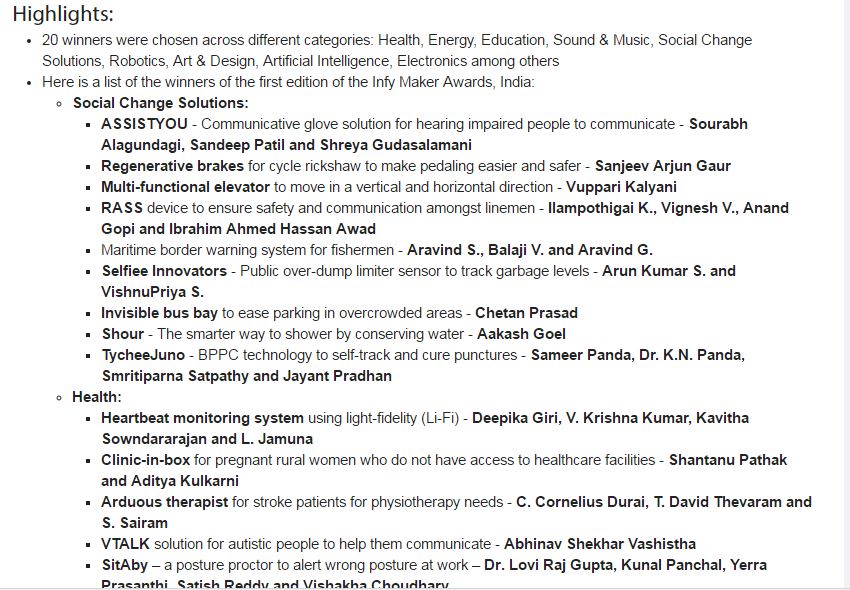 Earlier the burst prevention and puncture curative technology (BPPC) technology invention by TycheeJuno project, headed by an Odisha-based innovator, had found its place among the top ten most entries in the Create the Future Design Contest 2015 Nasa Tech Brief in New York on November 6. Nasa Tech Brief is a joint effort of Nasa and Society of Automobile Engineers International.
Thousands of young scientists from 60 countries participated in the international competition. Eight teams received the awards and 32 inventions found a place in Nasa's official publication in the special issue of November.
"It has clocked more than 40,000 hours in last more than a decade in inventing the technology that can be manufactured in existing manufacturing set up and can also be retrofitted in any tubeless, self supported or auxiliary supported tyre," TycheeJuno team leader Sameer Panda, who is doing his PhD from VSS University of Technology in Odisha's Sambalpur district, had said earlier.
Also Read : Odisha innovators bag NASA award for finding solution to tyre bursts
Comments
comments