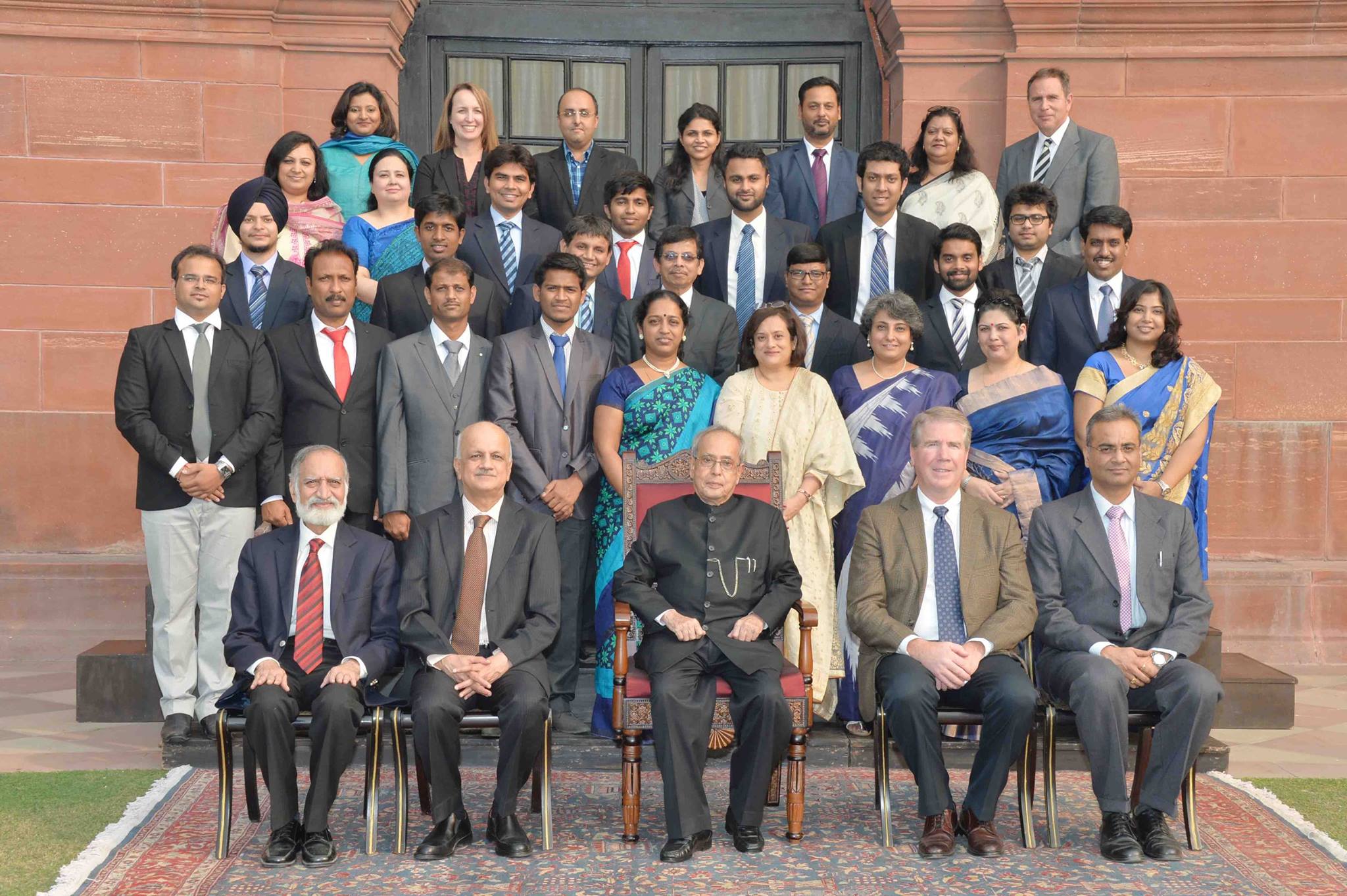 The President of India, Shri Pranab Mukherjee met top 10 winning teams of 'Innovate for Digital India Challenge' at Rashtrapati Bhavan today (November 19, 2015). These teams were selected through a rigorous process and they made a brief presentation of their innovative products and systems before the President.
Speaking on the occasion the President said that he was happy to learn that Department of Electronics and Information Technology has collaborated with Intel India to run the competition that aims to identify, support and mentor companies with workable IT solutions to problems in various sectors like health care, education and e-governance. He said that he was sure that the innovative Solutions presented today would be developed to benefit the citizens of the country.
The President said today, India needs innovation to tackle various challenges in the fields of education, health care, financial Inclusion and service delivery. He stated that we face the challenge of scalability and mass applicability of solutions to the problems of public concern. The solution lies in harnessing the digital revolution backed by innovations. The digital revolution has in a way decentralized governance. Today, any innovation happening anywhere in the country or the world can be replicated and adopted suitably on large scale.
The President said the Digital India campaign of our government aims to work on providing digital infrastructure as a service to the citizens, providing governance and services on demand and digitally empowering the citizens. He said that he was sure that the "Innovate for Digital India Challenge" will provide a platform for innovators and other stakeholders to collaborate and continue to bring forth affordable, workable and innovative solutions to the problems of the common man.
On the occasion a book 'Technology innovation for inclusion' was also presented to the President by Mr. Greg Pearson, Vice President Intel Corporation.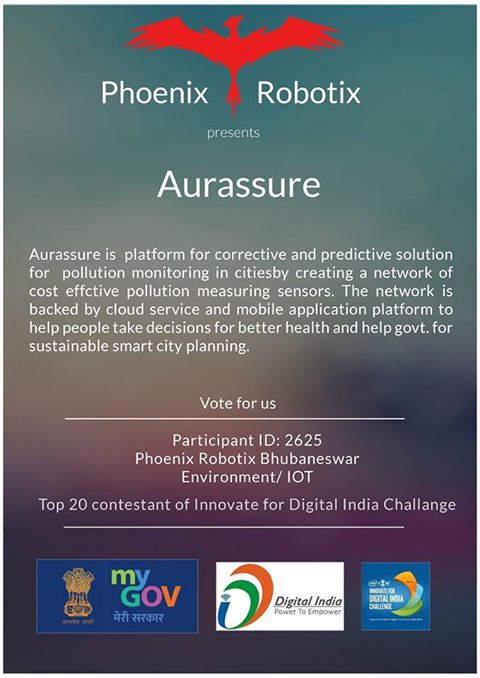 Phoenix Robotix Pvt. Ltd is a start-up incubated in TIIR Cell, National Institute of Technology, Rourkela. Specifically, they build Internet of Things and Wireless Sensor Network products and services with an aim to connect thousands of cities and lakhs of industries to crores of people and the government. It has been successful in grabbing a position in top 20 teams for "Innovate for digital India 2015" which is organised byMyGov, DST, Intel and IIMA. Phoenix Robotix was founded by Mr Amiya Kumar Samantaray, Electronics and instrumentation engineering in the year 2014 August just after graduation. Agniva Das, Shashant Vijay, Akanksha Priyadarshini, Nataraj Sahoo, Asish Sahoo, Vikrant Sahoo, Narendra Dehury Ashutosh Sarangi and Tanjot Singh a team of graduates from different branches has been supporting Amiya to make "Make in India" dream come true. Currently it is a private limited company and growing fast.
Startup by Odisha based NIT Rourkela in top 20 of Innovate for Digital India 2015 contest
Like Us in Facebook to get more content like this
If you have content to share with us, send us an email at [email protected]
Comments
comments