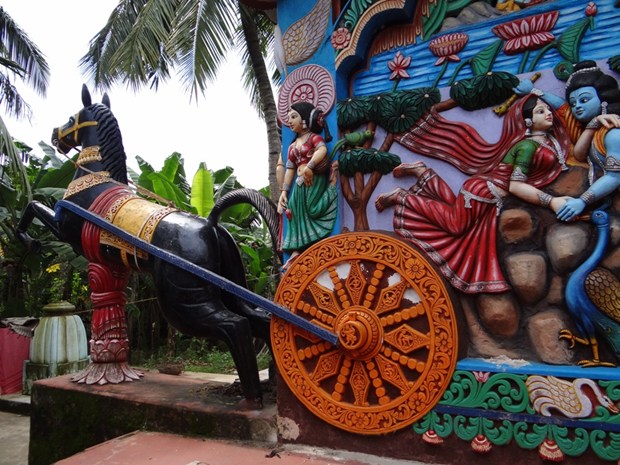 It all started about five years ago…
The Mani in my name, received a Forward about an Oracle in a village – Kakatpur by name – in Orissa . We were stunned to read about this Oracle.  It created a spark in our hearts and there arose a yearning  to visit this village and witness this phenomenon. May be the right time was yet to come, as we could never finalise our plans to go over to Bhubhaneswar. The wish and longing continued unabated…till a couple of months ago, Mani told me with a smile on his face – " I have booked  the tickets and we are leaving for Bhubaneswar on the 14th. of September."
The saga had started.
I must give you a glimpse into what happens in this village,  before writing,  " what happened when we got there."
In this small place Kakatpur,70 kms. from Bhubhaneswar , there is a venerated gentleman – Shree Amareshwar Mishra.  A Priest in a Durga Matha temple during the early seventies, he was directed by the Goddess in his dreams( quite a few times) to proceed to a particular  Ashram and meet a Baba and acquire some Pothis. Now, Pothis are sacred books and in this case, they are made of thin Copper sheets ( like the Chuvadi in the South).  Through this Pothi the Pundit  gets answers for the persons who seek him  out with their questions, which can be related to their future or remedies for their illnesses or to find out details about any loss of material – thefts, etc. To know more about the Pothi,  you just type
" Tamra Pothi Oracle Odisha"  and get access to all the facts that are available in the internet. .
Now let me come back to our sojourn:
We reached Bhubhaneshwar at 3.30  in the morning and after a short rest, by 7 a.m.,  were on the road to Kakatpur. The driver who belonged to Odisha also spoke Hindi and a little bit of English. He was clueless about Kakatpur but told us very enthusiastically , " Hum raasthe mein pooch lengae..( we can find out from people on the way)." What we had gathered from the net was that we had to go towards  Pippili and from there it was just a few kilometres away.
We stopped at a restaurant for breakfast at a place called Nampada …not a luxury hotel but a wayside small hotel, clean and cheerful looking. As we sat to taste our poories and  vegetable gravy with potatoes and peas,Mani told the driver to enquire about the road to Kakatpur. A very friendly looking young man had  sauntered into this place from across the road, seeing us enter this hotel and heard Mani speaking to our driver. He asked us with a smile, opening his palms like a book – "You are going to read the Pothi? I go there atleast once in three months…" and apprised the driver of the  route  we were to travel. Well, after having a nice breakfast with poories and  a sweet named Chennachilli…something like a bonda soaked in sugar syrup-and thanking this young man profusely, we continued our journey. But after a while…with so many left and right turns , the driver was a bit uncertain and lo! someone came from across the road again and enquired where we were headed to. Again in Oriya, route was charted out to the driver and we continued our path thanking the divine  thus guiding us. Just a few yards .. and again we had taken a wrong turn. Rain had created puddles on the mud roads and everything was slushy and as the driver was wondering ..there pops up a young gentleman on a motorbike asking us what / whom we were searching for. It turned out that the Ashram was just down the next road !!Well, we walked down as the road was narrow and slushy and  any vehicle could get stuck and we soon reached the place.
It was a little past nine fifteen  in the morning and a few  persons were  waiting  there for Pundit Amareshwar Mishra to arrive. We entered our names on the sheet of paper kept there  and went to the small Temple of Lord Jagannath, near the  building where we were to witness the Divine Oracle. It was a small Temple with the Idols of Lord Jagannath, Balaram and Subhadra….exactly as in the Puri Jagannath Temple. Preparations were on for a Homam( Havan) and a few pots filled with water were kept for abhishekam. We met the son of Pundit Amareshwar Mishra who was the main Priest here. Within a few minutes, the Pundit arrived .
It was a very ordinary looking building with just two rooms where the Reading was to take place.A plastic sheet had been spread on the floor and we sat there along with some six or seven men and a lady. The Pundit ,well past seventy…wearing a dhothi and donning rudraaksha and  spadika  malas around his neck, sat on a very old bench in this hall. There was no jazzy throne or entourage of disciples here ! Simplicity personified !!There was a wooden  door in this room  which led to another room and we were asked to come over there after the Pundit walked in  with the help of a walking stick.
He sat in front of a small desk on the floor,before which, he removed the Rudraksha mala, wearing only the Spadika.  He took out a brass plate, something that looked like a piece of chalk and two Pothis from the jholna bag that he had brought with him.
He placed the plate ( some 9″ in diameter) on the desk and placed the Tamra(copper) Pothi on it. He placed the other palm leaf inscription Pothi near this. We were in for a very pleasant surprise when he started explaining about every article there. Honestly, we had never expected this!!
The brass plate is a Yanthra. The copper Pothi is placed on this. The plates (pages) are blank and gleaming…smooth and softened  over the years. The Tamra Pothi comprises eighty five copper sheets( pages). The six chakras in our body have eighty four y(j)anthras  in all and the eighty fifth yanthra is in the skin. Now we begin by telling him our name. He opens the palm leaf  pothi which he says is the Bhairavi Pothi  and reads out from there ..slokas and blessings and general things about us. He asks us now to hold  the chalk like thing between our eyebrows, pray and form our question mentally , concentrate and place it on the copper  Pothi and open any page there under the chalk. (He had  originally opened the pages to us to show us that there was nothing written on these sheets. He was magnanimous, allowing us to take photographs too).
Comments
comments