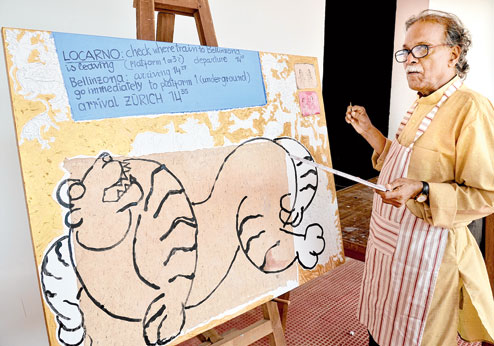 Dinanath Pathy left his mark as an artist, writer, editor, scholar, art historian, critic and curator.
True to his name Dinanath (the Sun), he was the most prominent and versatile personality shinning in the sky of Odisha's contemporary culture. And he was a lighthouse for the art and artists of the State as well. He was Dinanath Pathy who passed away in his home city of Bhubaneswar on August 29 at the age of 74.
Humble moorings
He was a rare personality in the field of culture who was the classic combination of an artist, writer, editor, scholar and art historian- critic-curator-promoter-archivist-administrator. With an enviable inter-disciplinary study of Odisha's visual art, performing arts, literature, history and heritage, Pathy's voice was of a commander and of a father figure on Odisha's cultural affairs. From the humble beginning of a nondescript village boy engaged in painting screens for the village theatre troupe in pre-independent India, he rose to the position of an internationally known art personality who crowned the coveted positions at state and national art academies apart from heading or collaborating with great art institutions in India and abroad.
Pathy was born into an artistically-inclined family in Digapahandi village of southern Odisha's Ganjam region that is known for a wide variety of art traditions. While his father composed poems, his older brother – whom he revered as his first guru – had set up a small institute namely Shilpa Kala Mandir where Pathy learnt how to paint screens for the village theatre troupe. Like a duck takes to water, his natural choice was joining the then Odisha's only art school at Khallikote in his district where his vision of art education was enriched by his teachers like Ajit Keshari Ray , Bipra Charan Mohanty and Ananta Charan Panda who are the legends of Odishan art today. Later on he studied in Bhubaneswar, Tagore's Shantiniketran and Zurich.
Achievements
He was the recipient of two Ph.Ds and one honorary D.Litt. His doctoral research was on 'History of Orissan Painting' and 'Art and Regional Traditions' which brought to light the least exposed art traditions of Odisha. He was also the recipient of Jawaharlal Nehru Fellowship, Japan Foundation Fellowship, Nehru Trust Victoria and Albert Museum London Research Fellowship and British Council London Visiting Fellowship besides the Senior National Fellowship from the Ministry of Culture of Government of India.
Read the full article from Hindu
Comments
comments