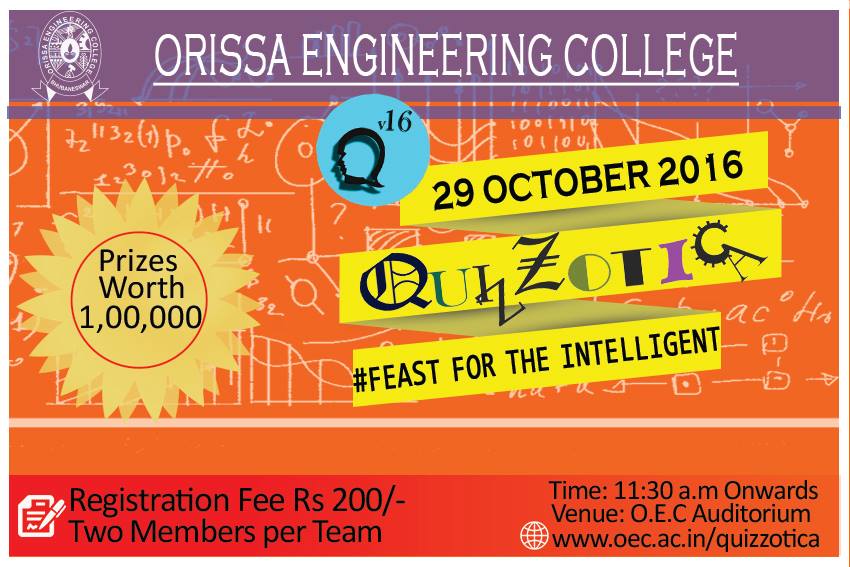 The "Beast from the East" is back again. No, not me. That will be Quizzotica, the Big General Quiz in Bhubaneswar, India.
So, block your calendars, book your tickets, fasten your seatbelts and show up. And going by the dates this year, the only firecrarckers you need, will be in the quiz.Quizzotica : The annual quizzing event of Orissa Engineering College will take place for the 16th consecutive year on 29
th October, 2016 in Bhubaneswar.
Details:
Quiz – General Open Quiz
Team Composition – 2 members in each team (8 teams will be going to the final round.)
Quizmaster – Priyambad Pattanayak
Date – 29th October 2016 (Saturday)
Time – From 10.00 am onwards. On the spot registrations. (Registration between 10.00am to 10.30am)
Venue – K.K. Patnaik Auditorium, OEC Campus
Prize Money – Prizes in excess of INR 1,00,000.
For the winners:
1st prize – Rs 35,000
2nd prize – Rs 20,000
3rd prize – Rs 10,000
Consolation prizes for all the other teams who make it to the finals. Audience prizes and gifts worth Rs 10,000.
P.S: Transport will be arranged for participants from Bhubaneswar railway station and Biju Pattnaik Airport, Bhubaneswar.
For more info, visit : www.oec.ac.in/quizzotica
or visit our facebook page at : www.facebook.com/oecquizzotica
Comments
comments