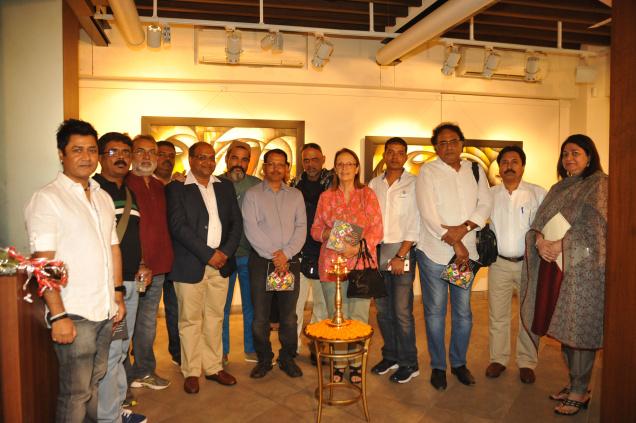 Art promoter Arun Kumar Bera is bent on proving that there is indeed a market for modern art in Odisha
Combining culture with commerce, Bhubaneswarbased bankerturnedart collector Arun Kumar Bera has been scripting an inspiring success story as an entrepreneur while demystifying the belief that there is no market for modern art in Odisha.
Barely two years ago, when Arun decided to set up the Gallery Artist Mindz in Bhubaneswar, many frowned at him. "It is a small city and there is no market for modern art in Odisha for which there is just one art gallery in Bhubaneswar so far. Better to explore bigger cities," he was cautioned. "But, I was optimistic. I believed in the taste of the people of this artistic city and state that has several beautiful temples besides a number of rich art traditions of the State. I amhappy and proud that my belief was proved true", smiles the gallery director who has sold at least eight works of M.F.Hussain to eminent art collectors of the city in just two years. He currently has works of S.H.Raza, Jamini Roy and F.N.Souza and several eminent Indian painters in his collection.
"I have also set up art galleries of the same name in Mumbai and Kolkata, but I have Bhubaneswar as my headquarters because of the amazing degree of interest in buyers, collectors and connoisseurs of contemporary art here," he confesses . Born and brought up in Kolkata, Arun had an accidental entry into arttrade. "As a banker, I was an international traveller. While abroad, I would read about auctions of Indian art abroad at some galleries. Curious, I went to visit some of those galleries in France, Egypt, London and Dubai during my tours. While the interest in Indian art there made me proud as an Indian, I wondered why such auctions were not happening in our country.
Courtesy: The hindu
Also Read: Art Gallery to open in Buddha Jayanti Park in the city in June
Comments
comments