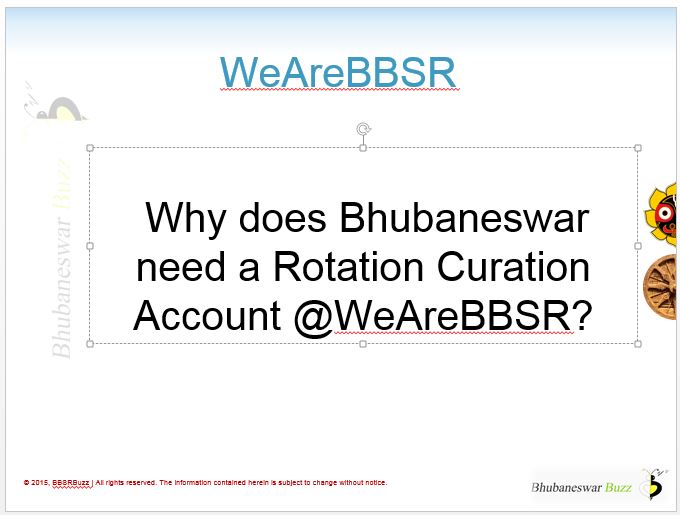 Since, a rotation curation account was something unheard of for many, given here are a few details as to what is exactly a rotation curation campaign and why is it significant for a city like Bhubaneswar.
A Rotation Curation is a new type of Twitter campaign aimed at increasing global awareness of a city, country etc. A targeted Twitter account gets a new curator each week, and that curator is a citizen of the said place. Sweden was the first to come up with this concept few years back, and you can find their Rotation Curation campaign at the Twitter account @sweden, where they give the handle to a new person each week to Tweet out as they please. In India, there are various accounts currently on Twitter like @WeareBangalore, @WeareMumbai, @WeareHyderabad etc. On the same lines, @WeAreBBSR aims to be the voice of the common Odia person who might have his own way of bringing up noteworthy issues, share relevant information and increase the global awareness about Odisha.
If one indeed looks for a motive of such a campaign for a city like Bhubaneswar, the below points might be of help.
To create awareness about Odisha – We all agree there are multiple social media accounts who are creating awareness about the state and even help spread relevant information. However, all the accounts are run by an individual or a team who try to collect information and share with their followers. A rotation curation account would instead provide an opportunity to any Twitter user who would like to try sharing information, spread awareness and bring about a change through social media. There are many folks from Odisha settled abroad and this also gives them a good platform to interact with other folks from Odisha spread across the globe. It is pretty evident that with a new curator every week, we will get a new perspective on what is important and excellent every time too.
At some point of time, we would love to have notable dignitaries from Odisha who do a great job on social media too, to help us curate the account and share their thoughts with everyone.
Relieve common misconceptions about Odisha – The best part of such an account is you get a chance to ask questions, get thoughtful responses, and then share the ones which are worth it. This helps clear any common misconceptions, wrong information, or doubts regarding the state of Odisha. With Bhubaneswar on its way to be one of the smart cities, this would be of great help and would play a good role in getting all the citizens on a common platform.
To build up Odisha as a hot tourist attraction – There is no doubt that social media plays a key role in promoting tourism. Each of us have a different take on the tourist attractions in the state, have our own blogs, photos and journals. This might be the starting point to discuss, share and promote your favorite tourist destination in the state. This can indeed act as a source of help for any tourist or visitor in the state of Odisha.
It's an experiment. But believe me, it is a lot of fun, and rotation curation accounts do deliver on the key premise of connecting different people.
Over a period of time it will make for a fascinating snap-shot of Odia tastes and interests across the globe.
Do play a part as we try to take this initiative forward. Help us spread the word. And even more important, give yourself a chance to curate @WeAreBBSR.
Comments
comments