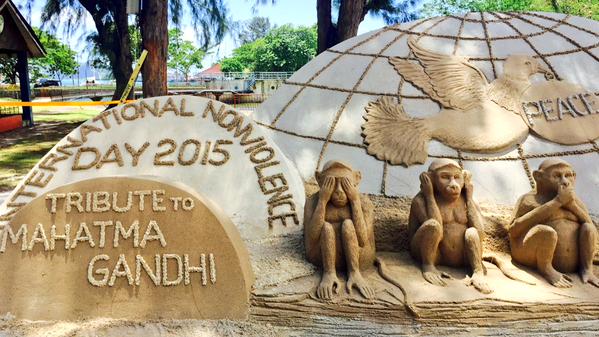 A trip to the beach is naturally a regular occurrence among the Seychelles population of around 93,000, as the archipelago of 115 islands in the Indian Ocean is surrounded by breathtaking powder-white beaches and clear tranquil waters of turquoise and blue.
As the sea-lovers take a dip in the sea, young children are commonly seen attempting to build a few sand castles, often helped by older siblings or parents.
Interestingly, in spite of the abundance of sandy beaches, there seems a lack of Seychellois artists keen to turn these blank canvases into pieces of art.
This may well change in future now that world-renowned Indian sand sculptor, Sudarsan Pattnaik, has started to nurture an interest in the art form among the island nation's population.
Pattnaik, who hails from the eastern state of Odisha, who has been manipulating sand since the age of seven, has set tongues wagging for the third annual Seychelles India Day celebrations combined with IndiaFest 2015, which kicked off on Friday.
The fascinating and unusual attraction had surely left a lasting impression on the onlookers, which included Seychellois including those of Indian origin, tourists as well as Indian nationals residing and working in Seychelles.
.
Comments
comments