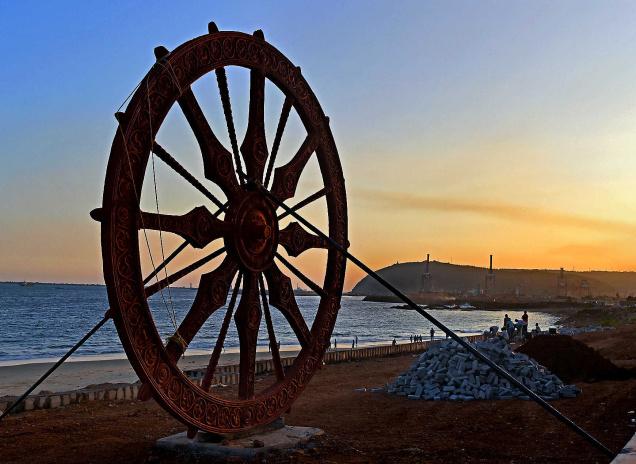 The Hindu writes:
A massive replica of the iconic wheel of the Sun Temple of Konark was installed at beach on Friday. The 18-foot diameter FRP installation is an exact replica of the iconic Wheel of the Sun Temple at Konark, city based artist-sculptor G.V. Ramana Murthy told The Hindu . In all probability it was the biggest replica of the iconic wheel, he said. The actual wheel of the Konark Sun Temple was 12 feet, he added.
The fibreglass replica of the wheel was installed at the beach front near Coastal Battery as part of the beach beautification programme being undertaken by the Greater Visakhapatnam Municipal Corporation as a run-up to the CII-Government of AP Partnership Summit and Indian Navy's International Fleet Review in the next two months.
The Konark Wheel reflecting the Indian culture and ethos was very appropriately placed on the beach front facing the rising sun, he pointed out.
The installation took one-and-a-half months, he said. Apart from the installation on Kailasagiri Hill, the wheel would be the biggest FRP installation in the city, Mr Ramana Murthy said.
Comments
comments