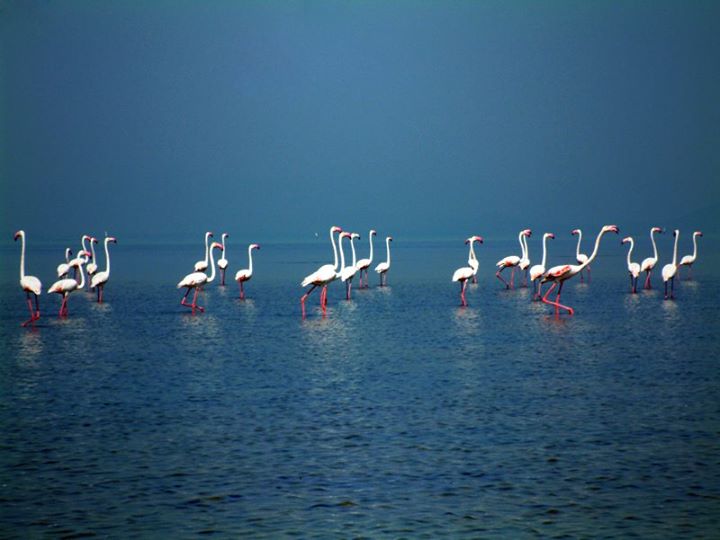 Sailing on serene blue waters of Chilika Lake on a misty morning. The vision of faint silhouettes of island hills through floating swathes of fog skimming the waters, then rising mistily to create a sense of smoking incense. Gulls and terns, some still in wakeful slumber, others already making sorties for an early catch, their feathers a gleaming silvery-white as they catch a glint of the hesitant sun. Many badlings of ducks bob on the soft ripples, calm and content, as a wedge of geese fly noisily overhead. Large gulls pose on posts like sentinels, unmoving and unperturbed; a young gull belligerently driving away an adult to grab a post, a moment of amusement. The eye of a stoic greater cormorant glistens like a jade marble, the bird itself a picture of black is beautiful. The flamboyant flamingos are nowhere in sight today, having probably found a more lucrative foraging space in this expansive lagoon . An invisibleness of hundreds of petite small pratincoles skillfully merge into the dry brown reed beds, their soft squeaks the only revealation of their camouflage. Regal brahminy kites plunge into flocks, seemingly angry at having failed to pluck a catch. An osprey hovers languidly in the distant sky. Perky dolphins leave bubbling trails as they playfully duck in and out.
The sky and water are a single blue, the blueness obviating the blurry horizon. Chilika Lake holds the beauty and romance of nature's splendour in its sanguine folds, is the means to many livelihoods, as also a gateway to divinity, prayer and worship.
Chilika Lake, Odisha.
January 2016.
Comments
comments