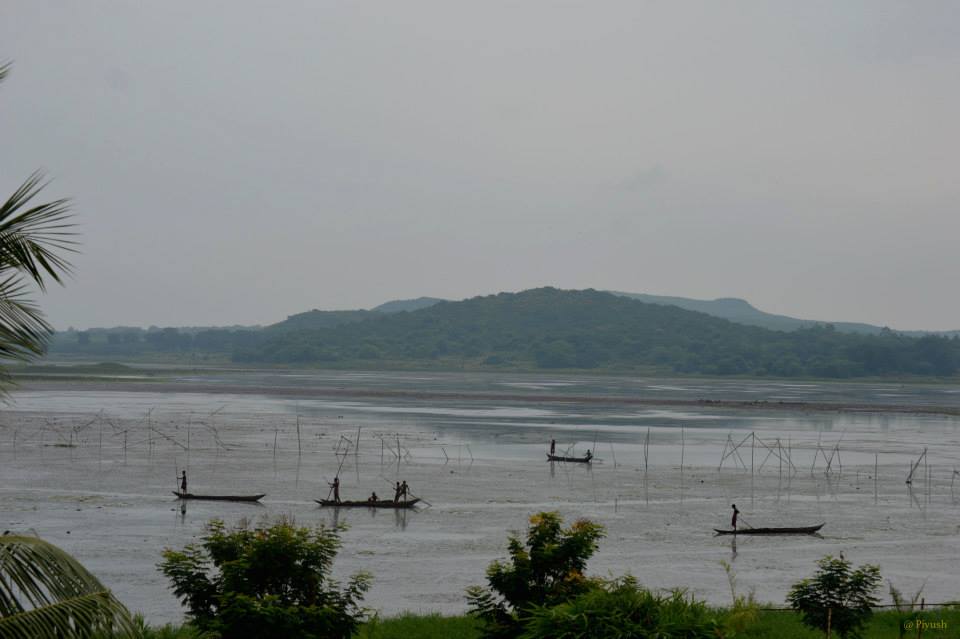 If you are tired of being inside urban jungle or regular visiting Konark, Puri, Chilika etc then you have an option to go similar distance from Bhubaneswar towards 65km north on banks of River Kathojodi and Mahanadi. Then you will land in surprised location after enjoying you ride witnessing some the magnificent landscape of nature with hill top view at Sri Sri University, Cuttack from Kathajodi River, the Mighty Mahandi River first entry into Delta at Mundali and on beautiful road with tree shades, green paddy field & rock hills on one side and Mahanadi on the other side. The journey will land you ate Anusupa a fresh water lake in Odisha. The lake spreads over 141-hectare ,is shaped like the horseshoe is on the banks of River Mahanadi and near to the Saranda Hills. Ansupa Lake is also famous for migratory birds in weather season but some time one gets to see them in monsoon seasons too.There are some hills around it makes the lake more beautiful named Saranda and Bishnupur hills.
My journey began early hour of the day when city of temple Bhubaneswar was about to rise and the traffic is yet to make noise. The stop was on the hills of Sri Sri University. The paddy paddy fields on the valley with little bit foggy weather makes the site more beautiful. Then on the Naraj way crossing villages touched Mundali Barrage where the Mahanadi makes its path into its delta region. There were lots of fish markets on the bridge and fishing in water with morning sun hiding inside fog was inspiring. Then their were few stops in between Mundali & Ansupa to witness the natural beauty but to witness this beauty one has to ride via Kandarpur Road than reaching Ansupa via Athagarh town.
After reaching Ansupa the localities suggested please go to other side the where there is park and then go to the hill top to witness aerial view from the watch tower. The cost of entering the Park is Rs 10 & into watch tower is Rs 10 per person.
In my surprise i could see any visitors or any shops that can provide food etc nor any signage of tourism department in my entire ride rather its the local people around who often informs you the best way to enjoy your day. I was lucky to witness some forms of birds not sure they are migratory or not but were much encouraging to watch them silently. After a bit of walk inside then went on to the top of hill to see the Ansupa.
What surprised me lovely view of Ansupa Lake, Landscape, river Mahanadi and lovely wind that makes you stress free. The only noise around me was silence or wind or some birds and no vehicles nor pollutions. I could see some restoration work was in process to restore some structure belongs to very early in Odisha History links with Kings & kingdoms. There is some guest house were on the process of getting furnished by forest department that one can avail with bookings.
The return path was via Athagarh side that made a circular view around the lake. I could see some local vegetables being sold at passing by road the price were almost one third or half the price sold in Bhubaneswar and is fresh from the village firm house. Once after reaching Mundali Barrage decided instead of using Naraj Road took the other way to to connect Banki – Bhubaneswar Road. By the time touched Bhubaneswar it was raining but din't much affected but at it a worth visiting the Ansupa Lake covering 130km.
Those who want use the path then please start your plan little early and if possible carry little dry fruits or enough liquid and explore places around. If one has time then spend the day around Ansupa and make your return tour in between late afternoon & early evening. If you are planing to return by Athagarh side then please aware the road is under the path of Elephants corridor. It is always advise to take views of local people before making move in what ever direction.
Comments
comments