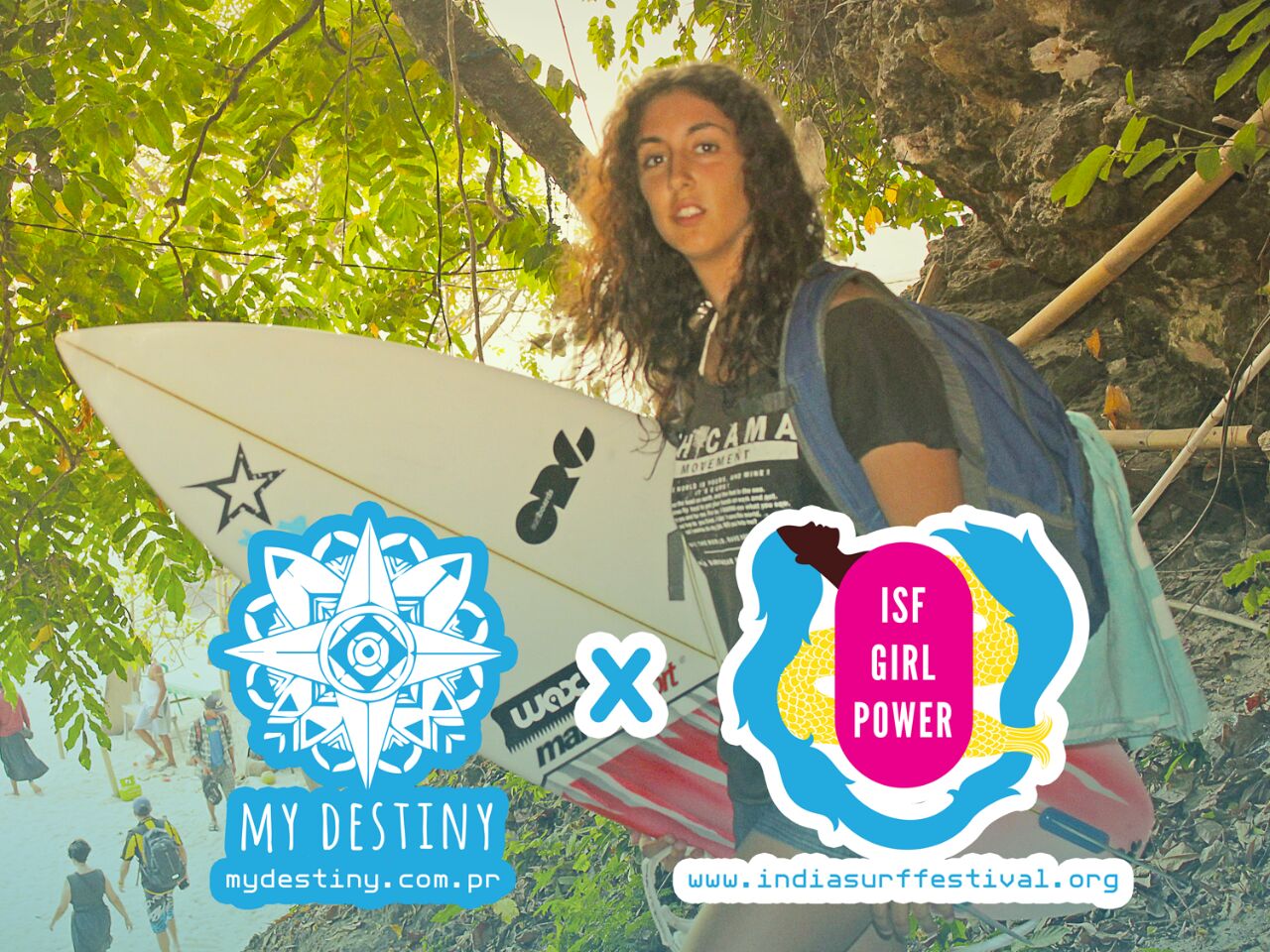 She is 21, yet she stands tall to inspire the world through surfing. Carolina Pereira, a Portuguese surfer, has made the world awestruck with her work and ambitions. For her surfing is not just a sport but a religion. From being the founder of MY Destiny to publishing a book, from making a short film to collaborating with several NGO's, Carolina has all of it in her satchel. She is a perfect role mole for aspiring women surfers.
It's a proud moment for India Surf Festival to host her in the fourth edition of the festival this year. It is the aim of Caroline, MY Destiny and Surfing Yogis to collaborate and build the India Surf Festival and a surf based movement to drive small changes all around.  Caroline along with two members of MY Destiny project will empower girls and women from local villages of all over India through surfing. Highlighting the girl power, which also happens to be this year's theme of ISF, Caroline and her team plans to encourage surfing among Indian women. Bringing awareness by involving artists and musicians, making short films and actions are the three main areas MY Destiny project deals with. Caroline wishes to implement the same in the Indian land.
Surfing yogis and MY Destiny together will work on surf program which would involve 'Eco Social surf trips' for every destination. It is basically designed to solve problems with the travelers, by providing them with all kind of resources like shaping eco surfboards, Ecological fins. It is like creating a community of surfers and travelers. The main idea behind it is to have a balance between the ecological aesthetics and yoga. In this way it solves the surfing motive and letting more of aspirants to come an experience the different world all together.
The short film 'MY Destiny: Stuck In Paradise', crafted by her and edited by Ways Of Mine is an inspiring overview of Caroline's recent solo trip to Indonesia. The film had positive impact and would be showcased in several surf film festivals around the globe.
According to Caroline surfing is a great tool of change and she is boost up to do anything to bring in the change. She wishes to find and polish every second 'Caroline' she comes across and build a different globe. Thus, ISF in collaboration with MY Destiny feels privileged to grace the presence of Caroline and her team and join hands to work together to enhance the surfing career. It will be a great opportunity for girls who wish to see themselves as a surfer and bring in the change.
Author: Sneha Mitra (Sneha on Twitter)
Comments
comments